Patrick  Meyer
Associate Professor of Law
Director, Kresge Law Library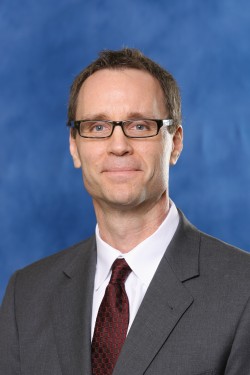 Contact Info:
Campus:
Riverfront Campus
Building:
Kresge Law Library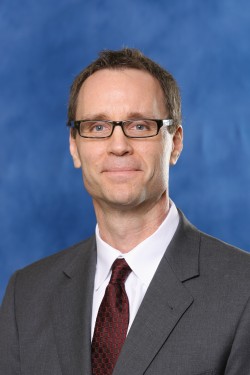 Areas of Expertise:
Legal Research and Law Libraries
Libraries - Law Libraries
Degrees
JD Washburn University School of Law
MLS Syracuse University
MS Kansas State University
Biography
Professor Meyer is the Director of the Kresge Law Library where he manages the library budget, has primary responsibility for the development of the collection, and fosters the creation of services to faculty and students. He has taught extensively for 20 years and teaches Advanced Legal Research in either the online or the traditional format. Professor Meyer created the research program for first year legal writing students in 2012, and was its administrator through 2014. He managed the development of a substantial portion of a newly required two credit first semester course titled Introduction to Legal Research & Communication. He currently manages the research portion of the course and teaches all 1L students therein. Professor Meyer has served as Chair and Vice Chair of the Curriculum Committee, and was a member of the ABA Self-Study Committee. He is currently a member of the Admissions Committee, Budget Committee, and Honor Council, and chairs the Library Committee. His scholarship focus is on legal research, online teaching, and curricular issues.
Professor Meyer has recently served on the Executive Board of the Michigan Association of Law Libraries (MichALL) in the capacity of Vice President, President, and Past-President. He also recently completed three years of service on the Executive Board of the Society of Academic Law Library Directors (SALLD). He was previously President of the Southern California Association of Law Libraries (SCALL) and served on the SCALL board for five years. Professor Meyer was also a member of the ThomsonReuters Legal Research and Writing Advisory Board. He has made numerous presentations on law firm legal research requirements, teaching an integrated research course, and new library space planning. 
Recent Publications:
Adding Legal Research to the Bar Exam: What Would the Exercise Look Like? 53 Akron L. Rev. 107 (2019)
The Crazy Maze of Food Labeling and Food Claims Laws, 92 St. John's L. Rev. 233 (2018)
The Google Effect, Multitasking, and Lost Linearity: What We Should Do, 42 Ohio N.U. L. Rev. 705 (2016)
The Status of Curricular Change During the Industry's Great Recession: Radical, or the New Norm?, 42 Ohio N.U. L. Rev. 155 (2015)
Law Firm Legal Research Requirements and the Legal Academy Beyond Carnegie, 35 Whittier L. Rev. 419 (2014)
Law Firm Legal Research Requirements for New Attorneys, 101 Law Libr. J. 297 (2009), available at http://papers.ssrn.com/sol3/papers.cfm?abstract_id=1376086
Bibliography of California Resources, in Locating the Law 69-96 (5th ed. 2009) (SCALL)
Recent Presentations:
Co-Presenter, Rethinking Law Reference Services: Who, Where, What, When, & How?, at Ohio Reg'l Ass'n of Law Libraries (ORALL) Annual Conference, Sandusky, Ohio (Oct. 24, 2019)
Panelist, What Research Skills and Other Lawyering Competencies Do New Law Graduates Need to be Successful in Practice? at Wayne State Univ. Law School, Detroit, Mich. (June 10, 2019)
Co-Presenter, Teaching Online Courses at Univ. of Detroit Mercy Law School, Detroit, Mich. (April 25, 2019)
Panelist, Legal Research & Lawyering Skills: What's Expected of New Law Graduates at Wayne State Univ. Law School, Detroit, Mich. (June 12, 2018)
Presenter, Addressing the Cognitive Differences in How the Mind Works for Online Learning vs. Print-Based Learning at the Univ. of Toledo Law Faculty Colloquium Series, Univ. of Toledo College of Law, Toledo, Ohio (Nov. 9, 2016)
Co-Presenter, Building Better Collections: LMAs – Should They Stay or Should They Go? at the Ohio Regional Assn. of Law Libraries (ORALL) 2016 Annual Meeting, Dayton, Ohio (Oct. 21, 2016)
Co-Presenter, Diversity in the Legal Profession: A Dialogue About the Librarian's Role at the MichALL Spring Education Meeting, Univ. of Michigan Ross School of Business, Ann Arbor, Mich. (May 20, 2016)
Co-Presenter, Qualifying Advanced Legal Research as a Simulation Course at the SALLD General Meeting, Fordham Univ. School of Law, New York, NY (Jan. 8, 2016)
Presenter, Linearity Lost, and What To Do About It: How to Teach In An Online World at the Central States Law Schools Ass'n Scholarship Conference, Univ. of Toledo College of Law, Toledo, Ohio (Oct. 10, 2015)