Cara Cunningham Warren
Professor of Law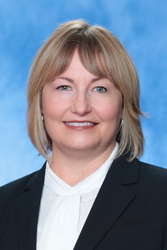 Contact Info:
Campus:
Riverfront Campus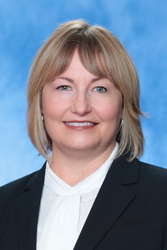 Areas of Expertise:
Constitutional Law
International Law
Inter-Governmental Cooperation & Federalism
Legal Education & Legal Skills Training
Degrees
LL.M. University of Toronto Faculty of Law '17
J.D. University of Detroit Mercy School of Law '96
B.A. Michigan State University '93
Biography
Cara Cunningham Warren is a political scientist who also holds degrees from American and Canadian law schools. She studies how legal and institutional structures can be created or reformed to resolve sovereignty, balance of power, and good governance questions. As of August 2018, she was ranked in the top 10% of all authors on SSRN in terms of new total downloads. She also is the recipient of the University's 2023 Faculty Excellence Award.
Professor Warren completed a federal judicial clerkship with the Honorable Virginia M. Morgan of the U.S. District Court for the Eastern District of Michigan. She then litigated at both the trial and appellate levels specializing in employment, civil rights, and tort-reform cases.
Professor Warren joined the Detroit Mercy Law faculty in 2000. She teaches in the Canadian and American Dual JD program and has served in a variety of administrative roles, including Assistant Dean of Academic Initiatives and Interim Assistant Dean of International Programs.
Professor Warren is currently an executive member of the AALS Section on Comparative Law and the AALS Section on Law in the Americas.
In her private life, Professor Warren loves to study history. She and her husband both study the American Civil War and the presidency of Abraham Lincoln.
 

Courses Taught

Comparative Legal Writing and Analysis I & II (1070)

International Law (3200)

International Institutions & the Use of Force in the 21st Century (3205)

 

Selected Publications

International Law in Context (Carolina Academic Press, 2023) https://cap-press.com/books/isbn/9781531013578/International-Law-in-Context

Cultivating the International Criminal Court's Legitimacy and Use of Constructivism to Prepare for Head-of-State Aggression Prosecutions, in The Past, Present, and Future of the International Criminal Court (International Nuremberg Principles Academy 2021). 

'Outing' Otherization: A Means to Enable Cooperation in a Post-Truth Era, 58:3 Washburn L. J. 609 (2019). 

Prosecuting the Crime of Aggression as a Complement: A Framework to Promote the ICC's Legitimacy in the Context of Head-of-State Prosecutions, 51:2 Geo. Wash. Int'l. L. Rev. 231 (2019). 

Sanctuary Lost?  Exposing the Reality of the "Sanctuary-City" Debate and Liberal States-Rights' Litigation,  63:2 Wayne L. Rev. 155 (2018). SSRN Top Ten Download List for September, October & November 2017 

An American Reset—Safe Water & a Workable Model of Federalism,  27 Duke Envtl. L. & Pol'y F. 51 (2016). SSRN Top Ten Download List for September, October & November 2016 

 

Selected Presentations

Countermeasures & the Security Council Veto, Law Review Symposium, University of Detroit Mercy School of Law, Detroit, Michigan (2023)

The Comparative Law Classroom, Association of American Law Schools Annual Meeting, San Diego, California (2023)

The Russian Invasion of Ukraine: Threats to the International Order, Current Events in the Law Series, University of Detroit Mercy School of Law, Detroit, Michigan (2022)

Cultural Competency as a Core Lawyering "Skill" Developing an Inclusive and Culturally Proficient Community Using 'Communities of Practice'  University of Michigan Law School, Association of Legal Writing Directors Annual Conference Ann Arbor, Michigan (2021) 

American Federalism & The Pandemic: Saving Our Saving Grace  Constitution Day Panel, University of Detroit Mercy School of Law Detroit, Michigan (2020) 

Pedagogy Hallmarks in a 21st Century Casebook  Institute for Law Teaching & Learning Writers' Workshop  Topeka, Kansas (2019) 

Cooperation in a Post-Truth Era Washburn University School of Law, Washburn Law Journal Symposium  Topeka, Kansas (2018) 

Cultural Competency as a Core Lawyering "Skill"  Marquette University Law School, Legal Writing Institute's Biennial Conference Milwaukee, Wisconsin (2018) 

Head-of-State Prosecutions in the International Criminal Court: A Framework to Promote International Justice University of Richmond School of Law, Mid-Atlantic Junior Faculty Forum Richmond, Virginia (2018) 

Sanctuary Lost?  Evaluating the Consequences of Liberal States' Rights Legal Writing Institute Writers' Workshop Washington, D.C. (2017) 

What U.S. Law Professors Should Know About Legal Research in Canada and Mexico –  It's Not Just NAFTA Anymore Association of American Law Schools Annual Conference San Francisco, California (2017)  

An American Reset:  Safe Water & a Workable Model of Federalism Washburn University School of Law, Junior Legal Writing Scholars' Workshop Topeka, Kansas (2016)