Andrew F.  Moore
Professor of Law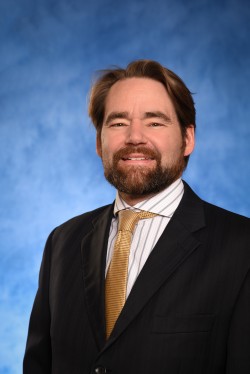 Contact Info:
Campus:
Riverfront Campus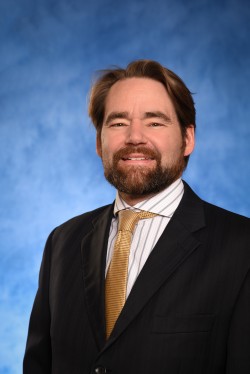 Areas of Expertise:
Immigration and Human Rights
Degrees
LL.M. Columbia Law School '98
J.D. Case Western Reserve University School of Law '92
B.A. John Carroll University '89
Biography
Professor Moore started at the University of Detroit Mercy School of Law in 1998 after earning a master's degree in laws at Columbia Law School, where he was named a James Kent Scholar. His practice experience includes representing indigent immigrants in Baltimore, Maryland and research and report writing for a human rights organization in Washington, D.C. He was a member of the Society of Jesus (the Jesuits) from 1993 until 2002.
In 2000, Professor Moore founded the immigration law clinic at Detroit Mercy Law with the support of the Jesuits.  Immigration law is one of Professor Moore's scholarly interests as well as human rights. He has written articles on refugee issues between the U.S. and Canada and widespread fraud in the provision of legal services to immigrants.
In addition to being a faculty member, Professor Moore organizes the two main liturgical events for the law school (Baccalaureate Liturgy and the Red Mass) and serves as moderator for the St. Thomas More Society. 
Recent Publications:
The Immigrant Paradox:  Protecting Immigrants Through Improved Mental Health Care, 81 Albany L. Rev. __ (forthcoming 2017)
State Immigration Enforcement Meets International Law, Mich. Int'l Lawyer, Vol. 28, No. 2, Summer 2016, at 8.
Non-Attorney Human Rights Defenders, Mich. Int'l Lawyer, Vol. 26, No. III, Fall 2014, at 9 
The Arc of Reform?: What the Era of Prohibition May Tell Us About the Future of Immigration Reform, 28 GEO. IMM. L.J. 521 (2014).
The Globalization of Legal Education, 92 MICH. BAR J. 40 (Nov. 2013) (co-authored with C. Cunningham, M. Costello).
The Human Rights Dimension to Comprehensive Immigration Reform, MICH. INT'l LAWYER, Vol. XXV, No. II, Spring 2013, at 22.
Detention and Due Process: The Inter-American Commission on Human Rights pays a visit to our immigration detention system, MICH. INT'L LAWYER, Vol. XXIII, No. III, Fall 2011, at 7.
Criminal Deportation, Post-Conviction Relief and the Lost Cause of Uniformity,22 GEO. IMM. L.J. 665 (2008).
Unsafe in America: A Review of the U.S.-Canada Safe Third Country Agreement, 47 SANTA CLARA L. REV. 201 (2007).
Contact and Concepts: Educating Students at Jesuit Law Schools, 41 GONZ. L. REV. 459 (2006).
Fraud, the Unauthorized Practice of Law and Unmet Needs: A Look at State Laws Regulating Immigration Assistants, 19 GEO. IMM. L.J. 1 (2004).
Conversion and the Socratic Method in Legal Education, 80 U. DET. MERCY L. REV. 505 (2003).
Papers available on SSRN at: 
http://papers.ssrn.com/sol3/cf_dev/AbsByAuth.cfm?per_id=746388
Courses Taught:
Torts (1130)
Human Rights (3250)
Immigration Law (2960)
International Law (3200)
Selected Topics in Immigration Law Seminar (4330)
Selected Topics in International Law Seminar (4841)