Andrew F. Moore
Professor of Law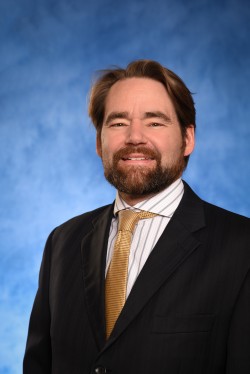 Contact Info:
Campus:
Riverfront Campus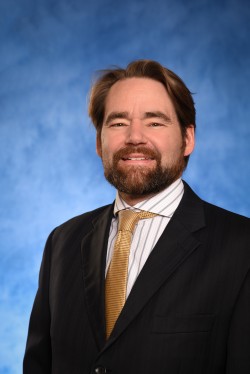 Areas of Expertise:
Asylum
Human Rights Law
Immigration Law
Degrees
LL.M., from Columbia Law School '98
J.D., Case Western Reserve University School of Law '92
B.A., John Carroll University '89
Biography
Andrew Moore began teaching at Detroit Mercy Law in 1998. He is an expert in immigration law and international human rights law. In 2000, he founded the immigration law clinic at Detroit Mercy Law. Professor Moore served as the law school's Associate Dean for Academic Affairs from 2011-2013.
His scholarship focuses on the needs of immigrants, including articles on the intersection of criminal law and immigration law, refugee issues between the U.S. and Canada, widespread fraud in the provision of legal services and the need for improved mental health care for immigrants in the United States.
In addition to being a faculty member, Professor Moore organizes the two main liturgical events for the law school (Baccalaureate Liturgy and the Red Mass) and serves as moderator for the St. Thomas More Society.
Professor Moore is married and the father of 2 young daughters, which accounts for most of his time outside of the law school.
 

Courses Taught

Torts (1130)

Human Rights (3250)

Immigration Law (2960)

International Law (3200)

Selected Topics in Immigration Law Seminar (4330)

Selected Topics in International Law Seminar (4841)

 

Selected Publications

Introduction to the Symposium on Sanctuary Cities: A Brief Review of the Legal Landscape, 95 U. DET. MERCY L. REV. 1 (2018)

The Immigrant Paradox: Protecting Immigrants Through Improved Mental Health Care, 81 Albany L. Rev. (2017)

State Immigration Enforcement Meets International Law, Mich. Int'l Lawyer, Vol. 28, No. 2, Summer 2016, at 8.

 

Selected Presentations

"Introduction to the Symposium on Sanctuary Cities: A Brief Review of the Legal Landscape" -Presenter, University of Detroit Mercy Law Review 2018 Symposium
-University of Detroit Mercy School of Law, Detroit, MI, March 23, 2018

"Jesuit Law Schools-What makes us different?" -Presenter, World Union of Jesuit Alumni Global Congress -John Carroll University, Cleveland, OH, June 29, 2017

Testimony before Michigan House of Representatives, Committee on Local Government, on HB 4105 & 4334 (anti-sanctuary bills)
-State Capitol Building, Lansing, MI, June 7, 2017

"Citizen Dialogue: Refugees in America"
-Debater, Wayne State University, Center for the Study of Citizenship -Wayne State University, Detroit, MI, February 23, 2017

"Plenary Session: State and Federal Law and Policy Update and Outlook"
-Presenter, Michigan Coalition for Immigrant and Refugee Rights, Statewide Summit -Lansing Community College, Lansing, MI, November 11, 2016

"How do the Jesuit and Mercy charisms serve to infuse the legal curriculum with a concern for social justice?"
-Part of UDM panel at 2016 SALT Teaching Conference, From Classroom to the Community: Teaching and Advancing Social Justice

- John Marshall Law School, Chicago, IL, October 1, 2016