J. Richard Broughton
Associate Dean, Faculty Research and Development
Professor of Law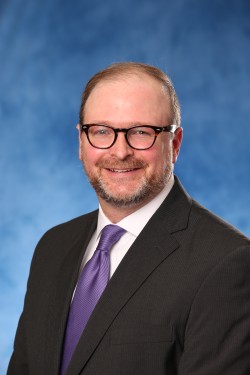 Contact Info:
Campus:
Riverfront Campus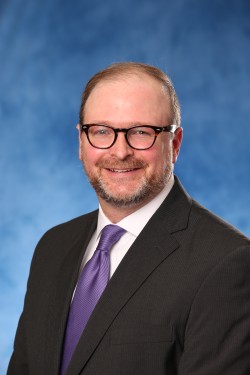 Areas of Expertise:
Congress
Constitutional Law
Criminal Law
Criminal Procedure
Death Penalty
Domestic Terrorism and National Security Crimes
Federal Crimes
Law & Politics
Presidential Power
Separation of Powers
Supreme Court
Degrees
LL.M. Georgetown University '00
J.D. Widener University '99
B.A. Hampden-Sydney College '95
Biography
J. Richard Broughton is an expert in American politics and institutions and the intersection of politics, constitutionalism, and criminal justice. Professor Broughton served in the Criminal Division of the United States Department of Justice in Washington, D.C. His work involved federal prosecutions of violent crime related to gang activity, drug trafficking, organized crime, and racketeering. He received both the Meritorious Service Award and the Special Achievement Award from the Justice Department. He also has served as Assistant Attorney General of Texas for Capital and Post-Conviction Litigation, as a law clerk to the chief judge of the Texas Court of Criminal Appeals, and as a law clerk for the House Judiciary Committee during the 106th Congress. 

Professor Broughton joined the Detroit Mercy Law faculty in 2009. He was appointed Associate Dean of Academic Affairs in 2016 and served in that role until 2022. In 2022, he received the promotion of Associate Dean, Faculty Research and Development.  He has been selected as Professor of the Year five times at Detroit Mercy Law.  
Prior to Detroit Mercy Law, Professor Broughton served as Visiting Assistant Professor of Law at Wayne State University, where he was named both the First-Year Professor of the Year and Upperclass Professor of the Year for 2008-09. He also has taught on the law school faculties at Stetson University and Texas Wesleyan University, where he also won two teaching awards, and as a Lecturer in Government at Johns Hopkins University. 
 

Courses Taught

Criminal Law (1140)

Constitutional Law (2060)

Criminal Procedure (2100)

The Death Penalty in America (2600)

Federal Criminal Law (6220)

Select Topics in Constitutional Law (4240)

Select Topics in Criminal Law (4310)

 

Selected Publications

Activist Extremist Terrorist Traitor, 96 St. John's Law Review (forthcoming 2022)

The Second Article and Congressional Self-Defense, 59 HOUSTON LAW REVIEW 259 (2021)

Constitutional Discourse and the Rhetoric of Treason, 47 HASTINGS CONSTITUTIONAL LAW QUARTERLY 303 (2020) 

The Opioid Crisis and the Federal Death Penalty, 70 SOUTH CAROLINA LAW REVIEW 611 (2019) 

Congressional Law Enforcement, 63 WAYNE LAW REVIEW 95 (2018) 

Danger at the Intersection of Second and Fourth, 54 IDAHO LAW REVIEW 379 (2018) 

The Federal Death Penalty, Trumpism, and Civil Rights Enforcement, 67 AMERICAN UNIVERSITY LAW REVIEW 1611 (2018) 

Conviction, Nullification, and the Limits of Impeachment as Politics, 68 CASE WESTERN RESERVE LAW REVIEW 275 (2017) 

Of Puppets and Terrorism, 62 SOUTH DAKOTA LAW REVIEW 682 (2017) 

Hate Crimes, the Death Penalty, and Criminal Justice Reform, 37 HAMLINE JOURNAL OF PUBLIC LAW & POLICY 185(2017); 

The Death Penalty and Justice Scalia's Lines, 50 AKRON LAW REVIEW 203 (2016) 

 

Selected Presentations

Debate on Second Amendment Rights in Public Places (with Prof. Steven Dulan), hosted by the George Romney Institute for Law and Policy and the Institute for Ethics, Adrian College, Adrian, Michigan (March 25, 2022)

Presenter, "Activist Extremist Terrorist Traitor," 12th Annual Constitutional Law Colloquium, George Washington University Law School, Washington, DC (November 13, 2021);

Podcast Presenter, "United States v. Tsarnaev," SCOTUScast Podcast, The Federalist Society (October 13, 2021);

Speaker, "The Roberts Court and October Terms 2020 and 2021," Hampden-Sydney College Bar Association Annual Conference, Hampden-Sydney, Virginia (September 17, 2021) 

Speaker, "Supreme Court Review, 2020," Hampden-Sydney College Bar Association, Hampden- Sydney, Virginia (2020); 

Speaker, "Emerging Issues in Constitutional Criminal Procedure: Fourth Amendment Search and Seizure," Michigan Judicial Institute Education Conference, Bay City, Michigan (November 13, 2019); 

Podcast Panelist, "The Death Penalty at the Supreme Court," We The People Podcast, National Constitution Center (March 14, 2019); 

Invited Speaker, Symposium on "The Opioid Crisis and the Practice of Law," hosted by South Carolina Law Review, Columbia, South Carolina (February 8, 2019); 

Speaker, "Criminal Procedure in the New Roberts Court," Remarks for the Hampden-Sydney College Bar Association, Hampden-Sydney, Virginia (September 28, 2018); 

Speaker, "Search Warrants and Case Studies," Michigan Association of District Court Magistrates, Bay Harbor, Michigan (September 20, 2018); 

Participant, Discussion Group, "The Future of the Death Penalty and Capital Litigation," Southeastern Association of Law Schools (SEALS) Annual Meeting, Fort Lauderdale, Florida (August 5, 2018); 

Speaker and panelist, Symposium on the 50th Anniversary of Terry v. Ohio, hosted by Idaho Law Review, Boise, Idaho (April 6, 2018); 

Speaker and panelist, Symposium on "Congressional Oversight in the 21st Century," hosted by Wayne Law Review, Detroit, Michigan (March 23, 2018) 


Speaker and panelist, Symposium on "An Honest Conversation on Criminal Justice," Panel on The Death Penalty, hosted by American University Law Review, Washington, D.C. (November 10, 2017);  

Participant, Scholars Roundtable on Congressional Oversight, hosted by the Levin Center at Wayne Law,  Detroit, Michigan (June 9, 2017); 

Keynote Address, "The Safeguards of Our Political Religion," 2017 Law Day Celebration, Jackson, Michigan (May 3, 2017);

"Good Men, Good Citizens, and the Virtue of Lines," Founder's Day Lecture, Hampden-Sydney College, Hampden-Sydney Virginia (November 10, 2016); 

 Speaker, "Juveniles and Terrorism," Symposium on Juvenile Law, hosted by South Dakota Law Review, Vermillion, South Dakota (September 29, 2016); 

Speaker and Panelist, Symposium on Capital Punishment Reform, hosted by Michigan Journal of Law Reform, Ann Arbor, Michigan (February 6, 2016)