J. Richard  Broughton
Associate Dean for Academic Affairs & Professor of Law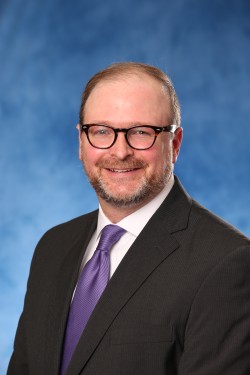 Contact Info:
Campus:
Riverfront Campus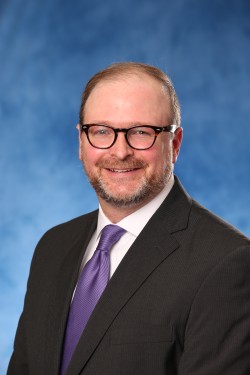 Areas of Expertise:
Constitutional Law
Criminal Law and Procedure
Death Penalty Legal Issues
Supreme Court Nominations
U.S. Constitution
U.S. Supreme Court
Federal Crimes
Degrees
LL.M. Georgetown University '00
J.D. Widener University '99
B.A. Hampden-Sydney College '95
Biography
J. Richard Broughton is a Professor of Law, and teaches Criminal Law, Criminal Procedure, Constitutional Law, and Federal Criminal Law.  He was a Visiting Professor at Detroit Mercy Law in the 2009-10 academic year.  Previously, he served as Visiting Assistant Professor of Law at Wayne State University, where he was named both the First-Year Professor of the Year and Upperclass Professor of the Year for 2008-09.  He also has taught on the law school faculties at Stetson University and Texas Wesleyan University (where he also won two teaching awards), and as a Lecturer in Government at Johns Hopkins University. At Detroit Mercy Law, he has been selected as Professor of the Year five times.
From 2005 to 2008, Professor Broughton served in the Criminal Division of the United States Department of Justice in Washington, D.C.  His work involved federal prosecutions of violent crime related to gang activity, drug trafficking, organized crime and racketeering.  He advised senior Justice Department leaders and federal prosecutors on issues of federal criminal and constitutional law arising in federal death penalty matters; assisted in federal capital prosecutions, appeals, and post-conviction litigation; helped to craft and review federal crime legislation; and assisted senior leaders in preparing for congressional hearings and oversight.  He received both the Meritorious Service Award and the Special Achievement Award from the Justice Department.
He also has served as Assistant Attorney General of Texas for Capital and Post-conviction Litigation, as a law clerk to the chief judge of the Texas Court of Criminal Appeals, and as a law clerk for the House Judiciary Committee during the 106th Congress.
Professor Broughton's scholarship focuses on American politics and institutions, and the intersection of politics, constitutionalism, and criminal justice.  His writing has appeared in law reviews and journals throughout the country, and has been cited in opinions from the United States Supreme Court and state appellate courts.  He also has provided legal commentary for numerous television and radio programs and newspapers.
Recent Publications:
Constitutional Discourse and the Rhetoric of Treason, 47 Hastings Const. L. Q. 303 (2020)
The Opioid Crisis and the Federal Death Penalty, 70 S.C. L. Rev. 611 (2019)
Congressional Law Enforcement, 63 Wayne L. Rev. 95 (2018)
Danger at the Intersection of Second and Fourth, 54 Idaho L. Rev. 379 (2018)
The Federal Death Penalty, Trumpism, and Civil Rights Enforcement, 67 Am. U. L. Rev. 1611 (2018) 
Conviction, Nullification, and the Limits of Impeachment as Politics, 68 Case W. Reserve L. Rev. 275 (2017)
Of Puppets and Terrorism, 62 S.D. L. Rev. 682 (2017)
Hate Crimes, the Death Penalty, and Criminal Justice Reform, 31 Hamline J. Pub. L. & Pol'y 185 (2017)
The Death Penalty and Justice Scalia's Lines, 51 Akron L. Rev. 203 (2016)
Jones, Lackey, and Teague, 48 J. Marshall L. Rev. 961 (2015)
The Snowden Affair and the Limits of American Treason, 3 Lincoln Memorial Univ. L. Rev. 6 (2015)
The Criminalization of Consensual Adult Sex After Lawrence, 28 Notre Dame J.L. Ethics & Pub. Pol'y 125 (2014) 
The Ineludible (Constitutional) Politics of Guns, 46 Conn. L. Rev. 1345 (2014)
Presentations:
Speaker, "Emerging Issues in Constitutional Criminal Procedure: Fourth Amendment Search and Seizure," Michigan Judicial Institute Education Conference, Bay City, Michigan (November 13, 2019);
 Podcast Panelist, "The Death Penalty at the Supreme Court," We The People Podcast, National Constitution Center (March 14, 2019);
Speaker, Symposium on "The Opioid Crisis and the Practice of Law," hosted by South Carolina Law Review, Columbia, South Carolina (February 8, 2019)
Speaker, "Criminal Procedure in the New Roberts Court," Remarks for the Hampden-Sydney College Bar Association, Hampden-Sydney, Virginia (September 28, 2018)
Speaker, Michigan Association of District Court Magistrates, Bay Harbor, Michigan (September 20, 2018)
Participant, Discussion Group, "The Future of the Death Penalty and Capital Litigation," Southeastern Association of Law Schools (SEALS) Annual Meeting, Fort Lauderdale, Florida (August 5, 2018)
Speaker and panelist, Symposium on the 50th Anniversary of Terry v. Ohio, hosted by Idaho Law Review, Boise, Idaho (April 6, 2018)
Speaker and panelist, Symposium on "Congressional Oversight in the 21st Century," hosted by Wayne Law Review, Detroit, Michigan (March 23, 2018)
Speaker and panelist, Symposium on "An Honest Conversation on Criminal Justice," Panel on The Death Penalty, hosted by American University Law Review, Washington, D.C. (November 10, 2017)
Participant, Scholars Roundtable on Congressional Oversight, hosted by the Levin Center at Wayne Law, Detroit, Michigan, June 9, 2017
"The Safeguards of Our Political Religion," Keynote Address, 2017 Law Day Celebration, Jackson, Michigan, May 3, 2017
"The Supreme Court After November," Remarks for the Hampden-Sydney College Bar Association, Hampden-Sydney, Virginia, November 11, 2016
"Good Men, Good Citizens, and the Virtue of Lines," Founder's Day Lecture, Hampden-Sydney College, Hampden-Sydney Virginia, November 10, 2016
"Juveniles and Terrorism," Symposium on Juvenile Law, hosted by South Dakota Law Review, Vermillion, South Dakota, September 29, 2016
Webinar Presentation, "Supreme Court Update: 2015 Year in Review," Association of Federal Defense Attorneys, posted online, February 19, 2016
Speaker and Panelist, Symposium on Capital Punishment Reform, hosted by Michigan Journal of Law Reform, Ann Arbor, Michigan, February 6, 2016
Presenter, "Prosecuting the Terror Group Recruits," Central States Law School Association Annual Scholarship Conference, Toledo, Ohio, October 10, 2015
Speaker, "Search and Seizure in the Electronic Age," Michigan Association of Municipal Attorneys Summer Education Conference, St. Joseph, Michigan, June 20, 2015
Speaker and panelist, Symposium on "The Death Penalty in America," hosted by Hamline Journal of Public Law & Policy, St. Paul, Minnesota, March 27, 2015
Speaker and panelist, Sandra Ruffin Memorial Symposium on "The Snowden Effect: The Impact of Spilling National Secrets," hosted by Lincoln Memorial University Law Review, Knoxville, Tennessee, January 30, 2015
Presented "Congress as Prosecutor," 5th Annual Constitutional Law Colloquium, Loyola University Chicago School of Law, Chicago, Illinois, November 7, 2014
Presented "The Ineludible (Constitutional) Politics of Guns," Michigan Academy of Science, Arts & Letters Annual Meeting, hosted by Oakland University, Rochester, Michigan, February 28, 2014
Recent Media Coverage:
Supreme Court sees more serious divide open on death penalty

Even if Kavanaugh confirmed to Supreme Court, fight over sex assault allegations unlikely to end
AP Fact Check: Trump's disloyal official is not a traitor
Michigan Judge could be Trump's nominee as next Supreme Court Justice
SCOTUS nominee Brett Kavanaugh could become swing vote
Craig Fahle Show, Ep. 72 (Kavanaugh Nomination)

Professor Broughton Discusses President Trump's entry ban on Flashpoint
Dzhokhar Tsarnaev indicted in Boston Marathon Bombings
Boston Bomb Defendant Cited Muslims' Deaths, U.S. Says
Bombing suspect charged, could face execution
James Porter, NRA President, Arrives at Crucial Time for Gun Rights Battle in Courts
Inside the NRA's Plan for Guns in Schools
DOJ Unlikely To Prosecute Holder Contempt Charge
STOLEN VALOR ACT: War medal forgery law ruled unconstitutional
Courses:
Criminal Law (1140)
Constitutional Law (2060)
Criminal Procedure (2100)
The Death Penalty in America (2600)
Fourteenth Amendment (3110)
Federal Criminal Law (6220)