Naama Sleiman
Assistant Professor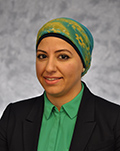 Contact Info:
Building:
School of Dentistry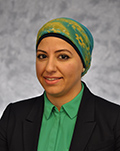 Areas of Expertise:
Evidence-based Practice
Biomedical Sciences
Cardiovascular Physiology
Degrees
Ph.D., Wayne State University
M.S., Lebanese American University
B.S. American University of Beriut
Biography
Dr. Naama Sleiman has been a member of University of Detroit Mercy since 2014, where she has made significant contributions to dental education. Dr. Sleiman's expertise lies at the intersection of evidence-based dentistry and biomedical sciences. Her unique skillset and profound understanding of these fields enable her to bridge the gap between innovative research and practical dental applications. She has played a pivotal role in advancing the integration of evidence-based practices into dental curricula and educating dental professionals at the pre-doctoral and resident levels on the importance of evidence-based decision-making. Her teaching extends beyond the classroom, as she actively engages with the dental community through her involvement in prominent organizations, including the American Dental Education Association (ADEA) and the American Dental Association (ADA), and with continuing education courses to practicing dentists. Her involvement underscores her commitment to advancing dental education and promoting excellence within the profession. Dr. Sleiman finds great appreciation for the School of Dentistry's vibrant and diverse faculty and student body, a testament to the institution's inclusive and welcoming ethos.
 

Areas of Research

Dr. Sleiman's research interests encompass a comprehensive and multidisciplinary approach, dedicated to advancing dental care. Her profound commitment to evidence-based practice is prominently displayed through her interest in conducting systematic reviews, where she meticulously evaluates and synthesizes existing literature, addressing specific oral health concerns including drug-induced gingival overgrowth. She is also interested in educational research. Her particular focus lies in the development of evidence-based teaching methodologies, aimed at enriching the learning experience for students and fostering a culture of lifelong learning among healthcare professionals.

List of publications: Dr. Naama Sleiman