Bassam M. Kinaia
Associate Professor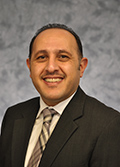 Contact Info: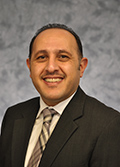 Degrees
D.D.S., University of Detroit Mercy
M..S., University of Detroit Mercy
Biography
Prof. Kinaia is the director of the Graduate Periodontology program. He is a Diplomate of the American Board of Periodontology and the International Congress of Oral Implantology. He received his D.D.S. and Certificate and M.S. in Periodontics and Dental Implants from the University of Detroit Mercy School of Dentistry and St. John Health. He is an OKU inductee and a recipient of the prestigious American Academy of Periodontology award for outstanding teaching and mentoring in periodontics. He is a clinician with 28 years of experience and maintains a private practice position in Sterling Heights, Mich. He joined the university in 2008.
Research Activity
Prof. Kinaia has numerous journal publications, chapter books and research in the fields of immediate implant placement, soft tissue augmentation and bone grafting around dental implants and treatment of gummy smile using esthetic crown lengthening and surgical lip repositioning. He has served on the Peer Review Panel of the Journal of Periodontology and Clinical Advances in Periodontics as well as an ad hoc editor for the Journal of Dentistry and Oral Biology. His areas of interest include dental implants, esthetic crown lengthening and advanced soft tissue and bone grafting. He lectures nationally and internationally on the latest trends in periodontics and dental implants.
Complete list to published works: Prof. Bassam Kinaia
 

Research Projects

Research projects in the Graduate Periodontic program primarily focuses on dental implants and periodontal tissues surround teeth and implants. Some of the current projects include:

1. Systematic review evaluating factors that impact soft and hard tissue changes around dental implants:

Multiple factors could influence the bone healing and soft tissue response around dental implants. These include systemic, surgical and restorative factors that could negatively or positively impact IIP healing. Due to the wide range of variables affecting IIP, this study analyses these three factors in a systematic format to find the most critical issues affecting the healing so the clinicians' can improve their treatment approach to benefit the patients.

2. Treatment of peri-implantitis using a novel placental membrane:

Peri-implant disease is an increasing finding around dental implants. Many studies attempted to evaluate grafting procedures to correct peri-implant bone loss but there is no consistency in the method or material that should be used for an ideal outcome. This study evaluates the use of amnion-chronion membrane to enhance bone healing for peri-implantitis patients. This membrane contains multiple growth factors that could accelerate wound healing for predictable results.