James  Geist
Professor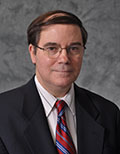 Contact Info:
Building:
School of Dentistry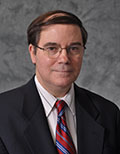 Areas of Expertise:
Radiology/Radiation
General Pathology
Oral Pathology
Oral Diseases
Degrees
D.D.S., University of Illinois
M.S., Indiana University
B.A., Northwestern University
Biography
Prof. Geist teaches courses in Radiology, Oral Pathology, and General Pathology to students in the dental, dental hygiene, and post-doctoral programs. He also serves as director of the Oral and Maxillofacial Imaging Center. Geist is a past president of the American Academy of Oral and Maxillofacial Radiology and the American Board of Oral and Maxillofacial Radiology. He currently serves as editor of the Oral and Maxillofacial Radiology section of the journal Oral Surgery Oral Medicine Oral Pathology Oral Radiology. Geist has received the award for outstanding didactic or clinical faculty member 19 times. He joined the university in 1986.
Research Activity
Geist has published over 40 peer-reviewed research articles on topics including the diagnostic efficacy of various imaging systems and educational methodology in radiology and pathology. He has presented his research findings at professional meetings in North America, Europe, and Asia.