David Fischer
Assistant Professor
Director, Integrated Biomedical Sciences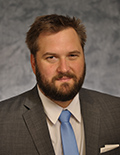 Contact Info:
Building:
School of Dentistry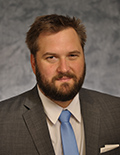 Areas of Expertise:
Immunology
Nutrition
Dental Research
Degrees
Ph.D., Wayne State University
B.S., University of Michigan
Biography
Prof. Fischer teaches immunology and nutrition to dental hygiene, undergraduate and graduate dental students.  Additional responsibilities include serving as a faculty mentor. Fischer has a B.S. degree in Cellular and Molecular Biology from the University of Michigan, a Ph.D. in Immunology and Microbiology from the Wayne State University School of Medicine and conducted postdoctoral research at the Ohio State University's Agricultural Research and Development Center.  He joined the university in 2017.
Research Activity
Current areas of dental research include: the roles of human herpesviruses in periodontal disease, antiviral effects of propolis and essential oils and the interplay between nutritional status and the adaptive immune response.
Fischer has previously conducted research on influenza and rotavirus vaccines.
List of publications: David Fischer
 

Grants & Funding

The Fischer lab had a grant from the University of Detroit Mercy entitled "Human herpesvirus infection, salivary antibodies and nutritional status in periodontal disease" and receives support from the NIH ReBUILDetroit grant.

 

Lab Members

Jamal Alhabeil, Laboratory Technician and Lab Coordinator
Racha Tiba, Detroit Mercy Undergraduate, BUILD Scholar
Kaldoun Barawi, DS2