Kristina Okolisan-Mulligan
Kristina  Okolisan-Mulligan
Clinical Associate Professor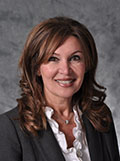 Contact Info:
Building:
School of Dentistry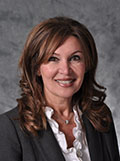 Radiology
General and Oral Pathology
Degrees
M.A., University of Detroit Mercy
R.D.H., University of Detroit
B.S., University of Detroit
Biography
Prof. Okolisan teaches didactic and clinical radiology to dental and dental hygiene students, and general and oral pathology to dental hygiene students. Additional responsibilities include serving on various committees, advising, and mentoring dental and dental hygiene students. Prof. Okolisan provides continuing education courses in pathology and radiology to dentists and hygienists. Additionally, she is a speaker for the Dental Hygiene National Board Review Course in the areas of radiology and pathology; she has co-authored the pathology chapter in Dental Hygiene: Application to Clinical Practice. She has served as contributing editor for Modern Hygienist; her column Pathways embraced her favorite topics pathology and radiology.
Prof.Okolisan earned a Bachelor of Science and Certificate in Dental Hygiene from the University of Detroit, and Master of Arts in Curriculum and Instruction at the University of Detroit Mercy. Professor Okolisan has been actively involved in several professional organizations and was a past Oral and Maxillofacial Pathology Section Chair for the American Dental Education Association and member of American Academy of Oral Maxillofacial Pathology. She is a member of Sigma Phi Alpha National Dental Hygiene Honor Society, American Dental Hygienists Association, American Dental Educators Association, and American International Association for Dental Research. Professor Okolisan has been the recipient of many outstanding didactic and clinical teaching awards given by dental and dental hygiene students. She joined the university in 1992.
Research Activity
Current areas of dental research include: emerging methodologies in educational radiology and infection control in radiology.
 

Research Projects

1) Advancing Student Education in Cone Beam Computed Tomography

CBCT is an imaging technique like computed tomography in which the X-rays are divergent, forming a conical beam. The uses of CBCT include a wide array of areas in the dental field where it may become the standard of care. The Objectives of this study was to investigate the need for implementation of teaching CBCT to dental students and to consider how students think that CBCT education should be implemented in their dental school course work to prepare them for future practice. This study concludes that 86% of dental students have had CBCT education in their curriculum. Most students had CBCT education in the form of live lectures focused on 3-D anatomy, case based/oral pathology, and interpretation. Finally, students concluded that CBCT scans are most relevant to the field of implant dentistry, with oral surgery following in importance. Despite the education received in their dental programs, many students felt they were not competent in interpreting (49%) and/or exposing (54%) a CBCT scan. The survey conducted can act as a guide as to the methods of incorporating CBCT education. New methods of advancing CBCT education can be formulated to increase competency among graduates.

2) Potential Effects of Disinfectants on PSP Plates in Dental Radiology

Digital radiography is currently being adopted in many dental schools and private dental settings. It is essential to know if the educational training in digital imaging, along with the proper infection control, is adequate. Although many clinical disinfection procedures are thoroughly addressed, further instruction on adherence to disinfection and sterilization techniques in dental radiology are much needed. There is a potential for cross contamination in phosphor storage plate (PSP) processing where there may be a deficiency in protocol, therefore eliciting further investigation. To obtain adequate dental imaging it is critical that the PSP plates are properly handled, and that the proper disinfectant is being utilized. This information is key to the longevity and diagnostic quality of the PSP plates. The purpose of the study is to (1) to identify whether or not various disinfectants can solely contribute to scratches or other artifacts in PSPs over time, independent of plate handling; (2) identify the least abrasive disinfectant; (3) prove the need of disinfecting PSPs through cell culturing black transfer boxes and other area of the radiology clinic; and (4) evaluate the disinfecting procedure at the Detroit Mercy Radiology Clinic. According to the research conducted, disinfectants do not solely contribute to the abrasion and artifact appearance on PSPs as there was no difference between the "handled" and "non-handled" treatment groups. The disinfecting wipes containing quat alcohols (like Sani-Cloth) are the least abrasive. The disinfecting wipes containing ethanol will cause deterioration of the PSPs with time, causing clouding and scratching of the plates, which correlates with the results of previous studies. Need for proper infection control procedures, as there was significant evidence associated with the black transfer boxes.

3) Radiology Revelations: The Effectiveness of an Infection Control Program in the Radiology Clinic

The specific aims of this study were to (1) evaluate bacterial contamination in the Radiology Clinic at the University of Detroit Mercy School of Dentistry, (2) incorporate an operational written infection control protocol for the student operators, and (3) to reexamine the effectiveness after inclusion. A recent study conducted at the University of Detroit Mercy School of Dentistry Radiology Clinic confirmed significant evidence that proper infection control needed further investigation. According to the American Dental Association and Center for Disease Control and Prevention, the field of dentistry must take an active role in prevention and control of infectious diseases. Vigilant management in decontamination are necessary to provide both patients and operators with safe, efficient care. Researchers examined contamination levels in 900 trials in the radiology clinic using the Ruhof ATP Complete System. Four hundred fifty trials were conducted initially prior to posting instructional methods. This study then incorporated a step by step guideline protocol. The results revealed statistically significant contamination in counter tops and thyroid collar/lead apron. In conclusion, equipment that was provided with barriers showed no significant difference, whereas equipment that lacked barriers showed significant contamination levels. Therefore, it is imperative to thoroughly decontaminate and apply proper barriers. It is suggested to impart a variance in color to easily distinguish between countertop and barriers. Implementing instructional guidelines to be utilized for proper infection control showed valid outcomes and can be concluded from this investigation that this was effective in educating the student operators in the radiology clinic.

4)Disinfection of Phosphor Storage Plate Barriers Greatly Reduces the Risk of Bacterial Contamination of Phosphor Storage Plates

Regarding all patients as potentially infectious is the cornerstone of the infection control protocols in dentistry. It should be a priority to follow infection control procedures appropriately and to strive to make improvements where need be. The specific aims of the study were to evaluate contaminants of phosphor storage (PSP) plates placed in envelope barriers, and to examine the efficacy in lowering contamination using a specific disinfection procedure. The study has shown that wiping the surface of the barriers with CaviWipes disinfectant after exposure to the oral cavity significantly reduces bacterial counts. Bacterial contamination levels on PSP plates that were retrieved from the barriers in the two treatment groups did not significantly differ. There is still potential for cross contamination by tearing the barrier to retrieve the plate.

5) Radiology Revelations: How Risk Factors May be Identified on Panoramic Radiographs

Detection of abnormalities on a panoramic radiograph is essential to a practicing dental professional. The objectives of this investigation are 1) to evaluate the accuracy of dental hygiene students in detecting calcification of carotid artery atheromas (CCAA) on panoramic radiographs, and 2) to determine if there is a correlation between the calcification of the carotid artery and certain health risks and demographic features in the Metro-Detroit area patient population, and to compare the results with other populations and health parameters. It was concluded from this investigation that students were equipped to detect calcifications on panoramic radiographs due to the high levels of agreement of diagnoses between students and board-certified radiologists.

6)Student Compliance with Infection Control of Thyroid Collar and Lead Apron in the Dental Radiology Clinic

The purpose of this study is to investigate contamination of lead aprons and thyroid collars at the University of Detroit Mercy Dental Radiology Clinic. This study tested student compliance with lead apron and thyroid collar infection control protocol. The results indicate that written instructions have no significant effect on student compliance with inflection control procedures of thyroid collar and lead apron. This project may contribute to the strategies that dental schools implement for infection control of thyroid collar and lead apron in their radiology clinics.

 

Lab Members

Former Dental Students:

Elizabeth Doman D.D.S
Mahmoud El Shaer D.D.S.
Braxton Haremza D.D.S. 

Former Hygiene Students:

Tiffany Domanski 
Sarah Habbo 
Katelynn Hutnick 
Katie Potros 
Mariam Kitto 
Lesley Lin
Veronica Nafso
Christina Yousif
Manzila Askar
Rajpreet Grover
Shamaila Mirza
Navneet Somal