Joshua Thomson
Associate Professor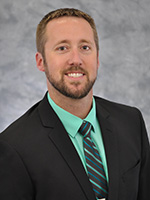 Contact Info:
Building:
School of Dentistry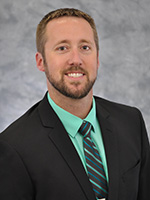 Degrees
Ph.D., Wayne State University
B.S., University of Detroit Mercy
Biography
Professor Thomson teaches microbiology and immunology to dental and dental hygiene students and residents, with a specific emphasis on infectious diseases and infection control.Professor Thomson received his Bachelor of Science in Biology from University of Detroit Mercy in 2009, and his Ph.D. in Immunology and Microbiology from Wayne State University School of Medicine in 2014.
Professor Thomson is the coordinator for the Summer Undergraduate Research Program at the School of Dentistry. He joined the University in 2014.
 

Overview

His main research focus is directed towards the use of natural compounds and bacteriophage as therapeutics against dental pathogens, as well as defining microbiological characteristics of dental materials. Other research interests include public health studies to determine the impact of microbiology-focused instruction and activities in different populations on their adherence to routine oral hygiene practices.

 

Research Projects

1. Isolation of bacteriophage that specifically target dental pathogens and evaluation of therapeutic potential.
Dental caries, signified by the breakdown of enamel on the surface of teeth, is one of the most common chronic infectious diseases worldwide and the most common chronic disease of childhood. Initiation of dental caries is highly correlated with the presence of the bacterium, Streptococcus mutans. Bacteriophage are viruses that infect bacteria and are highly specific to the species they infect. S. mutans is a candidate target for potential bacteriophage therapy to specifically control the initiation of the caries without harming the normal microbiota. Previous attempts at isolating bacteriophage against S. mutans have proven difficult due to the bacteriophage defense mechanisms and bacteriophage specificity. Our goal is to discover new bacteriophage that target S. mutans and elucidate the therapeutic potential of using S. mutans bacteriophage in the oral cavity.


2. In vitro antimicrobial and antibiofilm activity of commercial mouthrinses and naturally-derived products.
There is a growing interest in the use of natural products in society for many applications, including their use to control or prevent oral diseases. Many natural products and commercial mouthrinses have shown antimicrobial efficacy, yet their effects on oral pathogens and biofilms remain unclear. Our goal is to assess candidate products and mouthrinses using a highly reproducible in vitro model of biofilms using the oral pathogen, Streptococcus mutans.


3. Incorporation of microbiology-focused instruction to enhance oral health knowledge, attitudes, and behaviors.
Oral health educational interventions are a critical component in combating dental diseases and promoting oral health. Dental diseases, such as caries and gum disease, are driven mainly by bacterial pathogens. Dental plaque is a biofilm that consists of many species of bacteria, some of which are associated with disease progression. We brush and floss our teeth every day to reduce the amount of plaque on our teeth, thus lowering the amount of bacteria that could potentially lead to dental disease. The goal of this project is to determine if inclusion of specific instruction and activities that focus on microbiology and the role of bacteria in dental diseases educates patients to better understand the disease process and thus the necessity of consistently practicing proper oral hygiene techniques to prevent disease.


4. Effects of physical and chemical challenges on surface characteristics of dental materials and subsequent impact on bacterial adhesion and biofilm formation.
Many dental treatments require the use of intraoral devices or restorative materials. Devices, in particular, orthodontic appliances, provide additional sites for bacterial adhesion and retention and thus are associated with adverse dental outcomes. Brushing and mouthrinses may affect the surface characteristics of these devices in a manner that increases bacterial adhesion further and thus risk of disease. Therefore, in this project, we aim to identify if exposing orthodontic materials to mouthrinses and/or brushing influences bacterial accumulation.

 

Grants & Funding

The Thomson Lab participates in research projects supported by two grants from the University of Detroit Mercy School of Dentistry entitled:

"Isolation of bacteriophages that target and kill dental pathogens"

"Effect of simulated brushing with peroxide and non-peroxide dentifrices on physical and microbiological characteristics of orthodontic archwires"

 

Research Team

2023-2024 Members:
Laura Young, Laboratory Research Assistant
Joseph Ferracciolo, Laboratory Research Assistant
Dr. Michael Rowse, Postdoc

Dental Students:
Sundoz Kesbeh (Class of 2026)
Mack Powell (Class of 2026)
Olivia Manzano (Class of 2026)

Undergraduate ReBUILDetroit Scholars:
Fatima Herrera (Class of 2024)
Mohammed Almawiri (Class of 2024)


Undergraduate Students:
Zaid Aboona – Detroit Mercy
Mahdi Husseini – Detroit Mercy


Past Lab Members:


Former Dental Students:
Mary Larson (Class of 2025)
Jay Nalluri (Class of 2025)
Sami El-Nachef (Class of 2025)
Claudia Larochelle (Class of 2025)
Hanaa Saleh (Class of 2024)
Mehwish Waseem (Class of 2024)
Chrissy Panagos (Class of 2023)
Sasha Sarin (Class of 2023)
Jonathan Toma (Class of 2022)
Sahil Sawnani (Class of 2021)
Rima Anani (Class of 2021)
Dylan Salem (Class of 2021)
Shahbaz Randhawa (Class of 2020)
Jayce Mathew (Class of 2020)

Former Hygiene Students:
Sidnee Mattison (Class of 2023)
Marla Buzzeo (Class of 2023)
Lexine Gabrail (Class of 2023)
Morgan LaForest (Class of 2023)
Morgan Kyle (Class of 2023)
Cody Wall (Class of 2023)
Ciara Young (Class of 2023)
Nesila Bilica (Class of 2022)
Samantha Gniazdoski (Class of 2022)
Lillian Nichols (Class of 2022)
Courtney Tessmer (Class of 2022)
Shelby Harris (Class of 2020)
Katelyn Shivel (Class of 2020)
Samantha Thompson (Class of 2020)
Corinne Haro (Class of 2020)
Sally Al-Hajaj (Class of 2019)
Alexandra Seely (Class of 2019)
Jordyn Dunlap (Class of 2019)
Chelsea Noah (Class of 2019)
Samantha Howell (Class of 2018)
Kori Fetner (Class of 2018)
Rachel Ferree (Class of 2018)
Reginald Westley (Class of 2018)

Former Undergraduate ReBUILDetroit Scholars:
Autumn Murry (Class of 2020)
Leen Issa (Class of 2022)
Nada Almawiri (Class of 2023)
Fatima Herrera (Class of 2024)
Mohammed Almawiri (Class of 2024)


Former Undergraduate Students:
Maggie Clark – UCLA
Mila Vucelic – Michigan State University
Ania Dadkhah – Detroit Mercy
Danya Taleb - University of Michigan-Dearborn
Deepthy Jeeva – Detroit Mercy
Gloria Regis – Detroit Mercy
Caleb Campbell – Detroit Mercy
Nicholas Shaba – Detroit Mercy
Mohimen Mahbuba – Detroit Mercy
Mohamad Bazzi – Detroit Mercy
Hanaa Saleh – Detroit Mercy
Rita Salim – Detroit Mercy
Payal Patel – Detroit Mercy
Nicolena Lulgjuraj – Oakland University
Jonathan Toma – Detroit Mercy