Aman Gupta
Assistant Professor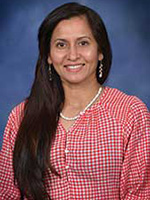 Contact Info:
Building:
School of Dentistry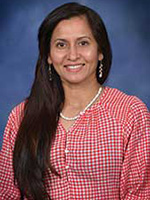 Teaches:
Clinical Pharmacology
Therapeutics
Degrees
Biography
Aman Gupta teaches clinical pharmacology and therapeutics. She also instructs Physician Assistant students at the College of Health Professions.
Her interests are keeping students informed of drug information and facilitating interdisciplinary communication. Gupta helps students understand the rationale and correct methods of prescription writing. She provides guidance to Dental students in making medication history reviews and ensures students demonstrate competency in the safe and effective use of medicines.
Gupta is involved in designing case discussions and conducting case-based learning for all levels of students. She takes pride in educating dental students about the importance of optimal oral care to minimize oral problems and discomfort. She also focuses on the possible acute and long-term effects of immunosuppressant and anti-cancer therapy in the craniofacial complex.
Apart from her passion for teaching, Gupta is involved in research projects that offer opportunities to dental students. She also plays a role in the in-service program where her key area of interest is effective evidence-based pain control treatments for patients with substance use disorders. She serves on various University committees.
Gupta holds an M.D. with a specialty in pharmacology and has done additional training in rehabilitation and management of musculoskeletal injuries. Based on her experience working with athletes, she introduces students to sports dentistry and the role of injury and performance-enhancing mouthguards. She joined the University in 2017.
In her spare time, she enjoys leisurely social and trail group bicycle rides.