Kristina  Okolisan-Mulligan
Clinical Assistant Professor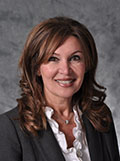 Contact Info:
Building:
School of Dentistry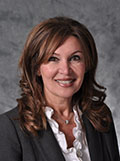 Teaches:
Radiology
General and Oral Pathology
Degrees
M.A., University of Detroit Mercy
R.D.H., University of Detroit
B.S., University of Detroit
Biography
Kristina Okolisan-Mulligan, RDH, BS, MA., teaches in Radiology, General Pathology and Oral Pathology, Evidence Based Dental Hygiene Care, and Board Review to dental hygiene students.  She also lectures and teaches didactic and clinical radiology to pre-doctoral dental students, and graduate students. Additional responsibilities include advising/mentoring both dental and dental hygiene students and serves as the Clinical Competency Advisor to dental hygiene students. Her research interests include emerging methodologies and educational research in radiology and providing continuing education courses in radiology and pathology. She is a speaker for national board review courses in the content areas of radiology and pathology and is also a contributing editor for "Modern Hygienist".  She joined the University in 1991. 
 

Research Activity

Research Interests: 

emerging methodologies and educational research in radiology