Divesh Byrappagari
Assistant Professor
Director, Community Outreach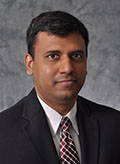 Contact Info:
Building:
School of Dentistry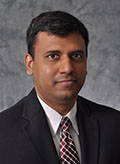 Areas of Expertise:
Dental Public Health
Community Dentistry
Degrees
BDS, Bangalore University, India
MSD, Boston University School of Dental Medicine
DPH Residency, NYSDOH / SUNY Albany
Biography
Dr. Byrappagari teaches dental public health courses to dental students. Additional responsibilities include managing the dental school's community outreach programs and Community Based Dental Education programs. His interests focus on reducing oral health disparities, health services and health policy research. Dr. Byrappagari holds a BDS from Bangalore University, India, MSD from Boston University School of Dental Medicine and Post-Doctoral Residency in Dental Public Health from New York State Department of Health and SUNY Albany. He joined the University in 2010.