Nicholas J. Schroeck
Associate Dean, Experiential Education
Associate Professor of Law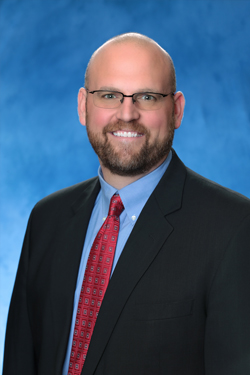 Contact Info:
Campus:
Riverfront Campus
Building:
George J. Asher Law Clinic Center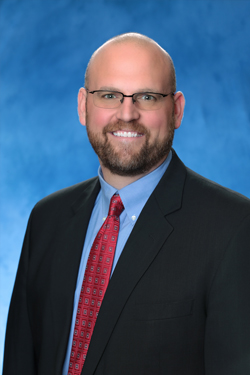 Areas of Expertise:
Environmental Law
Water Law
Urban Agriculture
Environmental Justice
Great Lakes Issues
Clinics
Degrees
J.D. Wayne State University '07
B.A. Elmhurst College '02
Biography
Nick Schroeck is an environmental law expert whose work focuses on air pollution, water pollution, environmental justice, transportation, and citizen suit enforcement. He previously served as Executive Director of the Great Lakes Environmental Law Center. Professor Schroeck has litigated cases for several prominent environmental advocacy organizations, including Sierra Club, Natural Resources Defense Council, Environmental Law and Policy Center, Michigan Environmental Council, National Wildlife Federation, and Detroiters Working for Environmental Justice 
Professor Schroeck joined the Detroit Mercy Law Faculty in 2018 as the Director of Clinical Programs and Associate Professor of Law. He was appointed Associate Dean of Experiential Education in 2019. He previously directed the Transnational Environmental Law Clinic and taught Environmental Law at Wayne State University Law School. 
Professor Schroeck and his wife Liz enjoy gardening, travel and craft cidermaking.
 

Courses Taught

Environmental Law Clinic

Advanced Environmental Law Clinic

Environmental Law

Externships

 

Selected Publications

Leach, C., Schulz, A., Schroeck, N., Lawrence, S., Williams, G., Sand, S., Bewaji, O., & Fuchs-Young, R.
"Multi-directional communication between decision makers and environmental health researchers: A qualitative
inquiry." Environmental Hazards: Human & Policy Dimensions (Accepted).

Schroeck, Nicholas and Leach, Carrie (2023) "The Exacerbating Role of Technological and Connectivity
Challenges on Older Detroiters' Health in a Pandemic," Seattle Journal of Technology, Environmental &
Innovation Law: Vol. 13: Iss. 2, Article 1.

Water Law Issue: Introduction, Michigan Bar Journal (forthcoming Summer 2022)(with Ross Hammersley)

Engaged communication of environmental health science: Processes and outcomes of urban academic-community partnerships, Leach, C., Schroeck, N., Blessman, J., Rorai, V., Cooper-Sargent, M., Lichtenberg, P. & Trentacosta. Applied Environmental Education & Communication (2021).

The Flint Water Crisis, Drinking Water Regulations and Gaps in Lead, Copper, and Legionella Protections Volume 98 of the University of Detroit Mercy Law Review, Vol. 98 (2021).


The Flint Water Crisis and Legionella: Harm to Public Health from Failure to Warn. The Journal of Law in Society, 18 J. L. Society 155 (2018). 

A Changing Environment in China: The Ripe Opportunity for Environmental Law Clinics to Increase Public Participation and to Shape Law and Policy. Vermont Journal of Environmental Law, Vol. 18, Winter 2016 

Microplastic Pollution in the Great Lakes: State, Federal, and Common Law Solutions. University of Detroit Mercy Law Review, Vol 93, Issue Two, Spring 2016 

 

Selected Presentations

International Union for the Conservation of Nature Colloquium of the Academy of Environmental Law – A
Freshwater Bill of Rights. (Panelist, Joensuu, Finland August 2, 2023)

Great Lakes Commission Annual Meeting (Panelist, Erie, PA October 12, 2022)

Indiana University, Robert H. McKinney School of Law Symposium on Land Use and Environmental Law, (Panelist, Indianapolis, IN September 23, 2022)

"Social Justice Through Policy Development and Implementation," Public Health Nursing Section Conference, Michigan Public Health Association (March 10, 2022);

"Our Planet, Our Health," World Health Day, University of Detroit Mercy (April 19, 2022)

Clinicians for a Healthy Climate – Advocating for Environmental Health in Michigan.
(CURES Center, Detroit, video appearance, December 10, 2021)

Detroit Mercy Law Current Events in the Law Series: President Biden's Climate Change Agenda and the UN Climate Change Conference. (Moderator, Detroit, video appearance, November 1, 2021)

Equal Justice Works -- 2021 Conference and Career Fair, Environmental Law Panel. (Moderator, Washington, D.C., video appearance, October 22, 2021)

International Association for Great Lakes Research, 64th Annual Conference on Great Lakes Research – "Carp, Climate Change and Canadian Pipelines: A decade of news and law in Great Lakes media." With Sandra Svoboda. (Video appearance, May 18, 2021)

American Association of Law Schools Clinical Conference – Water Justice Panel. (Virtual conference, video appearance, April 29, 2021)

Michigan Public Health Association – Public Health Nursing Section Conference "Social Justice: Equal Societies are Healthier." (Grand Rapids, MI, video appearance, April 14, 2021)

SciPol- Detroit – Air Pollution Panel (Detroit, MI, video appearance, April 8th, 2021)

American University Washington College of Law – 2021 Symposium, "Water Infrastructure, Equity, and Environmental Justice." (Washington, D.C., video appearance, February 11, 2021)


Equal Justice Works – 2020 Conference and Career Fair, Pathways to a Career in Environmental Law (Moderator) (Washington, D.C., virtual appearance, October 23, 2020) 

Citizens for Peace – Environmental Justice and Public Engagement (Royal Oak, MI, June 9, 2020) 

State of the Straits Conference – Climate Change Law and Policy University of Windsor (Windsor, Ontario, November 19, 2019) 

Great Lakes Water Conference – PFAS and Water Quality (Moderator) (University of Toledo Law School, Toledo, OH, November 8, 2019) 

Vermont Law School Colloquium on Environmental Scholarship -- "The Quebec Act of 1774 and the Great Lakes." (South Royalton, VT, September 21, 2019) 

InVivo Planetary Health conference at the Detroit Yacht Club -- Keynote: Environmental Law - litigation and legal channels in change making for social and ecological justice. (Detroit, MI, May 17, 2019) 

Healing Our Waters Great Lakes Restoration Conference -- Creation of a Great Lakes Bi-National Climate Adaptation Strategy (Detroit, MI, May 9, 2019) 

Real Property Law Section, State Bar of Michigan Summer Conference – Water Law Roundtable (Chrystal Mountain, MI, July 20-21, 2018) 

Public Interest Environmental Law Conference - Great Lakes Water Law (Eugene, OR (by Skype) March 2, 2018 

Environmental Justice in Practice – Hosted conference at Wayne Law in partnership with University of Chicago School of Law, American Bar Association, Environmental Law Institute and Great Lakes Environmental Law Center 
(Detroit, MI, January 26, 2018)