Our students learn Jesuit and Mercy values.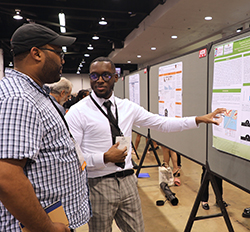 "When I was little, I always wanted to do research into hydrocephalus," Mims said. "My brother has had a shunt all his life, and you have to be cautious about certain things like sports. Doctors told him not to go in planes because of the pressure changes. Since my brother's been in college, he has had more than 12 operations and shunt revisions. Our mom has hydrocephalus. We've been affected deeply.
University of Detroit Mercy students saw the culmination of two semesters of work — not to mention four years of learning — when they presented life-changing capstone projects to veterans at Detroit's John D. Dingell VA Medical Center.
Our alumni live them.