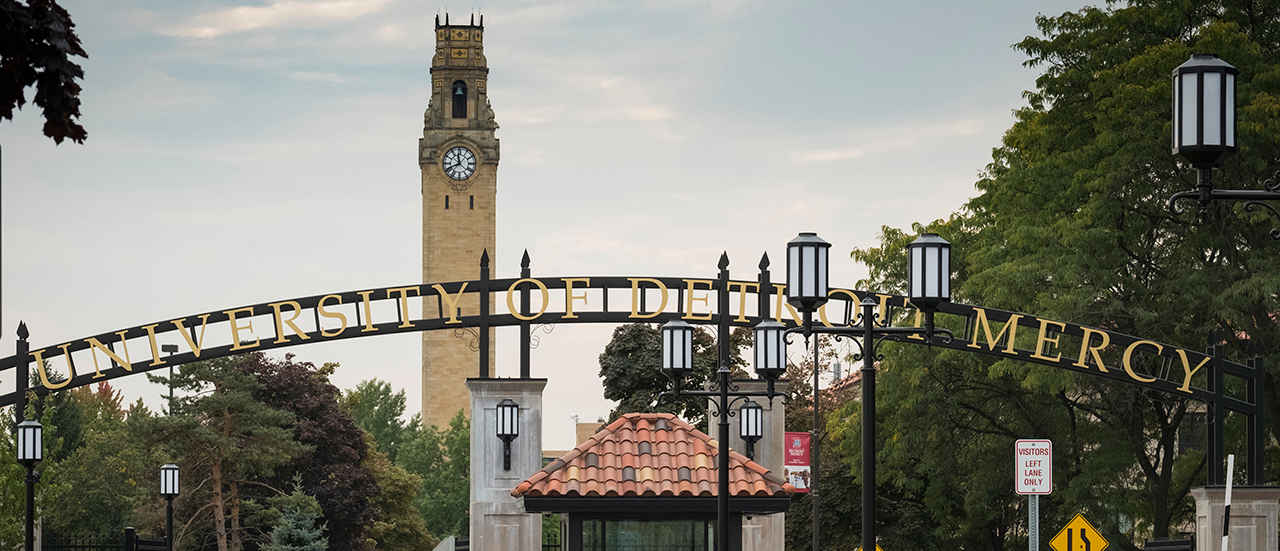 Detroit Mercy President
Donald B. Taylor is the 26th president of University of Detroit Mercy, a Catholic, Master's Comprehensive University sponsored by the Religious Sisters of Mercy and the Society of Jesus (Jesuits).
Recognized for his teaching, research, and service, Taylor's career spans more than 30 years as a professor, accomplished researcher and administrator. Prior to assuming his post at Detroit Mercy in 2022, Taylor served as president of Cabrini University in Radnor Township, PA, from 2014-2022.
Founders
The University of Detroit (founded in 1877) and Mercy College of Detroit (founded in 1941) consolidated in 1990 to form the University of Detroit Mercy, Michigan's largest and most comprehensive Catholic university. Sponsored by the Society of Jesus and the Religious Sisters of Mercy, the University is committed to quality education, service of faith, promotion of justice and compassionate service to persons in need, in order to establish future generations of students as leaders in the 21st century. Detroit Mercy's history.
Core Curriculum
The purpose of a Detroit Mercy education is to graduate students who can set and achieve their own goals, find meaning in their lives, and make lasting contributions to their communities. The core curriculum is designed to provide each student — regardless of major — with the critical thinking, communication and leadership skills he or she needs to do just that.
Academic Programs
Detroit Mercy offers more than 100 academic degrees and programs of study through seven schools and colleges.
Students
Detroit Mercy has a vital and diverse student population of approximately 5,227 students, of which 59 percent are female and 41 percent are male. About 19 percent are minority students. The average age of our students is 24, including graduate and professional enrollment. 75 percent are full-time, 25 percent part-time.
Faculty
Detroit Mercy has 216 full-time faculty members at the McNichols and Novi Campuses and 110 faculty teaching at the professional level, 94 percent of whom hold doctorate degrees or other terminal degrees available in their fields.
Student/Faculty Ratio
Our 11-to-1 student/faculty ratio and small average class size guarantee personalized one-on-one interaction between students and our faculty of nationally-recognized teachers and scholars.
Credentials
See our accreditation page.
Career Preparation & Co-op Programs
Our Center for Career and Professional Development (CCPD) offers comprehensive career planning and placement services to students and graduates. The University also provides a nationally-recognized cooperative education program that places undergraduate students each year in career-related salaried positions. Our co-op program is the third oldest continuous program in the country, and the oldest program in Michigan. It is available to students in all programs, and is required in Architecture, Engineering and 5-year BSBA/MBA programs.
Success Rate
CCPD reports a total success rate the class of 2021 is 95%. This number includes full-time/part-time employment and graduate school enrollment. For full-time employment only, the success rate for the class of 2021 is 78%.
Housing Options
Detroit Mercy maintains six residence halls, which house approximately 800 students.
Locations
Detroit Mercy has four campuses in Detroit, one located in the residential northwest area of the city and two in or near downtown and one in Novi, providing academic programs and services for full-time, evening and weekend students. Our two professional schools include the School of Dentistry, located on our Corktown Campus; and the School of Law, located in downtown Detroit.
Alumni
Our 88,000 living alumni include Michigan State Supreme Court justices, prosecuting attorneys, major executives of Fortune 500 companies, university presidents and educators, medical researchers, prominent architects, dentists and engineers, managers in automotive companies, partners in major accounting firms and graduates in virtually every Detroit area hospital. Our graduates reside in all 50 states and 78 foreign countries from Algeria to Zambia. Alumni Community web site.