Safety Information for the Detroit Mercy Community

One of Michigan's Safest Universities
Of course, one-hundred percent safety is Detroit Mercy's goal – and it's the goal we'll keep striving to reach. Unfortunately, no campus can be completely safe every second of the time. However, we have safety measures in place to protect our students and an excellent record to prove they're working.
It is important to note that the Detroit Mercy Leadership Team, Public Safety Department, and law enforcement agencies in southeast Michigan recently participated in a training to address active shooter situations. The leadership team is committed to offering training throughout each academic year and will continue to play a role in helping to ensure the safety of our community. For more about Public Safety information and protocols, view the Department of Public Safety website. You can also find the institution's Emergency Response Plan.
Department of Public Safety
University of Detroit Mercy has its own Department of Public Safety, staffed by Licensed Private Security Police Officers. All Private Security Police Officers are former or current sworn law enforcement officers from local municipality Police Departments. Officers come from various backgrounds and contribute to the department with their individual knowledge, training and experience. Officers are on our campuses 24 hours a day, seven days a week. They patrol on foot, on bikes and in marked and unmarked vehicles.
In addition to nonstop campus coverage, UDM's Public Safety Department offers many services including:
Safety escorts

 

to anywhere on all campuses so students never have to walk alone to their car or residence hall after a late night studying in any of our buildings. Escorts are available seven days a week, 24 hours a day.
RAVE Emergency Alert System: Students, staff and parents can register for Detroit Mercy emergency communications and be among the first to receive alerts on campus-wide class cancellations or other emergency notices via text message and email through the Rave Mobile Safety System.

 

Text UDMERCY to 67283 to opt-in.
Educational programs addressing sexual assault prevention, cyberstalking, dating violence and what students should do to stay safe,
Emergency medical assistance

 

is always available from officers certified in first aid and CPR.
Be on the lookout notifications (BOLOS), 24-hour alerts by email, text and phone regarding police incidents on or near campus
Motor vehicle assistance

 

to jumpstart batteries and unlock vehicles.
A low rate of crime, and getting lower
We work hard to keep our community safe, and our crime statistics show that work pays off. Under the federal Jeanne Clery Act, on- and off-campus incidents in the immediate area must be reported and made publicly accessible. But even if reporting was not required, we would be happy to make our stats public. They show no violent crime on campus and an extremely low rate of any kind of criminal incident, especially for a university of UDM's size. Even those incidents are declining. You can view the latest statistics available from 2021 through 2023*. You can also compare UDM's stats to those of other universities in Michigan by going to the U.S. Department of Education's Campus Safety and Security page.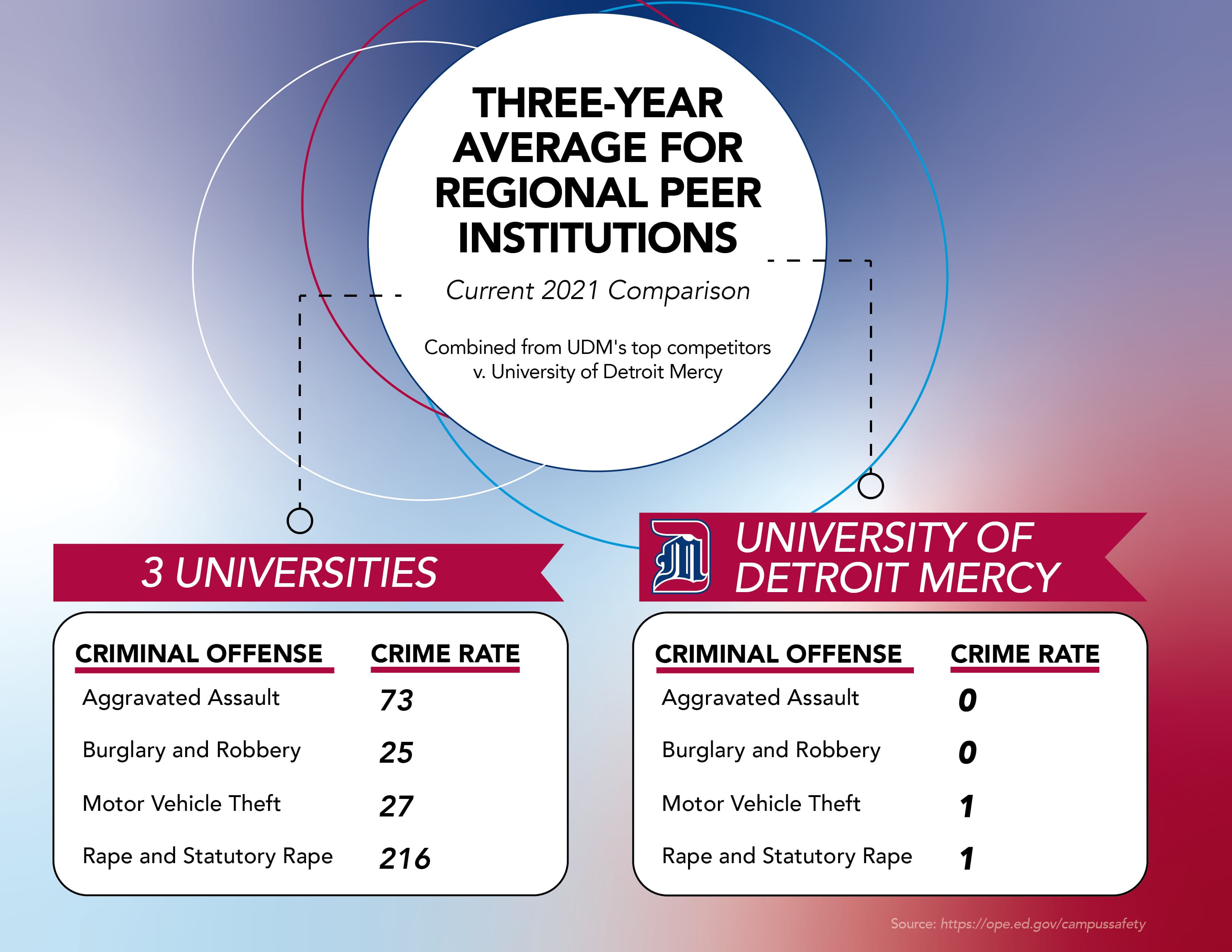 * Most recent year which statistics are available.
What if an incident happens on one of our campuses?
Even the greatest police force in the world can't prevent difficult events from happening. However, we are ready in case they do.
We have a three-step emergency preparedness plan in place. The strategies include identifying the emergency condition, activating the Emergency Management Team, sharing first responder and emergency procedures, building containment procedures, deciding on campus closures and other important components to keep your student safe.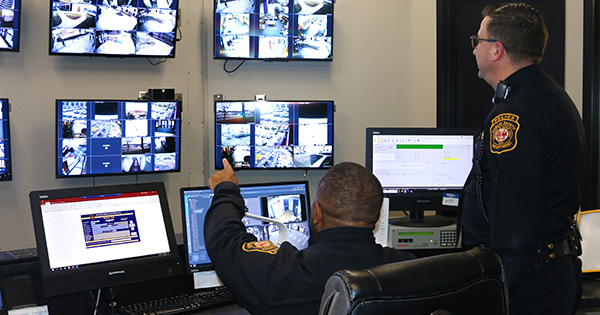 A proactive community is the best defense
The prevention of criminal acts depends not just on safety professionals but on the active cooperation of everyone in the community. To help educate and equip students, we offer numerous programs and courses, including:
Alcohol and drug abuse prevention
Auto theft seminars
Campus crime watch programs
Self-protection seminars
Sexual assault seminars
Stay safe and protect your personal property. Students and employees should:
Pre-program the public safety number, 313-993-1234, into their phones
Familiarize themselves with routes between residence halls or car and class activities
Always tell someone where they are going and when they will return
Stick to well-lit and busy areas
Get money from an ATM inside a building not outside
Always lock cars and rooms, even if they leave for only a minute
Never prop open exit doors on residence halls
Never loan their ID card to anyone