Titan Equity Nourish Network (TENN)
Titan Equity Nourish Network (TENN) at University of Detroit Mercy fosters student and community collaboration for a more food sovereign Detroit. TENN provides students with real opportunities to apply things they learn in the classroom as they design and lead programs that promote equity and sustainability in the food system. As part of the Institute for Leadership and Service, TENN student leaders coordinate multiple service opportunities each week that reduce the immediate effects and systemic causes of hunger and food waste.
Why TENN?
On Jan. 28, 2021, Campus Kitchen celebrated its 10th anniversary and chose a new name that fits our work and mission: Titan Equity Nourish Network (TENN).
Titan: We are proud to be Titans. Community collaboration ignites our students and nourishes growth through meaningful service opportunities and educational engagement.
Equity: We strive for a food system that is grounded in equity because equality does not equate to justice. Through mutually beneficial relationships with our community, we seek to examine and remediable the root causes of food and environmental inequity.
Nourish: We nourish bodies, relationships, minds and the earth. While nourishment can be acquired through food, we also nourish through community engagement, education, and sustainable practices.
Network: We are privileged to be a part of a greater network. In collaboration with Detroit Mercy staff, faculty, and students, community partners and campus neighbors, we work together for a more food sovereign Detroit.
2022 Numbers & Reflections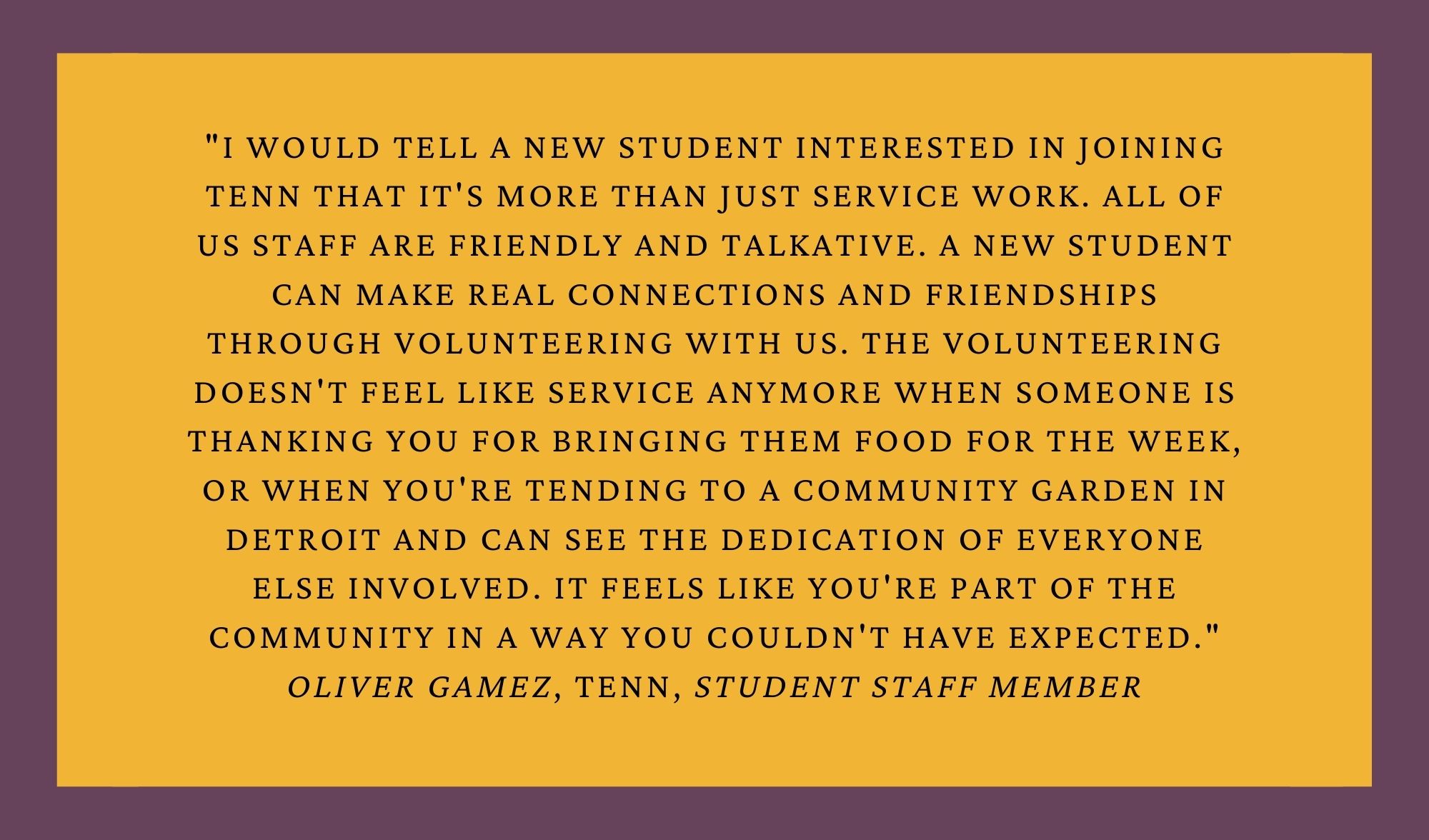 Mission & Vision of TENN
The mission of TENN is to find solutions to challenges in the Detroit food system by engaging student passion and community wisdom. At TENN, community members and students work together to raise awareness, address immediate needs and engage in critical thinking about the systemic causes of these challenges.
At TENN, we envision creative collaboration in Detroit toward an equitable and sustainable food system.
Interested in getting involved with TENN?
Want to be a leader who helps plan our great programming on and off campus? We are looking team members to join our planning teams and to help plan sustainability, social engagement, urban agriculture, and fundraising events for TENN. Want to participate in volunteer opportunities? We are also always looking for volunteers for our many service opportunities, including Friday food deliveries and urban agriculture work days. Interested in participating and hearing more about our events and opportunities?
Recurring Events: 
Produce Deliveries - Fridays, 10 a.m. - 1:30 p.m. - Deliver fresh fruits and vegetables to our neighbors on Princeton Street to those facing food insecurity.
Garden Service - Wednesdays 8 a.m. - 10 a.m. late March - October - Work in our campus garden and develop both gardening and leadership skills!
Check out our calendar of events for more happenings, sign-up links, and further details
Thank You
Thanks to the Ford Motor Company Fund, United Way of Southeastern Michigan, Sisters of St. Joseph Congregation, #SeedMoney, and Detroit Mercy Libraries, and our many individual donors for donating and organizing critical financial support Our programs would not be possible without food donations from Metz Dining Services, Gleaners Community Food Bank, and Avalon Bakery  We are grateful to our the many organizations who collaborate with us on service and educational programs including the Princeton Street Block Club, Lakeridge Village, Xavier University's Immersive Learning, Eastern Market Partnership, Farmacy Foods, Marygrove Garden, JB's Farm, and additional urban farms and food justice organizations.
Service Opportunities & Events
Join us for a volunteer shift for service-learning, ELP credit, or fun. Check out our calendar of events below for service opportunities and links to sign up, or email us at tenn@udmercy.edu to be added to our listserv and receive updates about events and opportunities. 
Join the TENN Team
If you're a Detroit Mercy student who feels passionate about food access, fundraising, event planning, health, or community development, fill out the link below to get more involved with TENN.
Connect with TENN
Check out our
TENN Facebook page
and
TENN Instagram
for updates.
2022 Annual Report
Make sure to read our 2022 Annual Report