Kathleen Zimmerman-Oster
Professor of Psychology
Director of Industrial/Organizational Psychology Master of Arts Program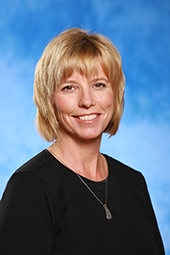 Contact Info: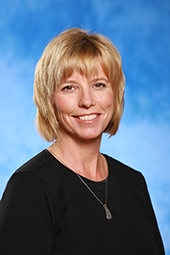 Degrees
Ph.D., Wayne State University
M.A., Wayne State University
B.A., University of Detroit
Biography
Kathleen Zimmerman-Oster, Ph.D., is a professor in the Department of Psychology at University of Detroit Mercy. In addition to her teaching responsibilities, she serves as the director of the Industrial/Organizational Psychology Master of Arts Program and Director of Research, Evaluation, and Leadership Development for the Institute for Leadership and Service (ILS) at Detroit Mercy.
Zimmerman-Oster earned a Master of Arts and a doctorate in Social and Industrial/Organizational Psychology from Wayne State University. She is a social/organizational psychologist with expertise in the areas of program assessment and evaluation; vocational, organizational, and leadership development; and executive team development. She has extensive experience in the area of "leadership development across the lifespan"; including youth development and alcohol and other drug abuse prevention planning and research, college-age youth development, and management and executive coaching. She has taught more than 40 sections of courses on leadership development, psychology, and research methods using a practical, real-world approach based on her consulting experience. She has presented local workshops on leadership, assessment, and evaluation as well as professional papers on research and evaluation methods at national conferences of the American Evaluation Association, American Psychological Association, and American Psychological Society. Her current research is in the areas of assessment and evaluation of leadership development programs; youth prevention programs; the assessment of leadership potential and its relationship to emotional intelligence and executive coaching; as well as community engagement, coalition building, servant leadership and service learning.
 

Applied Research and Consulting

Kathleen Zimmerman-Oster is the president of TEST, Incorporated (Training, Evaluation, & Survey Technicians). TEST, Incorporated provides consultation, technical assistance, applied research to business, industry, schools and universities, human service agencies, and foundations in the areas of program and performance evaluation, strategic and organizational planning, community relations and coalition development, organizational and leadership development, diversity training, and human resource management, training, and assessment and substance abuse prevention and youth development. She has provided services to more than 100 client organizations and institutions throughout the past 25 years including the W.K. Kellogg Foundation, University of Michigan, the Greenleaf Center for Servant Leadership, Henry Ford Hospital, Leadership Macomb, the Troy Community Coalition, the Greater Battle Creek Substance Abuse Council, the Waterford School District, the Chippewa Valley Coalition for Youth and Families, and Michigan's Children.

 

Courses Taught at University of Detroit Mercy

I/O Psychology Capstone Experience

I/O Psychology Internship

Social Psychology
Leadership Capstone
Leadership Models
Ethical Issues in the Workplace

 

Grants

As a result of Kathleen Zimmerman Oster's expertise in research, leadership, and needs assessment, she has received grants from several organizations, totaling several million dollars. She has received the opportunity to provide technical assistance, program evaluation, and research to partner with Substance Abuse and Mental Health Administration Coalitions in Jackson, Clinton Township, Battle Creek, and Rochester, Michigan to name a few. Additionally, she has received funding from the Michigan Department of Education and Office of Drug Control Policy, State of Michigan to conduct evaluations on substance abuse and gang prevention.

 

Honors

OUTSTANDING RESEARCH

- Third Annual UDM Faculty and Student Research Symposium and Poster Fair – CLAE Award $50 Gift Card (given to students) - "A Qualitative Meta-Analysis of Greenleaf Servant Leadership Research," April, 2009.

OUTSTANDING EFFORT TO IMPROVE THE HEALTH OF THE COMMUNITY AWARD - Henry Ford Hospital School Health Team, for teaching and peer leader component of the St. Thecla SMART Program (Skills Mastery & Resistance Training), August, 2008.

SCHOLAR IN RESIDENCE, "Making the Case for Leadership Education: Leadership Lessons Learned"; University of Maryland's National Clearinghouse for Leadership Programs, 2003 National Leadership Symposium Program; University of Richmond, Jepson School of Leadership, Richmond, Virginia, July, 2003.

OUTSTANDING ASSESSMENT RESEARCH AWARD, American College Personnel Association, Commission IX Assessment for Student Development, March 2002, for: Cress, C.M., Astin, H., Zimmerman-Oster, K.A., & Burkhardt, J.C. (January, 2001). Developmental Outcomes of College Students' Involvement in Leadership Activities. Journal of College Student Development, Vol. 42 No.1, 15-27.

 

Publications

Parrish, D. and Zimmerman-Oster, K; Servant Leadership at Forty: The Case for Contemporary Research, The International Journal of Servant-Leadership, 2010, Volume 6, State University of New York Press.

Leever, M., Daniels, J. & Zimmerman-Oster, K.A.; "Ethics & Service-Learning: Developing Compassionate Leaders"; Teaching Ethics, January, 2007.

Cress, C.M., Astin, H., Zimmerman-Oster, K.A., & Burkhardt, J.C., January, 2001. Developmental Outcomes of College Students' Involvement in Leadership Activities. Journal of College Student Development, Vol. 42 No.1, 15-27.

Zimmerman-Oster, K.A., et. al. (contributing author), January, 2000. "Leadership Reconsidered: Engaging Higher Education in Social Change". Special Publication of the James MacGregor Burns Academy of Leadership at the University of Maryland and the W.K. Kellogg Foundation.

Zimmerman-Oster, K.A.& Burkhardt, J.C., May, 1999. "Leadership in the Making: Impact and Insights From Leadership Development Programs in U.S. Colleges and Universities". W.K. Kellogg Foundation Special Publication.

Zimmerman-Oster, K.A.& Burkhardt, J.C.; September, 1999. Leadership In the Making: A Comprehensive Examination of the Impact of Leadership Development Programs on Students, Journal of Leadership Studies, Vol. 6, No. ¾, 50-66.

Burkhardt, J.C. & Zimmerman-Oster, K.A.; Fall, 1999. How Does the World's Richest, Most Widely Educated Nation Prepare Leaders for its Future? Proteus, Vol. 16, No. 2, 9-12.

 

Affiliations

Volunteer, Bishop Foley Catholic High School

Board of Directors, Chesterton Academy of Our Lady of Guadalupe

American Psychological Association
American Psychological Society
Detroit Empowerment Zone Evaluation Collaborative
Macomb Community College Alumni Association
Michigan Industrial/Organizational Psychologists Association
Michigan Prevention Professionals Association
Psychologists for Social Responsibility
Society for the Psychological Study of Social Issues
Participant, Big Sisters Program
Volunteer, St. Thecla Catholic School and Church