Kristen Abraham
Associate Professor of Psychology
Director of Master of Arts Program in Clinical Psychology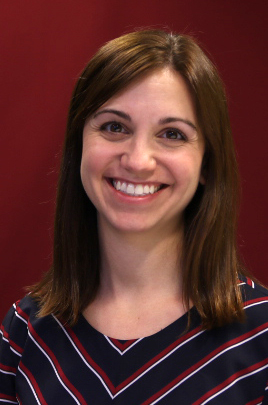 Contact Info: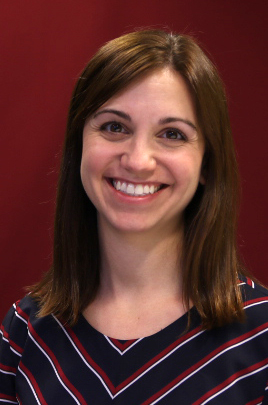 Degrees
Ph.D., Bowling Green State University
M.A., Bowling Green State University
B.A., Albion College
Biography
Kristen M. Abraham earned her Doctorate in Clinical Psychology from Bowling Green State University where she received specialized training in community psychology. Abraham joined University of Detroit Mercy in 2013 after completing three years of postdoctoral clinical psychology and health services research training in the Veterans Health Administration (VHA). In 2017 she received the Detroit Mercy Faculty Achievement Award.
Abraham teaches graduate and undergraduate courses and is a licensed psychologist with clinical interests in psychosocial rehabilitation and recovery for serious mental illness (schizophrenia and bipolar disorders), substance use disorders and cognitive-behavior therapies. Her research is focused on using socioecological approaches to understand how social, interpersonal and healthcare systems influence and can be modified to improve the lives of people with serious mental illness and their family members.
Abraham's current research projects include studies of public mental health systems, health and healthcare for people with serious mental illness, and the employment experiences of peer support specialists. These studies are carried out in the context of the Clinical-Community Psychology Research Group—a team of graduate and undergraduate students who are interested in gaining research experience related to people with serious mental illness, health and healthcare, clinical and community psychology. She maintains active research collaborations with investigators at other universities and in the VHA.
Within the Department of Psychology at University of Detroit Mercy, Abraham mentors undergraduate and graduate student research, serves as director of the master of arts program in clinical psychology and is a member of the Clinical Training Committee and a clinical supervisor for the doctoral program in clinical psychology. She serves the broader university as the social science liaison to the ReBUILDetroit Program in the College of Engineering and Science and contributes to the Master of Community Development Program in the School of Architecture. Outside of the University, Abraham maintains an appointment at the VHA Serious Mental Illness Treatment Resource and Evaluation Center (SMITREC) where she directs the national evaluation for a program entitled Re-Engaging Veterans with Serious Mental Illness in Treatment (SMI Re-Engage).
 

Internships / Training

Clinical Psychology, Louis Stokes Cleveland VA Medical Center

 

Post Doctoral Fellowships

VA Advanced Psychology Postdoctoral Fellowship; VA Serious Mental Illness Treatment Resource and Evaluation Center and University of Michigan, Department of Psychiatry
VA Psychology Postdoctoral Fellowship in Addictions, John D. Dingell Detroit VA

 

Courses Taught at University of Detroit Mercy

Cognitive Therapy
Psychopathology
Introduction to Psychology
Health Disparities Research
Abnormal Psychology

 

Selected Publications

*Student authors.

Abraham, K. M., Merrill, S. L., Quasarano, J. G., Mach, J., Harrod, M., & Takamine, L. (In Press): Outreach to facilitate return to VA care for veterans with serious mental illness: A mixed methods evaluation of best practices. Psychological Services. Manuscript in press.
Abraham, K. M., Chang, M. M., Van, T., Resnick, S. G., & Zivin, K. (In Press). Employment after vocational rehabilitation predicts decreased health care utilization in veterans with mental health diagnoses. Military Medicine. Manuscript in press.
Lapidos, A., Abraham, K. M., Jagusch, J., Garlick, J., Walters, H., Kim, H. M., Vega, E., Damschroder, L., Forman, J., Ahmedani, B., King, C., & Pfeiffer, P. N. (2019). Peer Mentorship to Reduce Suicide Attempts among High-Risk Adults (PREVAIL): Rationale and Design of a Randomized Controlled Effectiveness-Implementation Trial. Contemporary Clinical Trials, 87, 105850.
Mitchell, J. M.*, & Abraham, K. M. (2018). Parental Mental Illness and the Transition to College: Coping, Psychological Adjustment, and Parent-Child Relationships. Journal of Child and Family Studies, 27, 2966-2977.
Abraham, K. M., Mach, J., Visnic, S., & McCarthy, J. F. (2018). Enhancing treatment reengagement for veterans with serious mental illness: Evaluating the effectiveness of SMI Re-Engage. Psychiatric Services, 69, 887-895.
Abraham, K. M., Yosef, M., Resnick, S. G., & Zivin, K. (2017). Competitive employment outcomes among Veterans in VHA therapeutic and supported employment services programs. Psychiatric Services, 68, 938-946.
Abraham, K. M., Nelson, C. B., Ganoczy, D., Zivin, K., Brandfon, S., Walters, H., Cohen, J. L., & Valenstein, M. (2016). Psychometric analysis of the Mental Health Recovery Measure (MHRM) in a sample of veterans with depression. Psychological Services, 13, 193-201.
Abraham, K. M., Ganoczy, D., Yosef, M., Resnick, S. G., & Zivin, K. (2014). Receipt of employment services among VA users with psychiatric diagnoses. Journal of Rehabilitation Research and Development, 51, 401-414.
Abraham, K. M., & Stein, C. H. (2013). When mom has a mental illness: Role reversal and psychosocial adjustment among emerging adults. Journal of Clinical Psychology, 69, 600-615.
Abraham, K. M., & Stein, C. H. (2010). Staying connected: Young adults' felt obligation toward parents with and without mental illness. Journal of Family Psychology, 24, 125-134.

 

Conference Presentations

*Student authors.

Abraham, K. M. (2021, August). Adopting Administrative Roles as a Faculty Member: Applying Clinical-Community Psychology Training. Talk presented as part of the symposium Clinican Administrators: Critical for Systems Change (T. Schmitz, Chair). Symposium presented virtually at the Annuan Convention of the American Psychological Association.
Erickson, P. E.*, & Abraham, K. M. (2021, August). Predictors of Job Satisfaction Among Peer Support Specialists. Poster presented virtually at the Annual Convention of the American Psychological Association.
Davis, M. A.*, Abraham, K. M., & Munday, C. C. (2021, August). The Effects of Racial Discrimination and Stigma on Quality of Life and Mental Health Recovery. Poster presented virtually at the Annual Convention of the American Psychological Association.
Weber, R. L*. & Abraham, K. M. (2021, August). Psychometric Analysis of the 10-Item Mental Health Recovery Measure in a Predominantly African American Sample of Adults with Serious Mental Illness. Poster presented virtually at the Annual Convention of the American Psychological Association.
Mitchell, J. M*., & Abraham, K. M. (2020, August). Do Parental Attachments Mediate the Association Between Emerging Adults' Parents Mental Illness Status and Psychological Adjustment? Poster presented virtually at the Annual Convention of the American Psychological Association. Washington, DC.
Mitchell, J. M.*, & Abraham, K. M. (2020, August). Differences in Identity Status Among Emerging Adults With and Without a Parent with Mental Illness. Poster presented virtually at the Annual Convention of the American Psychological Association. Washington, DC.

 

Grants

Social Determinants of Primary Care Utilization among Urban Community Mental Health Center Patients with Serious Mental Illness; National Institute on Minority Health and Health Disparities (NIMHD); (2015-2020); This mixed methods study funded by an R15 Academic Research Enhancement Award is designed to examine whether the following factors contribute to primary care utilization among people with serious mental illness in Detroit: health insurance literacy, health literacy, experiences of racism, and experiences of stigma related to mental illness.

Peer Support Specialists in the Workplace: Empowerment, Mentorship, and Job Satisfaction; University of Detroit Mercy Professors Union; (2013-2015); This mixed methods study funded by two Internal Faculty Research Awards are designed to assess peer support specialists' experiences of empowerment in the workplace. The study also examines if a mentoring supervisory style directly contributes to job satisfaction and less burnout and whether role clarity and psychological empowerment mediate this link.

 

Organizations / Affiliations

Editorial Board Member, Psychiatric Rehabilitation Journal (2019- present)
Editorial Board Member, Psychological Services (2017 - present)
Editorial Board Member, Journal of Family Theory and Review (2017 - 2020)
Consulting Editor, Teaching of Psychology (2015 - 2017)