Libby Balter Blume
Professor Emerita
Professor of Psychology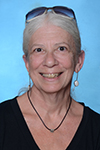 Contact Info: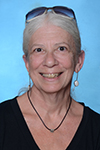 Degrees
Ph.D., Texas Tech University
M.A., San Francisco State University
B.A., University of California at Davis
Certificate in Gerontology, Wayne State University
Certified Family Life Educator
Biography
Professor of Psychology, Blume teaches courses in Child Development, Family Relations, Environmental Psychology, Creativity and Giftedness, Architecture and Community Development, and Women's and Gender Studies. She directs the undergraduate programs in Developmental Psychology and Certified Family Life Education and co-directed the Community Development graduate program. Blume is a Fellow of the National Council on Family Relations and past recipient of the Award of Excellence from the U.S. Department of Health and Human Services.
Blume's research interests are adolescents' social constructions of gender and ethnicity and feminist theory in family studies. She co-authored two textbooks on middle childhood and adolescence, editor-in-chief of the Journal of Family Theory & Review, and founding editor of the Michigan Family Review and the Groves Monographs on Marriage & Family. Founder of the Women's and Gender Studies Biennial Art Exhibition, Blume also has a background in fine arts and creative arts education. She has extensive experience as an art educator, preschool teacher, child development center director, and consultant to Head Start programs and to schools for gifted children from elementary to high school.
She holds a Bachelor of Arts from the University of California at Davis, a Master of Arts from San Francisco State University, and a doctorate from Texas Tech University. She came to Detroit Mercy in 1987 and also served as an adjunct professor for University of Detroit Mercy's School of Architecture. She retired in 2018 with the honor of professor emerita.
 

Courses Taught at Detroit Mercy

Child and Human Development
Human Relationships and Parenting
Community Development
Environmental Psychology
Visual Communication

 

Website

 

Publications

Blume, L. B

., & Blume, T. W. (2003). Toward a dialectical model of family gender discourse: Body, identity, and sexuality. Journal of Marriage and Family, 65(4), 785-794.

Wautier, G., & Blume, L. B. (2004). Effects of identity, gender role, and attachment on depression and anxiety in young adults. Identity: An International Journal of Theory and Research, 4(1), 55-72.

De Reus, L. A., Few, A. M., & Blume, L. B. (2005). Multicultural and critical race feminisms: Theorizing families in the third wave. In V. Bengtson, A. Acock, K. Allen, P. Dilworth-Anderson & D. Klein (Eds.), Sourcebook of family theory and research (pp. 447-468). Thousand Oaks, CA: Sage.

Oswald, R. F., Blume, L. B., & Marks, S. (2005). Decentering heteronormativity: A model for family studies. In V. Bengtson, A. Acock, K. Allen, P. Dilworth-Anderson & D. Klein (Eds.), Sourcebook of family theory and research (pp. 143-165). Thousand Oaks, CA: Sage.

Blume, L. B., & Zembar, M. J. (2007). Middle childhood to middle adolescence: Development from Ages 8 to 18. Columbus, OH: Prentice Hall.

Blume, L. B., & De Reus, L. A. (2008). Transnational families and the social construction of identity: Whiteness matters. R. L. Dalla, J. DeFrain, J. Johnson & D. Abbott (Eds.), Strengths and challenges of new immigrant families: Implications for research, policy, education, and service (pp. 71-90). New York, NY: Lexington.

Zembar, M. J., & Blume, L. B. (2009). Middle childhood development: A contextual approach. Columbus, OH: Prentice Hall.

Blume, L. B., & De Reus, L. A. (2009). Resisting whiteness: Autoethnography and the dialectics of ethnicity and privilege. In S. Lloyd, A. L. Few, & K. Allen (Eds.), Handbook of feminist family studies (pp. 43-55). Thousand Oaks, CA: Sage.

Oswald, R. F., Kuvalanka, K., Blume, L. B., & Berkowitz, D. (2009). Queering .the family. In S. Lloyd, A. L. Few, & K. Allen (Eds.), Handbook of feminist family studies (pp. 205-219). Thousand Oaks, CA: Sage.

De Reus, L. A., & Blume, L. B. (Eds.) (2010). Social, economic, and environmental justice: Speaking out and standing up for families. Groves Monographs on Marriage & Family, Vol. 1. Ann Arbor, MI: MPublishing.

Blume, L. B., Sani, A., & Ads, M. (2011). Arab immigrant families. In S. Ballard & A. Taylor (Eds.), Family life education with diverse populations (211-233). Thousand Oaks, CA: Sage.

Blume, L. B. (2013). [De]forming the figure: Spatial embodiment in architectural representation. Dichotomy, 19, 116-135.

Blume, L. B. (2014). Middle childhood. In H. Montgomery (Ed.), Childhood studies. Oxford, England: Oxford University Press.

Sharp, E., & Blume, L. B. (2016). Feminist perspectives on families. In C. L. Shehan (Ed.), Encyclopedia of family studies. New York: Wiley-Blackwell.

Blume, L. B., & Rosario-Perez, S. (2016). Middle childhood. In C. L. Shehan (Ed.), Encyclopedia of family studies. New York: Wiley-Blackwell.

Blume, L. B., & Weatherston, R.W. (2018). Queering the campus gender landscape through visual arts praxis. In E. McNeil, J. Wermers, & O. Lunn (Eds.), Queer landscapes: Mapping queer space(s) of praxis and pedagogy (pp. 71-103). Palgrave.

Blume, L. B. (2020). Feminist theory in the practice and pedagogy of architecture and design. In S. Vogel & L. B. Blume (Eds.), Teaching and designing in Detroit: Ten women on pedagogy and practice (pp. 12-24). Routledge Research in Architecture Series. Taylor & Francis.

Ads, M., & Blume, L. B. (2021). Arab immigrant families. In S. Ballard & A. Taylor (Eds.), Family life education with diverse populations (2nd ed., pp. 333-360). Cognella.

Blume, L. B., & Fine, M. A. (2022). Transdisciplinary family science. In K. Adamsons, A. L. Few-Demo, C. M. Proulx, & K. Roy (Eds.), Sourcebook of family theories and methodologies: A dynamic approach (pp. 733-751). Springer Nature. https://doi.org/10.1007/978-3-030-92002-9_54

Blume, L. B., & Bernasconi, C. (2023). Theorizing community development in the metaverse: The meta-context of virtual community engagement. Submitted March 29 to Community Development.

Bernasconi, C., & Blume, L. B. (2023). A synechistic conceptualization of othering: Social ontological questions in service learning. Michigan Journal of Community Service Learning. Invited article for 2023 summer issue.

Bernasconi, C., & Blume, L. B. (2023). Soft approaches for architectural research and education. Dichotomy, 26, 2-23.

 

Conferences

Blume, L. B. (2016, November). Family theories: Past, present, future. Discussant, Theory Construction and Research Methodology Workshop, National Council on Family Relations, Minneapolis, MN.

Blume, L. B. (2015, November). How to publish in NCFR journals. Panel member at the annual meetings of the National Council on Family Relations. Vancouver, BC.

Blume, L. B. (2013, November). Methodologies of discomfort: The travails and triumphs of a transdisciplinary dance/family studies project. Discussant, Theory Construction and Research Methodology Workshop, National Council on Family Relations, San Antonio, TX.

 

Organizations / Affiliations

Fellow, National Council on Family Relations

Editor in chief, Journal of Family Theory & Review