Kathleen Zimmerman-Oster
Professor of Psychology
Director of Industrial/Organizational Psychology Master of Arts Program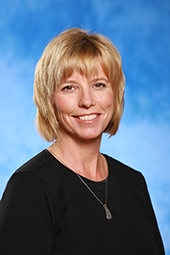 Contact Info: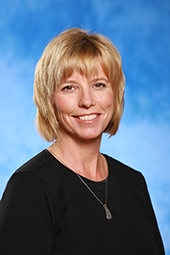 Degrees
Ph.D., Wayne State University
M.A., Wayne State University
B.A.,University of Detroit
Biography
Kathleen Zimmerman-Oster, Ph.D., is a professor in the Department of Psychology at University of Detroit Mercy. In addition to her teaching responsibilities, she serves as the director of the Industrial/Organizational Psychology Master of Arts Program and Director of Research, Evaluation, and Leadership Development for the Institute for Leadership and Service (ILS) at Detroit Mercy.
She is also President of TEST, Incorporated (Training, Evaluation, & Survey Technicians). TEST, Incorporated provides consultation, technical assistance, and applied research to business, industry, schools and universities, human service agencies, and foundations in the areas of program and performance evaluation, strategic and organizational planning, community relations and coalition development, organizational and leadership development, diversity training, and human resource management, training, and assessment and substance abuse prevention and youth development. She has provided services to over one hundred client organizations and institutions over the past 25 years including the W.K. Kellogg Foundation, University of Michigan, the Greenleaf Center for Servant Leadership, Henry Ford Hospital, Leadership Macomb, the Troy Community Coalition, the Greater Battle Creek Substance Abuse Council, the Waterford School District, the Chippewa Valley Coalition for Youth and Families, and Michigan's Children; to name a few.
Zimmerman-Oster received her Master of Arts and doctorate in Social and Industrial Organizational Psychology from Wayne State University. She is a social/organizational psychologist with expertise in the areas of program assessment and evaluation; vocational, organizational, and leadership development; and executive team development. She has extensive experience in the area of "leadership development across the lifespan"; including youth development and alcohol and other drug abuse prevention planning and research, college-age youth development, and management and executive coaching. She has taught over 40 sections of courses on leadership development, psychology, and research methods using a practical, real-world approach based on her consulting experience. She has presented local workshops on leadership, assessment, and evaluation as well as professional papers on research and evaluation methods at national conferences of the American Evaluation Association, American Psychological Association, and American Psychological Society. Her current research is in the areas of assessment and evaluation of leadership development programs; youth prevention programs; the assessment of leadership potential and its relationship to emotional intelligence and executive coaching; as well as community engagement, coalition building, servant leadership and service learning.