Tadd Heidgerken
Associate Professor of Architecture and Community Development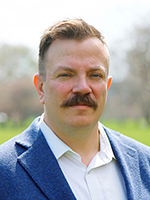 Contact Info:
Phone:
Office: 313-578-0552 | Phone: 313-993-1532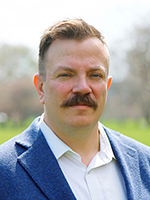 Foundations Design Studio
Adv. Graphic Design
Computer Graphics
Dichotomy Architectural Journal
Degrees
Master of Architecture, Cranbrook Academy of Arts
Bachelor of Architecture, University of Detroit Mercy School of Architecture
Biography
Tadd Heidgerken is an associate professor of Architecture at University of Detroit Mercy. Heidgerken is one of the faculty advisers for the Dichotomy Architectural Journal, leads a vertical studio based on his research for proactive design methodologies, and teaches Profession of Architecture for graduate students and American Culture and Architecture for undergraduate exchange students. In the past, he coordinated Second Year Design Studios and has twice led the Detroit Mercy exchange to Politechnika Warszawska. In 2021, he participated in the Tecnológico de Monterrey's Global Classroom Program, where he helped to design and implement a virtual international learning lab in which his students gained multicultural experience with international peers.
Heidgerken's research focuses on current post-fordist urban social conditions and testing means for slow growth development, which minimize the negative effects of capitalist social structure and maximize accessibility to design for all. In particular, he has developed design methods for socially built structures that use local skills to integrate the building into its community. This research is shared and developed locally in Detroit's urban context, and applied and presented nationally and internationally. In 2014, Heidgerken was named an associate researcher with the Cultural Constructions Laboratory at the Ecole Nationale Supérieure d'Architecture de Grenoble, a community of worldwide scholars who share and develop research together. His work has won numerous awards, including most recently his work with Detroit Collaborative Design Center on 8869 Avis, which won the 2019 AIA/HUD Secretary Community-Informed Design Award and the 2019 AIA Detroit Small Project Honor Award.
Heidgerken earned his Bachelor of Architecture from Detroit Mercy and Master of Architecture from Cranbrook Academy of Art. A registered architect, Heidgerken is founding principal of Et al. Collaborative, a Detroit-Brooklyn based architecture firm, as well as president of Block Party, a small development group in the Fitzgerald Neighborhood. He lectures and serves as visiting critic at universities nationally and internationally, including SUNY-Buffalo, University of Michigan, Tecnológico de Monterrey, the Architectural Association School of Architecture and The Bartlett School of Architecture. In addition, he has sat on the board of several Detroit-area cultural nonprofit organizations, including Corridors Alliance, Cranbrook Academy of Art Alumni Board and Red Bull House of Art.