About Antoine M. Garibaldi, Ph.D.
Dr. Antoine M. Garibaldi is the 25th and first lay president of University of Detroit Mercy, a Catholic, Doctoral/Professional University sponsored by the Society of Jesus (Jesuits) and the Religious Sisters of Mercy. Founded in 1877 by the Jesuits, University of Detroit consolidated in 1990 with Mercy College of Detroit, which was founded in 1941 by the Religious Sisters of Mercy. University of Detroit Mercy is the largest Catholic university in Michigan and has undergraduate, graduate and professional programs, including Architecture, Dentistry and Law.
In the 2021 edition of U.S. News & World Report's "Best Colleges," Detroit Mercy was elevated into the category of "Best National Universities" and ranked No. 187. It is one of only four universities in Michigan ranked among the top 200 in the nation. Detroit Mercy also ranked No. 34 among "Best Value Schools" and No. 136 for "Best Schools for Veterans." Additionally, in the 2020 edition of the Wall Street Journal/Times Higher Education college rankings, it ranked among the top 20% of all U.S. universities, No. 172 out of almost 1,000 institutions of higher education that were selected for these rankings.
Since June 2011, Dr. Garibaldi has led Detroit Mercy in accomplishing multiple strategic goals in enrollment and retention, academics, fundraising and community engagement. In December 2018, The Campaign for University of Detroit Mercy's goal of $100 million was achieved a year ahead of schedule...
Detroit Mercy 2020: Envisioning a Boundless Future
Economic and Community Impact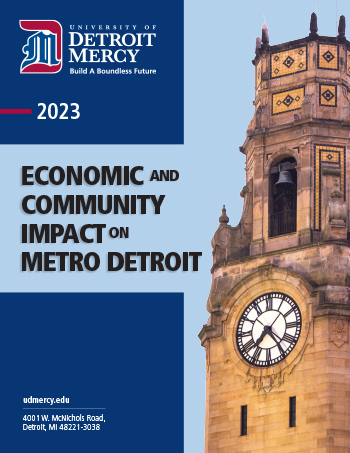 Strategic Plan