About Antoine M. Garibaldi, Ph.D.
Dr. Antoine M. Garibaldi is the 25th and first lay president of University of Detroit Mercy, a Catholic, Doctoral/Professional University sponsored by the Society of Jesus (Jesuits) and the Religious Sisters of Mercy. Founded in 1877 by the Jesuits, University of Detroit consolidated in 1990 with Mercy College of Detroit, which was founded in 1941 by the Religious Sisters of Mercy. University of Detroit Mercy is the largest Catholic university in Michigan and has undergraduate, graduate and professional programs, including Architecture, Dentistry and Law.
In the 2021 edition of U.S. News & World Report's "Best Colleges," Detroit Mercy was elevated into the category of "Best National Universities" and ranked No. 187. It is one of only four universities in Michigan ranked among the top 200 in the nation. Detroit Mercy also ranked No. 34 among "Best Value Schools" and No. 136 for "Best Schools for Veterans." Additionally, in the 2020 edition of the Wall Street Journal/Times Higher Education college rankings, it ranked among the top 20% of all U.S. universities, No. 172 out of almost 1,000 institutions of higher education that were selected for these rankings.
Since June 2011, Dr. Garibaldi has led Detroit Mercy in accomplishing multiple strategic goals in enrollment and retention, academics, fundraising and community engagement. In December 2018, The Campaign for University of Detroit Mercy's goal of $100 million was achieved a year ahead of schedule...
Detroit Mercy 2020: Envisioning a Boundless Future
Economic and Community Impact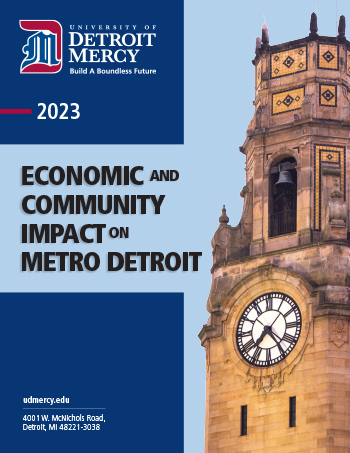 Strategic Plan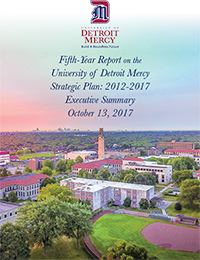 2019 McNichols Campus Commencement Speech

University of Detroit Mercy
McNichols Campus Undergraduate Commencement Ceremony
May 11, 2019
Antoine M. Garibaldi, Ph.D.

Thank you, Dr. Beer. University of Detroit Mercy Board of Trustees Board Chair Mike McNamara; our distinguished speaker, Mr. Rip Rapson; Faculty, Staff, and Students of the University; Parents, Spouses, Relatives and Friends of the 2019 graduates; and, most especially, the 2019 Undergraduate Graduating Class of University of Detroit Mercy. We are happy to have you here for our 2019 McNichols Undergraduate Commencement Ceremony.

The primary reason we are here today is to celebrate the accomplishments of our Class of 2019 graduates. But because our commencement ceremonies always coincide with another special celebration this weekend, I would like to begin by asking the graduates to join me in wishing their mothers an early Happy Mother's Day!

We all owe so much to our mothers, as well as our fathers, and other special relatives for the care, attention and support they provided over the years to raise us and mold us into the persons we have become. And, Graduates, this is one of those occasions when it is most appropriate to express your appreciation to the persons in your lives who not only encouraged and supported you but also made it financially possible for you to achieve your dream of becoming an attorney. And I know how much your accomplishment also means to your spouses, grandparents, brothers and sisters, uncles, aunts, and best friends who have joined you and cannot wait until you walk across the stage to receive your diploma. Make sure to thank all of them for their inspiration, encouragement, and especially for the many times you told them that you could not join them because you had to study!

Before you receive your degree, I believe the audience might like to know a few interesting facts about your class of 689 graduates. Your class shares similar characteristics, and some different, with regard to your ages, gender, and hometowns.

Seventy-five percent (518) of you are 25 years old or younger – with the youngest being 19 and the most seasoned in the late 60's.

Your class also has more women than men: 64% female and 36% male.

And among the 689 bachelor's degree candidates, you are from many different places across the country and the world:

573 (or 83%) of you are from Michigan;

27 (or four percent) of you come from 13 other states;

and the remaining 89 of you are from 8 countries, including Australia, Canada, China, Egypt, France, India, Luxembourg and Spain.

Those similar and different personal characteristics provided you with a rich and diverse educational experience that will be well used in your profession and in the communities where you will live and serve.

As I began thinking about a theme for my brief remarks to you this afternoon, I took a few minutes one day to look through the graduation list. I don't do that usually because I typically know many students who are graduating. But this review of the graduation list was different because I began to recall when and how I met several of you. I noted the names of some of you whom I met while you were still in high school or on your first campus visit. Some of you have been very faithful in making appointments during the semester for my weekly student hours. Some of you I met during my annual freshman luncheon and some during your student-athlete campus visits. And there are others of you whom I have told on more than one occasion come by and see me. You know who you are but I have decided to mention a few of you – even though I know I will get into trouble -- to see how well you might have recalled those interactions of the last few years: Kaylee, Erica, Connor, Hannah, DeRoss, Grant, Angelo, Vania, Kelly, Paola, Jeffrey, Carlos, Maria, Danielle, Tiffeny, Relicious and more. And there are other students like Ashley, Jordan, Sydney, Courtney, Kara and Kaitlin who should be here this afternoon but they have the good fortune of playing in the Horizon league softball championship in Chicago. Their first game started about half an hour ago but I know they're thinking about winning rather than receiving their diploma this afternoon. Don't worry, we will do a graduation reenactment as we have done before when some of our athletic teams were in the conference championships around graduation.

My memories of our times together are very pleasant, but the more significant message is that time passes by quickly. Your four years have passed as quickly as I told you they would during your freshman orientation. You have grown academically, socially, and spiritually. But many of you have also been very active in this community and throughout the city of Detroit. Take those leadership skills and continue to be generous with your volunteer time in the community just as you have been unselfish with your time while balancing your academic other personal responsibilities. And the other message I want you to remember from the brief but fast-moving years we and your faculty have known you is that you should not postpone to a later day those significant things that you want to do.

As a university we have made some modest progress in this community over the last eight years. But that would not have been possible without the collaboration and support of The Kresge Foundation, which is led by President Rip Rapson, our commencement speaker. University of Detroit Mercy has been fortunate to be involved in many revitalization efforts throughout the city of Detroit because of the grants we have received from the Kresge Foundation. The Detroit Collaborative Design Center in our School of Architecture has been a major beneficiary of some of the foundation's support and many small businesses in the area had their start as pop-ups in this area. Mr. Rapson's commitment to Detroit, as well as many other major cities across the country, is well known and we are fortunate to have him in this metropolitan area. The four years of planning leading to the establishment of Live6 Alliance in 2015 was primarily funded by the Kresge Foundation, with modest annual contributions by the University. I am personally indebted to the Foundation's senior leadership team for their early and continuous support of our community-focused initiatives. Thank you Rip for all of that support and for being here today with us.

Graduates, remain close to your Alma Mater and your School or College as you bring distinction to the University and your profession during your outstanding career.

Congratulations and much success, and may God's blessings be with you and your families always.