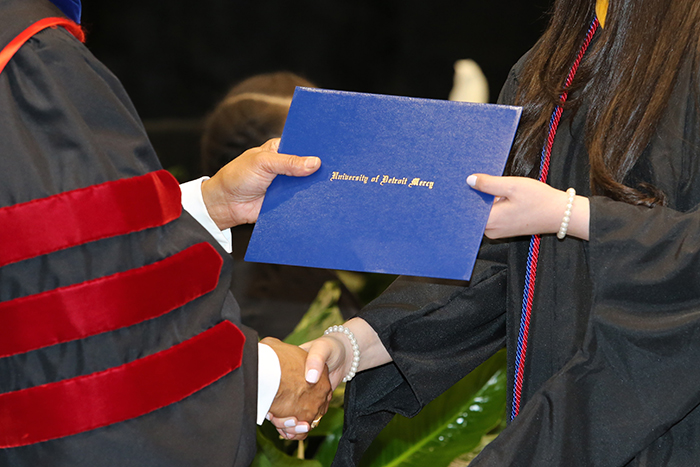 Diplomas are released to students who have met all graduation requirements and have settled any outstanding financial obligations to the University. Original diplomas are given to students by their individual college or school. The Office of the Registrar does not release diplomas to students.
Failure to apply on time for graduation may result in a delay of your diploma being available.
Students who graduate in the Winter semester (April/May) will receive their diploma on the day of the May Commencement ceremony if all obligations have been met and the student is in attendance at the ceremony.
Students not attending the ceremony or students who graduate in Fall (December) or Summer (June/August) will receive their diploma from their college/school after the certification process is complete and all obligations have been met.
Orders for duplicate diplomas are available through the Office of the Registrar on the McNichols Campus. Duplicate copies of the original diploma are available for a fee of $35 after the original diploma has been issued. (Duplicates for Dental School and Law School are $50 for the larger, 11x14 size.)
Duplicate copies will have a notation "reissued mm/dd/yyyy" on the diploma. The request for a duplicate diploma needs to be submitted in writing or by fax and pre-payment is required at the time of the order. Normal processing takes up to six weeks depending on the time of the year. The diploma reorder form can be found on our Forms Page.
Anyone wishing to order a duplicate diploma with a new name, must submit the official documentation for a name change on all University records prior to the duplicate diploma order being processed.