University of Detroit Mercy Home Page
Campus Notification
Detroit Mercy continues to monitor the COVID-19 situation and respond in support of students and the University community. Visit our COVID-19 webpage.
The World Needs Titans
April 15, 2021
After much soul searching, the Carmody family decided to walk away from everything and become Catholic missionaries.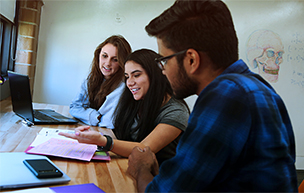 March 30, 2021
University of Detroit Mercy's MBA program achieved a top 25 ranking among the nation's best Management programs for 2022 according to U.S. News & World Report's "Best Graduate School Rankings." Rankings were released on March 30, 2021.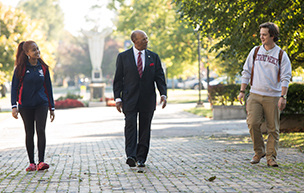 March 15, 2021
Detroit Mercy President Antoine M. Garibaldi announces plans for a primarily in-person semester for fall 2021.
news
May 06, 2021
May 05, 2021
April 30, 2021
April 26, 2021
See More News
Discover Detroit

Discover Detroit

Do you know Detroit? We invite you to discover all it has to offer, from national music festivals and world-class restaurants to professional sports and renowned museums.

Discover More

Student Life

Student Life

Your college experience is about so much more than what you learn in the classroom. Find out what it's like to live at University of Detroit Mercy.

Experience More

Detroit Mercy Titans

Detroit Mercy Titans

With 17 NCAA Division I sports teams, you'll find plenty of Titan pride at University of Detroit Mercy — there's a reason we're known as #DetroitsCollegeTeam!

Find your Titan Team
A CATHOLIC UNIVERSITY IN THE JESUIT AND MERCY TRADITIONS
We take great pride in the influence of our religious sponsors, but what does that mean for our diverse student body and the education we offer?