Share:
Our mission is to graduate the next generation of health professionals who will lead the charge to transform individual and community health systems. The Simulation, Technology and Research (STAR) Center connects students to faculty for collaborative and innovative education. It will provide opportunities for interprofessional and community collaborations, enhanced programming and the application of innovative technology in a flexible environment.
We remain committed to the academic rigor for which we are known and the Jesuit and Mercy traditions of care for the whole person. That's why we must prepare students to meet new healthcare challenges and understand the benefits of interactive technologies as they arise.
The demand for healthcare education continues to grow, it is essential that Detroit Mercy develop new opportunities for inter-professional simulations and education that incorporate next-generation technologies including telehealth and virtual simulation, and further drive community partnerships and collaborative healthcare education programming.
The overall project consists of creating the STAR Center facility that will develop student and faculty collaborations. This plan provides forward-thinking programming that will benefit students, patients and the community. This flexible, collaborative, inter-professional environment will use emerging technology and artificial intelligence to drive the healthcare education movement, increase community opportunities, and connect the McNichols Campus with Detroit Mercy campuses at Aquinas-Grand Rapids and Novi. A STAR Center endowment ensures sustainability of the Center, its programs and the College of Health Professions.
During business hours, contact
Kristine Hoover
Director of Development,
College of Health Professions
Office: 313-993-1669
Email: hooverka@udmercy.edu
Campaign Priority
STAR Center
The College of Health Professions will transform a current classroom and skills labs on the second floor of the College of Health Professions facility into a larger, flexible space, more conducive to physical accommodations and primed for interprofessional programming and next-generation technology. It will be an asset to all of southeast Michigan – where most of our graduates find work – by reducing additional training cost and time upon employment.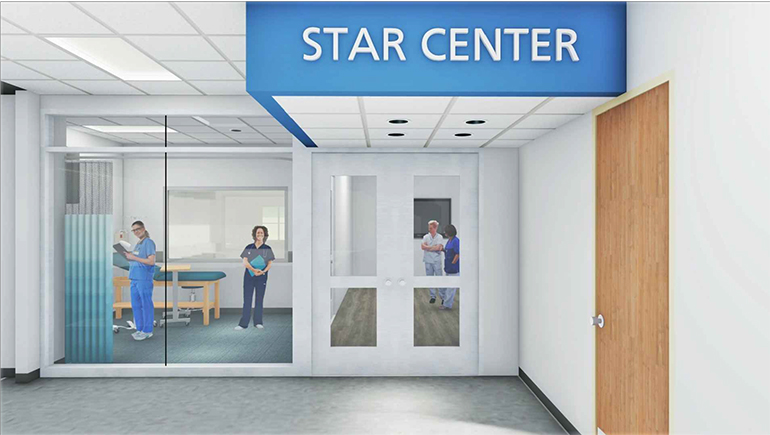 The STAR Committee

Co-Chairs

Derk Pronger '94 FACHE
Principal, Bewbush Healthcare Solutions
Chief Operating Officer for Munson Medical Center 2012-20

Nancy Susick '86 FACHE, RN
President, Royal Oak Beaumont

Members

Janet Baiardi '83 PhD, FNP-BC
Interim Dean & Professor, College of Health Professions & McAuley School of Nursing

Mike Dosch '87 CRNA PhD
Chair, Nurse Anesthesia, College of Health Professions & McAuley School of Nursing

Sarah Hein '15 FNP-BC
Henry Ford Health System, Founder MI Deaf Health

Rose Marie Held '57
Retired RN

Jessica Honig '20 MHSA
Palliative Administrative Specialist

Kristine Hoover '03 MA
Director of Development, College of Health Professions & McAuley School of Nursing

Shari Lambert '04 DNP, RN
Assistant Dean Clinical Instruction & Partnerships, College of Health Professions & McAuley School of Nursing

Brian Madison FACHE, FHFMA
President & CEO of The HCS Group

Christine Pacini '70 PhD, RN
Professor of Nursing & Dean Consultant to the Provost, College of Health Professions & McAuley School of Nursing

Ken Rates '14 MHSA, MBA
Michigan Medicine

Mary Anne Stella '67 MSN
Retired Director of Apheresis, American Red Cross

Denise Weiss '87 Ph.D., FNP, BC, AOCNP
Karmanos Cancer Center
Share: