Share:

Our tradition of exceptional athletic performance
University of Detroit Mercy has a long tradition of exceptional athletic performance through varsity sports.Men's basketball is the highest profile of the University's Division I sports and holds a unique position that includes NBA Hall of Fame players and legendary coaches.
But Detroit Mercy is looking forward, not back. 
Our vision to be 
perennial Horizon League champions
Our vision is for Titan basketball teams to be perennial Horizon League champions, NCAA Tournament participants and models for other Jesuit institutions. This will attract world-class athletes to the University and put the institution on the national stage once more.

Men's basketball
Men's basketball is the driving force behind the success of the entire athletic department financially. The revenue from ticket sales, television contracts and championship events covers the majority of operation costs of the athletic department and its programs. It is imperative that Titan basketball has every opportunity to succeed.
The Road to a Championship Goal
Our goal is to raise $5,000,000 to upgrade nine major program components of the program in a campaign we call Road to a Championship (RTC). RTC will help build a national reputation that matches our academic reputation. It is a unique opportunity under the refocused leadership of head coach Mike Davis to be a model basketball program for the city of Detroit, and develop a new generation of Titan faithful.
During business hours, contact
Edwin Servil
Director of Development,
Athletics Department
Phone: 313-942-9851
Email: serviled@udmercy.edu
Campaign Priorities
SPORTS MEDICINE $1,000,000
Having a state-of-the-art sports medicine facility is of the utmost importance for any Division I program. In its current state, our sports medicine department has demonstrable repercussions when it comes to recruiting and enrolling the best athletes to the University.
New equipment and exam rooms
The facility needs equipment and private examination rooms that are used to treat injuries, but also to prevent them.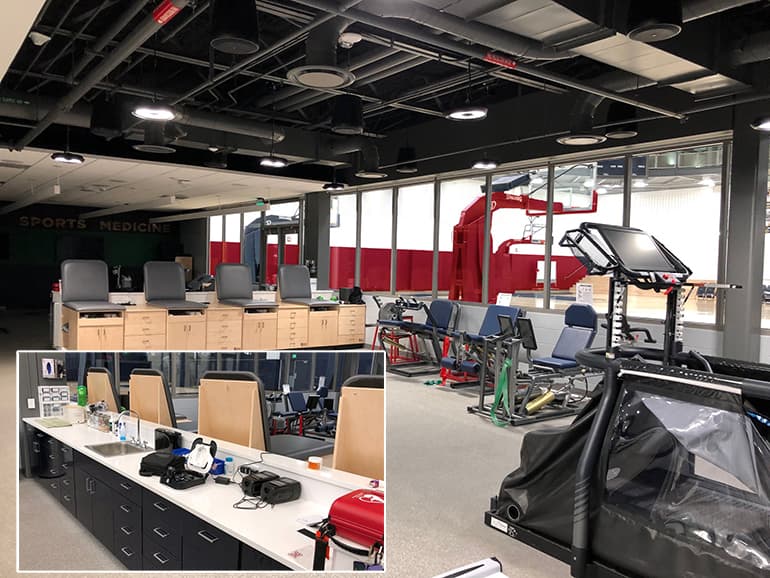 * examples of goal, not actual renderings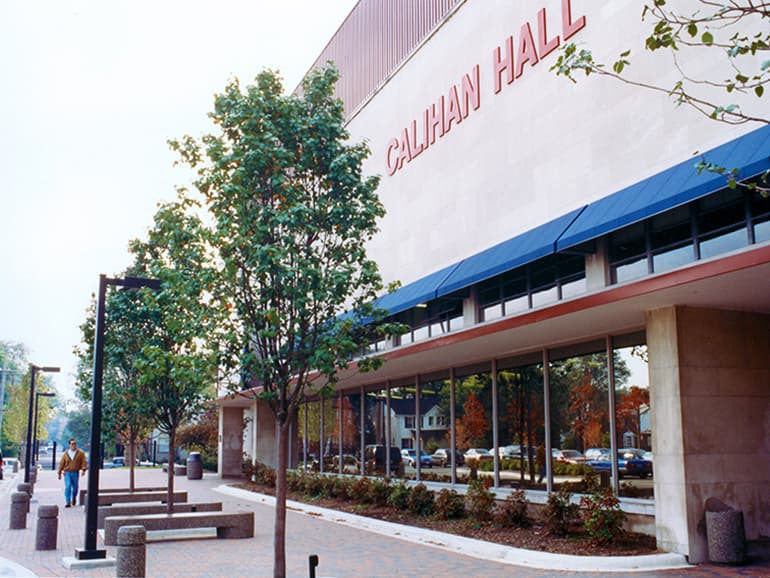 CALIHAN HALL $1,000,000
For almost 80 years, Calihan Hall has been the home to Titan basketball and one of the most famous sports venues in metro Detroit. However, the facility is in serious need of maintenance and renovation.
Welcoming atrium and lobby
An upgrade of the main entrance would create a striking atrium to welcome visitors. Improved entrances and exits, a welcoming lobby, and a Hall of Fame facelift will show visitors our commitment to our student-athletes and become a place of pride for the community.
TITAN CLUB $550,000
A complete remodeling of this gathering space is necessary to ensure a fan-friendly gameday experience for guests. Plans include upgraded restrooms, furniture, décor, televisions, flooring and improvements to make the Titan Club more handicap accessible. The Titan Club will not only serve as the primary entertainment room for men's basketball games, but will also serve as a student lounge when the team is not on the court. This will build a better sense of community for our athletes by providing them a place where they can gather to socialize and study.
KITCHEN AND DINING FACILITY $500,000
The addition of a kitchen and dining facility along with a personal team chef will personally provide the athletes with team meals on a daily basis and ensure the best possible nutrition for peak performance throughout the day right in Calihan Hall. A revitalized kitchen and dining area will also create a stronger team bond as teams will have more opportunities to eat together and save time by not having to leave campus.
BASKETBALL DEVELOPMENT PROGRAM SUPPORT $500,000
Shooting machines that feed players consistent passes, new practice spaces, shooting obstacles and pads and proper staffing from team managers and support staff are vital to winning programs.
BASKETBALL COURTS $500,000
According to NBA standards and best practices, NBA teams are required to replace their courts every 10 years and those standards are on par with high volume NCAA courts such as the Dick Vitale Court placed in 2011.
A new hardwood maple court with tight grain ensures durability needed to withstand year-round usage by a Division 1 program along with several conversions. Another benefit of a new court would be the ability to disassemble it with ease to allow Calihan Hall to host concerts, conferences and events on the main floor without damaging the court.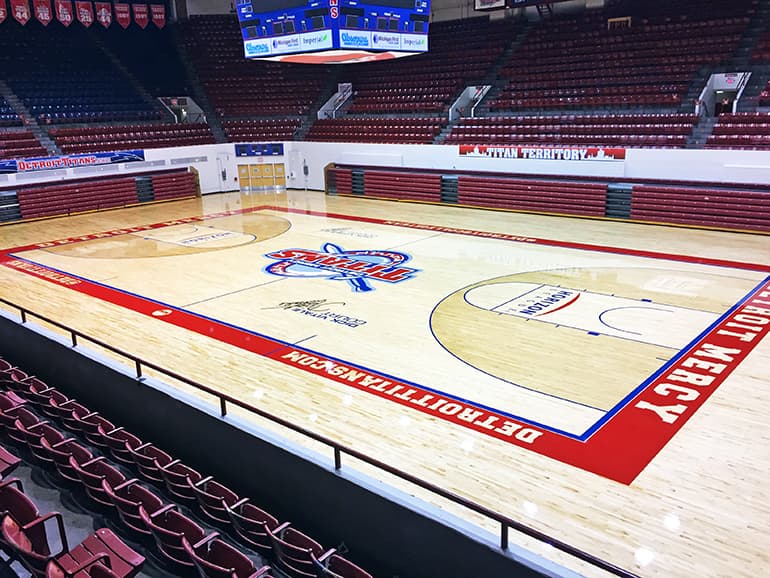 BASKETBALL TEAM HOUSING $300,000
Recruits and their parents want to know our athletes will have a modern, comfortable and safe environment where they can live during the academic year and season. The men's basketball program is looking to purchase and renovate several houses next to Calihan Hall that will ensure a residence where student-athletes can feel at home, have a quiet place to study or relax with their friends, and focus on playing basketball. 
MULTI-MEDIA ROOMS $200,000
One of the obvious benefits of using state-of-the-art video analysis in sports is that it makes it easy to hone and work on points where players need correction or improvement. Enhancement to the current multi-media room with the most modern video and audio equipment and game-planning software is necessary.
COACHES' OFFICES $200,000
Modernizing office space will not only present a strong professional image, it will also increase productivity and morale among staff. For every hour spent on the court, coaches spend many more in their offices breaking down film and speaking with recruits, scouts, coaches and NCAA administrators.

Share: