The Power of Your Gift
Over the past five years, University of Detroit Mercy's Faculty & Staff Giving Program has raised more than $1 million dollars. This level of financial support provides funding for programs and initiatives that make a significant impact on the Detroit Mercy educational experience. Faculty & Staff Giving also reinforces the message that Detroit Mercy's community is strong and vibrant and that the University's mission is worthy of investment. A financially strong Detroit Mercy leads to more funding sources. Your gift, no matter the size, makes a powerful statement — your participation is what matters most.
Support What Makes You Passionate About University of Detroit Mercy
There are plenty of opportunities for you to support what makes you passionate about Detroit Mercy. Faculty and staff currently contribute to approximately 90 of the 500 program, college or school funds available. When you support what makes you passionate about the University, you are also enhancing the Detroit Mercy experience for our students. It is a double win! If you need help deciding on which fund best represents where your passion lies, give our office a call at 313-993-1250. We are happy to help.
Donate Today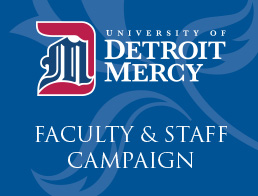 You can support your passion with a one-time annual gift or enroll in the Faculty & Staff Payroll Deduction Program. Enrolling in the Program allows your $5 gift to increase over a 26-month pay period to an annual $130 contribution to the fund or funds of your choice. Use the "How Much Should I Give" tool to help you decide your contribution level.
How Much Should I Give?
For the cost of a
each pay period...