Updates and Communication
 

Hiring Resident Advisors, Orientation Leaders, International Orientation Leaders, and Wellness Peer Educators,

We're Hiring - International Student Services, Residence Life, and The Student Life Office are hiring our Student Leaders for the 2022-2023 academic year.

Student Leaders, Apply Here. Applications go live February 1st

We are currently recruiting for:

Residence Advisors with the Office of Residence Life
Orientation Leaders with The Student Life Office
International Orientation Leaders with the International Services Office
Wellness Peer Educators with The Wellness Center

Important Dates:

 Applications due: February 17th at Noon

Information Sessions (not required):

We will be having optional information sessions:

Tuesday, January 31st at 1:00pm, Student Union Ballroom
Monday, February 13th at 7:00pm (virtual)
Thursday, February 16th at 4:00pm, Shiple Lobby

Timeline:

February 17th at Noon: Application Due
Week of February 27th – March 24th: Individual Interview
March 28th or March 29th: Group Interview
February 24th: Recommendation Forms due – Linked here

Each candidate is required to have three references.  A current Detroit Mercy Faculty/staff member. A current student leader (RAs must have an RA reference), and a third of your choosing (NOT a family member or close friend)

April 3rd: Decisions are emailed to applicants.
May 1st and May 2nd: Mandatory Training

 

Resident Advisors are student staff members of the Office of Residence Life staff. They report to and are directly supervised by a Residence Director. Resident Advisors have the most frequent and direct communication with resident students; therefore, they have an outstanding opportunity to contribute to the growth and educational development of individuals. They also have a great responsibility in implementing programs, policies and procedures as outlined within the Office of Residence Life, Guide to Residence Living. This student staff position requires enthusiasm, flexibility, dedication and commitment as well as the ability to respond to the changing needs and situations of our residential students.

Contact: Sandra Alef alefsj@udmercy.edu 

 Job Responsibilities:

Participate in the Residence Life duty rotation
Nurturing the development of the residential community
Organize and implements programs and activities to support community development
Enforce guidelines and policies for the Residence Halls and the University
Participate in training and staff development
Other duties as assigned

 RA Requirements:

2.5 GPA
Create your own Program Proposal WITH flier (Due: February 24th)
3 Recommendations (Due: February 24th) - RA Recommendation Form

One is from a current Residence Life Staff Member
One is from a current Faculty/Staff Member from Detroit Mercy
One is from a mentor/employer that you are not related to and would not be considered a friend

Please email alefsj@udmercy.edu with any questions.
Each candidate is required to have three references.  The reference forms are online and can be sent electronically to your references.  You can access these forms on the Residence Life website at udmercy.edu/reslife or following the link above.
Program Proposal Information: Flier is due to alefsj@udmercy.edu by March 11th.

During your individual interview, you will be asked to present a program or activity that you could engage in with your hall or floor. You expect to have 20 participants and have been given a budget of $10 from your supervisor. The program will fall under the category of Diversity or Spirituality. During your interview you will: a) Present your program flier (8 ½ x 11) b) Present a proposed shopping list and/or how you plan to spend the money c) Discuss why you chose this activity/program d) Describe the educational outcomes your residents might gain from this program/activity.

 

International Orientation Leaders (IOL's) are undergraduate or graduate students whose role is to introduce new international students to the Detroit Mercy. IOL's will assist the International Services Office's staff to make the new students feel welcome and situated at the university.   Students will receive a competitive hourly wage as compensation for time and contributions.     

Contact: Lilly Swan swanls@udmercy.edu 

 Job Responsibilities: 

Work with ISO staff on Orientation materials and activities (on and off-campus) 
Serve as a positive representative of the Detroit Mercy while fostering a welcoming environment among its newest students 
Acquaint new students with campus services, building locations, and campus culture 
Must be English proficient 
Attend May and August trainings 
Other duties as assigned

 

Orientation Leaders (OLs) are undergraduate students who play an integral role in introducing new students to the Detroit Mercy serving as mentors and sharing their experiences as successful students. Throughout the summer, OLs assist our incoming students and their families in a variety of capacities, all to make the newest members of our community excited and prepared to come to UDM. OLs work in collaboration with other OLs, First Year Experience (FYE) professional staff, University Housing staff, academic advisors, and other University administrators to ensure that new students have a positive orientation experience.

Contact: Stephanie Wheeler wheelesm@udmercy.edu

 Job Responsibilities

Facilitate small group interaction with incoming students 
Serve as a positive representative of the Detroit Mercy while fostering a welcoming environment among its newest community members 
Acquaint new students with campus services and building locations 
Communicate essential information in a variety of public settings 
Assist with the preparation of Orientation materials and activities 
Attend and participate in all OL training sessions
Maintain contacts with PTV group for the first six weeks of the semester
Other duties as assigned

Wellness Peer Educators,  Peer Wellness Educators on the Health Education Action Team are students that bring a vibrant approach and awareness to wellness and well-being topics for the Detroit Mercy community.  These students directly report to, and are Supervised by, the Wellness Coordinator. As a team, the students will plan, create, and implement programming and initiatives that connect students to University services and promote healthy behaviors.  Outreach programs, virtual webinars, and tabling events will focus on topics such as stress, alcohol and other drugs, sexual health, and mental and physical wellness.  The ideal candidate will have an interest in public health, physical wellness, or mental well-being; be comfortable in approaching peers or addressing groups; and have an engaging attitude and willingness to help others. Any major of coursework is eligible to apply.  

Contact:  Joelyn Beaver, beaverjm2@udmercy.edu 

Job Responsibilities: 

Participate in the planning of programming or events; 

 

Assist with on-campus vaccine clinics; 

 

Create programming materials for presentation to peer groups; 

 

Staff outreach and tabling events, including pre-planning activities; and 

 

Create social media content and notifications. 

 

 

 

Singles for 2022-2023

The single room process is only for one academic year and something that we start from fresh every Fall semester. 

Students who are interested in a single (for whatever reason) will need to fill out the form to be on the waitlist. 

Students who are eligible for an ADA single will need to request the single through the accommodation form below in addition to the Single Waitlist.

Students Requiring a single or specific facility accommodations:

Disability Support Services Contact Information

Phone: 313-993-1158
Fax: 313-578-0342
Email:  dss@udmercy.edu 

Your sense of community starts when you move onto campus and lasts a lifetime. Come build a boundless future in one of Detroit Mercy's three residence halls where you will grow personally while making lifelong friends.
Residence Halls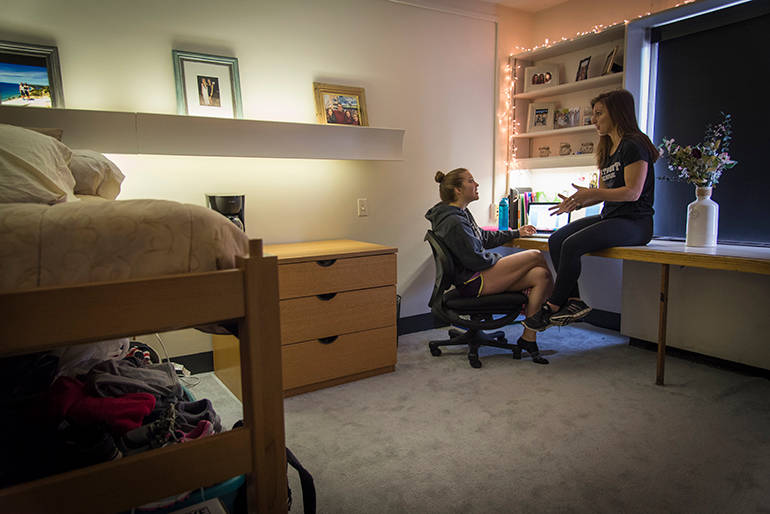 Create your home at University of Detroit Mercy in one of our three residence halls. Living on campus gives you opportunities that can make your college experience more memorable and successful. Live among the friends you will create and have the rest of your life.
Where to Eat On Campus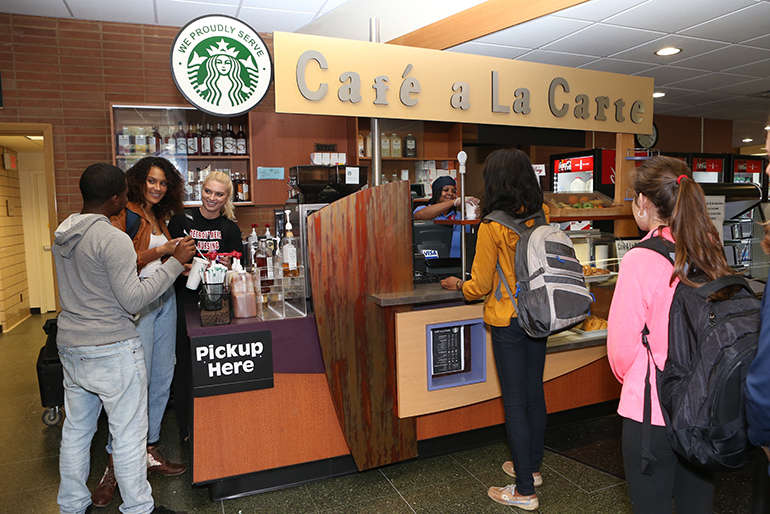 Whether it's a smoothie after a workout at the Fitness Center or an all-you-can-eat meal at the Titan Dining Room, finding food and refreshments on campus is quick and easy.
Banking
Alliance Catholic Credit Union is opening a branch. There is one ATM in the Student Union. 
Health and Fitness
At the Student Fitness Center on the McNichols Campus, University Recreation offers a variety of fitness and recreational programs designed to positively impact students and contribute to the health and well-being of the Detroit Mercy community.
Bookstore
The Bookstore at University of Detroit Mercy enhances students' learning opportunities by providing a variety of books, supplies, University attire, electronics, and snacks.