Social Justice Programming
Social Justice and Advocacy work is a core value of our Jesuit and Mercy Institution. University Ministry provides a variety of programming for students to participate in to fulfill our call to be contemplatives in action. Our core Social Justice programming is our trip to the Ignatian Family Teach in for Justice, a campus wide Social Justice Retreat, and assisting the student group Titan Dreamers. Throughout the semester, University Ministry hosts special events such as:
Advocacy Training
Campus Speakers
Student and Faculty Panels
Public Witness Events
Racial Justice Bike Ride Through Detroit
University Ministry attempts to respond to the call of advocating for those in need. To keep up to date with our events, please visit our linktree. If there is an issue you care about or policy you would like to advocate for, please email our University Minister for Service and Social Justice Erin McDonald, CSJ, at mcdonaej@udmercy.edu or visit University Ministry's office on the ground floor of the Student Union.

Ignatian Family Teach-in for Justice
The Ignatian Family Teach-In for Justice is one of the largest annual student social justice conferences. It is a gathering of students from Jesuit institutions from across the country and the larger church, coming together in the context of social justice and solidarity. We gather together to learn, reflect, pray, network and advocate. It is a place where students are empowered, reenergized, inspired, challenged and supported by a community that sees faith and justice as integrally linked.
In 2023, the Ignatian Family Teach-In will occur in-person in Washington, D.C., from October 28-30! This year's conference's theme is Boundless and Beloved. Join us as we put faith into action to build a more just world. There will be opportunities to learn from nationally acclaimed speakers, peer-led breakout sessions, liturgy, theological reflection and to advocate on Capitol Hill.
Check out the Ignatian Solidarity Network website and call 313-993-1560 for more information.
Social Justice Retreat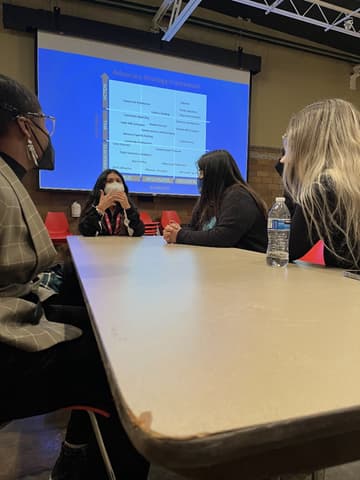 University Ministry's Social Justice Retreat is a day-long retreat that focuses on the theme of how students can put their faith into action. Faith does not necessarily refer to religion, but instead how students can use the University values, and their personal values, to fulfill the call to do the work of justice. The focus of the retreat is on student talks and small group discussions. These talks are personal testimonies from students, focusing on their experience of doing justice and advocacy work, and how that has affected their lives. Students will also discuss how the Jesuit and Mercy values of Detroit Mercy call us to action in our daily lives.
Titan Dreamers
Titan Dreamers is a community of students at Detroit Mercy who are impacted by DACA or members of mixed legal status families. Titan Dreamers focuses on support, awareness, and advocacy. Students in the group are able to network and learn from their fellow peers. Titan Dreamers also hosts an annual Undocu-Student Week to raise awareness for DACA and undocumented students on the Detroit Mercy Campus.