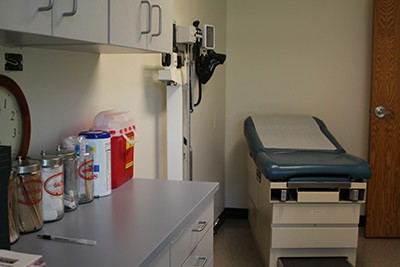 Services provided by the health clinic promote preventative health care and foster compliance with the objective and aims of the Center for Disease Control and The American College Health Association.
Health Services Offered
Primary care, health maintenance and preventative screening
Urgent care, acute illness and injury care
Chronic illness and medical condition management
Women's health
Allergies, immunizations and TB testing
Travel immunization and counseling
Health and medical clearance for School of Health Professions, School of Nursing and Dental School
Sexually transmitted infections testing and treatment
Our health clinic is a fully equipped medical office, which includes two exam rooms, medication dispensary and a diagnostic lab.
Flexible scheduling, same day and walk-in appointments are available.
Health Clinic Hours
Monday-Friday: 10 a.m.–4 p.m.
Appointments
Appointments can be made by calling 313-993-1185.
 

Forms

 

Emergency and After Hours

What's an Emergency?

The American College of Emergency Physicians encourages people to seek emergency care at the emergency center or call 911 if they have:

Difficulty breathing, shortness of breath
Chest or upper abdominal pain or pressure
Fainting, sudden dizziness, weakness
Changes in vision
Confusion or changes in mental status
Any sudden or severe pain
Uncontrolled bleeding
Severe or persistent vomiting or diarrhea
Coughing or vomiting blood
Suicidal feelings
Difficulty speaking

Emergency Information

Life Threatening Emergencies

Call 1234 (campus phone) or 313-993-1234 (cell phone) to alert University of Detroit Mercy Public Safety and give the exact location and nature of the emergency
If not on University of Detroit Mercy campus call 911 or go to the nearest emergency department

Local Emergency Departments

University of Detroit Mercy does not endorse these emergency care centers but lists them only as a service. Please review your insurance policy in regards to deductibles that may apply. 

Henry Ford Hospital
2799 W Grand Blvd. Detroit, MI 48202
313-916-2600

DMC Sinai-Grace Emergency Department
6071 W Outer Drive Detroit, MI 48235
313-966-1090

William Beaumont Hospital, Royal Oak
3601 W. 13 Mile Rd. Royal Oak, MI 48073
248-551-5000

Psychiatric Crisis Care

Henry Ford Kingswood Hospital
10300 W 8 Mile Rd., Ferndale
24/7 Inpatient psychiatric care
Call 1-800-422-1183 for admissions

Sinai Grace – Psychiatric Crisis Center
DMC Sinai-Grace Emergency Department 6071 W Outer Drive Detroit, MI 48235
313-966-4880
Inpatient Psychiatric Services — Tuesday & Thursday 6:30 p.m.-8 p.m., Saturday, Sunday and Holidays 1 p.m. to 3 p.m.

After Hours and Urgent Care

If Wellness Center is closed and your problem can not wait until we reopen, you may want to go to a local urgent care center. 

Urgent condition that often can wait until morning include:

Ear aches
Minor cuts/burns
Muscle sprains
Rashes
Colds
Cough
Sore throat
Flu
Most fevers
Skin infections

Local Urgent Care Centers:

University of Detroit Mercy does not endorse these Urgent Care Centers but lists them only as a service. We recommend that you contact your insurance company prior to visiting an Urgent Care Center to verify coverage of the service you are seeking, as well as any copays or deductibles. Confirming this information in advance will help you avoid unforeseen charges.

To verify if your insurance is accepted: Call the member service information phone number on the back of your insurance card.

Inform your insurance company that you're planning to visit and Urgent Care Center in your area.

Call the member service information phone number on the back of your insurance card.
Inform your insurance company that you're planning to visit an Urgent Care Center in your area.
Confirm your benefits and coverage for the specific service you are seeking.

Ferndale Urgent Care (9 Mile Rd/Livernois Rd)
641 W 9 Mile Rd
Ste C
Ferndale, MI 48220
248-206-1600
Hours: 8am – 8pm, 7 days a weeks, including all holidays

Henry Ford Medical Center-Northwest Detroit Walk-In Clinic
7800 W Outer Dr
Detroit, MI 48235
313-543-6748

Reserve Your Spot In Line: https://www.clockwisemd.com/hospitals/485/appointments/new
Hours: Mon-Fri 8am – 8pm; Sat & Sun 10am – 2pm; Holidays 10am – 2pm

Birmingham Royal Oak Medical Group
5130 Coolidge Hwy
Royal Oak, MI 48073
248-288-9500

Hours: Mon – Fri 9am – 7pm; Sat 9am – 5pm; Sun 12pm – 4pm
Walk-ins accepted but suggest to make appointment

Beaumont After Hours Clinic
3535 W 13 Mile Rd
Lower Level, Ste 555
Royal Oak, MI 48073
248-551-1210

Hours: Mon – Fri, 5pm – 9pm