Detroit Mercy offers a broad variety of resources designed to assist you personally and professionally. If you have questions about any of the services or resources listed on this site, send us an email at alumni@udmercy.edu or call toll-free at 313-993-1540.
The University will continue to keep you informed of a variety of ways to stay connected with your alma mater.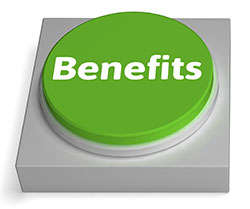 Athletics Ticket Discounts for Young alumni

Young Alumni Season Ticket Package ($100) More than 50% off the regular price!

Full season tickets with a choice of Upper Reserved or General Admission level seats.
Also includes season passes to Women's Basketball and Men's Lacrosse.

All alums who graduated between 2009 and 2019 are eligible. For more information regarding season ticket purchases, contact Athletics at 313-993-1700.

 

Bookstore Discount

 

Broadway in Detroit

As a friend of Detroit Mercy Theatre Company, we are excited to offer you a discount on select Broadway in Detroit performances! See exceptional theatre and help raise money for DMTC!

To activate your discount:

Visit BroadwayinDetroit.com/GivesBack. Locate included performances and click to purchase tickets!
Enter code TITANS in the "Unlock" box on Ticketmaster for exclusive discounts. (Often this box is on the right column next to quantity of tickets)
Enjoy discounted tickets to the best of Broadway in Detroit and support Detroit Mercy Theatre Company!

A portion of your ticket purchase goes to DMTC to continue our mission to train students to develop their intellectual, ethical and practical skills for a creative future.

 

Career and Professional Development

Access to the full-time and part-time job listings currently in the job search database TitanCareerLink, the online recruitment system for Detroit Mercy students and Alumni
One ½ hour resume critiquing session
Attendance at career development workshops scheduled during the year
Participation in Campus Interviewing (based on employer interest)
Resume Referral (by Employer request only)


To make the most of a career advising session, you will want to do some preparation beforehand. Above all else, be prepared. Be an active participant, establish realistic expectations, be honest with yourself, and know what you want to accomplish. The advising session is designed to give you a safe place to express what you've been struggling with in your career preparation http://www.udmercy.edu/cec/

 

Class Auditing

Alumni may audit classes at or below the level of the degree awarded to them by the University (bachelor's, master's or doctorate). Course fees apply, but tuition is waived. In order to make use of the Class Audit benefit alumni need to be in good financial standing with the university including no prior financial balance owed or any other hold on their account.  

Alumni taking part in the Alumni Audit program are subject to the Student Code of Conduct and other protocols published by the University including COVID-19 or other safety and fitness guidelines. Library access may be restricted. Access to other buildings such as the Student Fitness Center or computer labs is restricted to matriculated or tuition-paying students and employees.  

No course credit is awarded but the course and AUD grade appear on an official transcript. The class schedule is found here. Alumni audit requests are coordinated through the academic advisors in each college. To inquire about auditing a class, send your request to the advisor in the college/school where you want to attend class: 

Architecture and Community Development: Noah Resnick, 313-993-1531

Business Administration: Leonard Kloft, 313-993-1118

Engineering & Science:  Carolyn Rimle, 313-993-3362 or Elizabeth Roberts-Kirchhoff, 313-993-1021

Liberal Arts & Education: Rick Rockwell, 313-993-1485

Health Profession: Nursing: Karin LaRose-Neil, 313-578-0358 / CHP: Yvonne King, 313-993-1762

School of Dentistry: Adrianna Moreno, 313-494-6966

 

Class Reunions

Reunion attendees are invited back to campus for an afternoon reception and dinner over Commencement weekend. Campus tours are provided.

For more information, please call 313-993-1540 or email alumni@udmercy.edu.

Also, the Alumni Relations office will help by providing lists and making on-campus arrangements for other class years. If you want to organize a reunion or need more information please contact alumni@udmercy.edu.

 

Class Rings

To replace a class ring

Herff Jones, 1-734-663-9705, (current emblem)
Artcarved, 1-800-952-7002, (current emblem)
Jostens, 1-800-854-7464, (historical & current emblems)

If you find a Detroit Mercy, U of D or Mercy College class ring, please email alumni@udmercy.edu.

 

Community Service

Are you looking for a way to be involved and help those in need? Alumni Relations has partnered with Detroit Mercy's Institute for Leadership and Service (LDI) to offer some interesting opportunities. They include Martin Luther King Day activities, participation in Prologues, Transitions and Viewpoints with incoming Detroit Mercy freshmen who serve for one day in Detroit as part of their orientation experience, and the chance to participate with students in Alternative Spring Break service projects.

For those who have the opportunity to volunteer perhaps a day per week, a new group of alumni serves as liaison with faculty, students and community service agencies to support "Service-Learning" courses. For more information please email alumni@udmercy.edu.

 

Credit Union Membership

Alliance Catholic Credit Union is inviting all Detroit Mercy alumni to join today and receive all the benefits of our membership including our mobile app and online banking. It's easy to join! Apply online and join the family. Apart from being able to manage money virtually, ACCU has branches conveniently located in seven communities throughout Southeast Michigan and has exciting plans to expand in other areas. Come join the financial family that lives, shares and cares the way you do.

 

Email / My Portal Access

The University has permitted alumni to continue to use their My Portal and Office 365 email accounts beyond their last date of attendance as a convenient means of communication to the University, to assist in obtaining employment opportunities, and to maintain those important University relationships with fellow Titans and faculty. Alumni must honor the current policies and procedures as they relate to email use when using their @udmercy.edu account.

Email accounts are subject to deletion after 365 days of inactivity.  If using email forwarding, please be sure to login to your account every 365 days to maintain an active status.

For more information, visit ITS Alumni and Visitor Access.

 

Find Classmates

Looking for a friend from Detroit Mercy?

Forever Titans has a searchable alumni directory so you can locate college friends and classmates. Click to the Online Directory to join and enjoy this free service. (You must be a registered Forever Titans member to search — free to all alumni) Happy hunting!

 

Insurance Programs

Alumni Insurance Program

The University of Detroit Mercy Alumni Insurance Program is a convenient source for health, life, travel, auto insurance and more for alumni and their family members. There are a variety of plans available to meet your needs. Get more information on these insurance plans by visiting www.alumniinsuranceprogram.com/udmercy or call the Alumni Insurance Program at 800-922-1245 weekdays, 8 am – 6 pm, Eastern Time.

---

Liberty Mutual Home and Auto Insurance

Your alumni benefits include a special discounted rate on Auto Insurance and Home Insurance from Liberty Mutual. We're proud to provide our alumni with a great benefit from a Fortune 100 company that protects millions of people across America. Find out more about Liberty Mutual Home & Auto Insurance, or call 1-844-650-6088

Discounts and savings are available where state laws and regulations allow, and may vary by state. To the extent permitted by law, applicants are individually underwritten; not all applicants may qualify.

 

Jorgensen Ford JPerks Discounts

Jorgensen Ford is offering Detroit Mercy alumni a discount on vehicle service and invoice pricing. For more information, please reference the program flyer. Jorgensen will confirm alumni status with the Detroit Mercy Office of Alumni Relations. Visit http://jorgensenforddirect.com/ or download the flyer (.pdf).

 

Red Wings Discounted Tickets to Select Games

Because the University of Detroit Mercy's relationship with the Detroit Red Wings and Olympia Entertainment, our students, staff, and alumni will receive some great ticket offers this playoff season. These special offers are not available to the general public. Check back for future specials!

Questions? Contact Jamie Clark at 313.394.7138 or email jamie.clark@hockeytown.com

 

Rocket Mortgage Savings

As alumni of Detroit Mercy, you can now receive special savings on refinancing and home purchases. Check out the link below to see the latest Detroit Mercy alumni offer.

Call 855-331-2616
or visit https://www.rocketmortgage.com/partners/vip/detroitmercy 

 

University Libraries

The libraries on all University campuses are available to alumni. Librarians are available all open hours to assist you in your research. In-building access includes both print and electronic journals. Alumni have print book checkout privilege in the McNichols and Dental Campus libraries. Alumni access to the School of Dentistry Library is by permission of the Dean of that School. For hours, phone numbers, policies, and collections check the Libraries website. Questions? Email libraries@udmercy.edu.

 

Parking on McNichols Campus

Alumni may park in secure, lighted lots on the McNichols Campus without charge when visiting campus (except for special events such as Titan Basketball games). Simply tell the gate that you are here to see Alumni Relations when you enter campus, and you will be directed to the appropriate lot. Maps / Driving Directions

 

Theatre – Discount Tickets and Afterglow

Ticket discount

A discounted season ticket price is offered by the Detroit Mercy Theatre Company to Detroit Mercy Alumni. For information about Theatre Company performances, times and costs, check the Theater Company web site, or call the Detroit Mercy Theatre Company at 313-993-1130.

Afterglow receptions

The Detroit Mercy Alumni Councils of the College of Liberal Arts & Education and the College of Health Professions have selected one night from each Detroit Mercy Theatre Company production to feature a complimentary, alumni-sponsored afterglow.