Juan Carlos Flores
Professor of Philosophy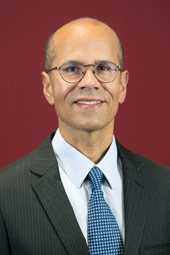 Contact Info: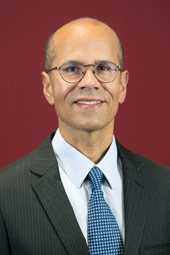 Areas of Expertise:
Philosophy
Medieval Philosophy
Ancient Philosophy
Metaphysics
Philosophy of Human Nature
Degrees
Ph.D., Katholieke Universiteit Leuven
Ph.L., Katholieke Universiteit Leuven
M.A., Boston College
B.A., Connecticut College
Biography
Juan Carlos Flores grew up in El Salvador and pursued his university studies in the U.S. and Belgium. He has taught in a variety of disciplines, including languages, at St. John's College and at Providence College, where he was an associate professor prior to coming to Detroit Mercy. In addition to introduction to philosophy, ethics and logic, he teaches advanced courses in ancient and medieval philosophy, philosophical theology, metaphysics and philosophy of human nature. He has published books and articles, and edited Latin texts, in the area of medieval philosophy. His research in this field has concentrated on metaphysical themes and on the relation between faith and reason in Scholasticism, especially in Henry of Ghent, Thomas Aquinas, Bonaventure and Duns Scotus. Flores also studies medieval Jewish and Islamic philosophers and is very interested in ancient philosophy and its timeless legacy. He began serving as Philosophy Department chair in fall 2018. He holds a bachelor of arts (with honors) from Connecticut College, a master of arts (with distinction) from Boston College, as well as a licentiate and doctorate from the Katholieke Universiteit Leuven. He joined the Detroit Mercy faculty in the fall 2010.
 

Select Publications

Henry of Ghent's Summa: The Questions on Human Knowledge (Articles 2–5), Latin to English translation with introduction and notes, Dallas Medieval Texts and Translations, Peeters Press, Leuven (forthcoming).

Reexamining Love of Wisdom: Philosophical Desire from Socrates to Nietzsche, Cascade Books, Eugene, OR., 2016 (xviii+167 pp.).

Henry of Ghent:  Metaphysics and the Trinity (with a critical edition of question six of article fifty-five of the Summa Quaestionum Ordinariarum), Ancient and Medieval Philosophy, Series 1, XXXIV, Leuven University Press, 2006 (viii+239 pp.).

Stephen F. Brown and Juan Carlos Flores, Historical Dictionary of Medieval Philosophy and Theology. Second Edition, Historical Dictionaries of Religions, Philosophies and Movements, The Scarecrow Press, Lanham, Maryland, 2018 (xxii+429 pp.).

"The Intersection of Philosophy and Theology: Henry of Ghent on the Scope of Metaphysics and the Background in Aquinas and Bonaventure," Revista Portuguesa de Filosofia, 71 (2-3), 2015, pp. 531-544.

"Henry of Ghent on the Trinity," in A Companion to Henry of Ghent, Brill's Companions to the Christian Tradition, 23, ed. G. Wilson, Brill Academic Publishers, 2011, pp. 135-150.

"The Roots of Love of Wisdom: Henry of Ghent on Platonic and Aristotelian Forms," in Philosophy and Theology in the Long Middle Ages.  A Tribute to Stephen F. Brown, Studien und Texte zur Geistesgeschichte des Mittelalters, 105, eds. K. Emery, Jr., A. Speer, and R. Friedman, Brill Academic Publishers, 2011, pp. 623-640.

"Intellect and Will as Natural Principles: Connecting Theology, Metaphysics and Psychology in Henry of Ghent," in Henry of Ghent and the Transformation of Scholastic Thought, eds. C. Steel & G. Guldentops, Ancient and Medieval Philosophy, Series 1, XXXI, Leuven University Press, 2003, pp. 277-306.

"Accidentally and Essentially Ordered Causality in John Duns Scotus' Treatise On the First Principle," Recherches de Théologie et Philosophie médiévales, 67/1 (2000), pp. 96-113.