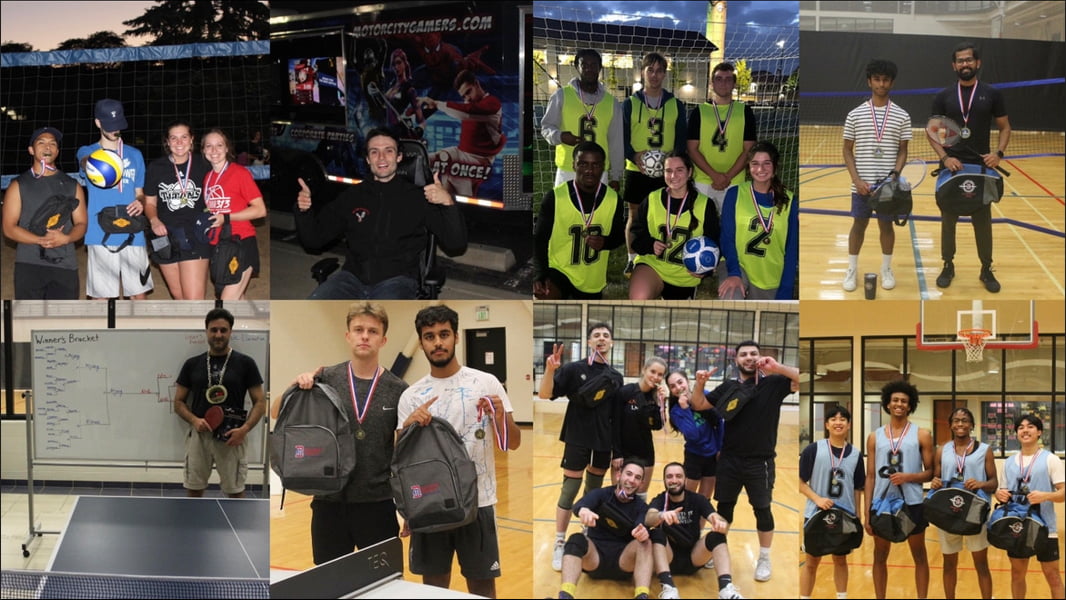 Intramural sports are free sports leagues and tournaments specifically for the Detroit Mercy community. These leagues/tournaments allow students, faculty and staff to compete against one another for the Intramural Championship Prize. 
The leagues filled on a first-come, first-served basis.  All registration, schedules, results, standings, playoffs and more are available online at IMLeagues.com or via the IMLeagues app. Sign up and activate your account today at IMLeagues.com!
Contact Mike Wynn Jr. with questions, comments or concerns regarding intramurals.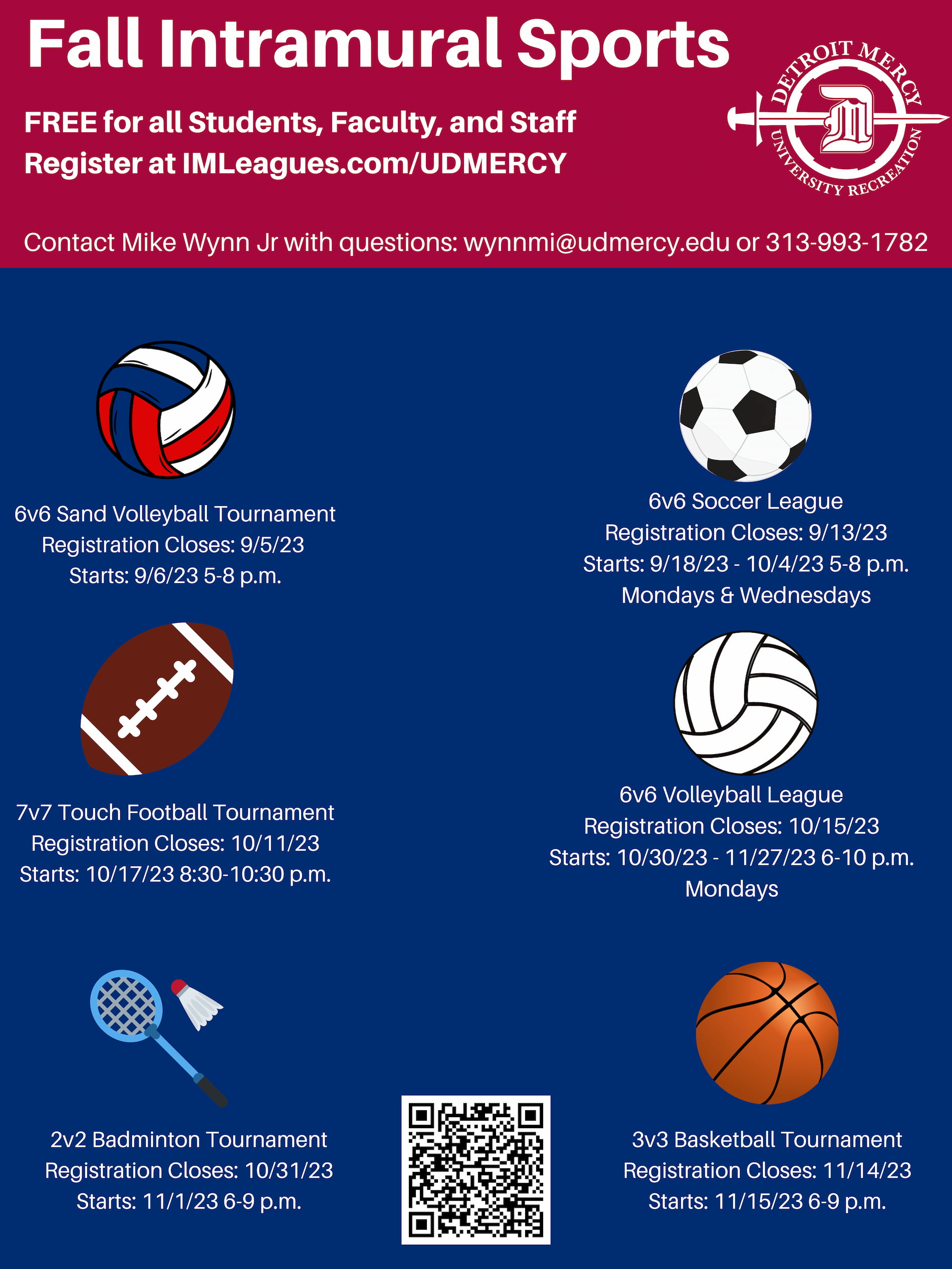 How to create or join an intramural team

All teams are required to register on IMLeagues and have at least one representative at the captains meeting. If teams cannot make the captains meeting, they must contact Mike Wynn Jr. at 313-993-1782 or wynnmi@udmercy.edu.

How To Create An Account

1. Go to imleagues.com/udmercy


                                OR

Go to www.imleagues.com and click Create Account

                                OR

Go to www.imleagues.com and click Login with Facebook. If you have a Facebook account with your school email attached, this will automatically create an account, fill in your information and join you to the school (steps 2-4).

2. Enter your information and use your Detroit Mercy email account (ex. @udmercy.edu) and submit.

3.You will be sent an activation email: click the link in the email to login and activate your IMLeagues account.

4. You should be automatically joined to your school. If not, you can search schools by clicking the Schools link.

Create A Team

Log in to your IMLeagues.com account.
Click on Register in the upper right hand corner and select Create A Team .
Find the sport you wish to register for and select the appropriate League (Men, Women, Co-Ed, or Open).
Click on the orange Create Team button.
Read the Release of Liability statement and click Accept.
Type in your ultra-creative team name (Your mother should not be ashamed of your team name).
Type in your T Number.
Select a picture for your team if you want.
Choose Auto-Select Members if you want (

NOT RECOMMENDED

).
Enter your cell phone number and select your carrier.
Select whether or not you want to receive updates via text message.
Click blue Create Team button.
Choose which days and times your team is NOT available. A Red X next to a time indicates NOT being available. A Green Check next to a time indicates your team IS available.
Click Submit at the bottom of the page.
You will be brought to your team's homepage. Here you can begin inviting your teammates to the team OR you can have your teammates request to join the team (both options require approval from the other person). Instructions are below.

Join A Team

Login into your IMLeagues.com Account.
Click on University of Detroit Mercy at the top of the page.
Hover your mouse over Register in the upper right hand corner of the page.
Click on Join Team.
Find the sport, and click on the league you are searching for.
Find your team in the list of teams.
Click on the orange Join Team button next to the team you wish to join.
Read the Liability Statement.
Click Accept.
Type in your T-Number.
Type in an optional request message for your captain.
Click Submit.
The captain will get a message to approve your request to join the team.

How to sign up as a free agent

Click on the University of Detroit Mercy banner to bring you to the school homepage.
Go to Register in the upper right hand corner.
Click on the orange Free Agent button.
Make sure the Leagues/Divisions you want to join as a free agent are selected.
Click Submit.
Click Accept on the liability waiver.
Enter T-number.
Enter any Additional Information.
Click Posting Listing.

Invite players to the team

Login into your IMLeagues account.
Click on your team name, this will take you to your team's homepage.
Hover your mouse over Captain on the left hand side menu.
Click on Invite Members Type in your teammates names to search for them.
Click on name when it appears from search. If no name appears, it means no account for that person exists OR they have not activated an account. Every player must have an IMLeagues.com account.
Once all players are found, click Send Invitations.
Each player will receive an email at the Detroit Mercy account to view and accept the invitation.