Great Lakes Bioneers Detroit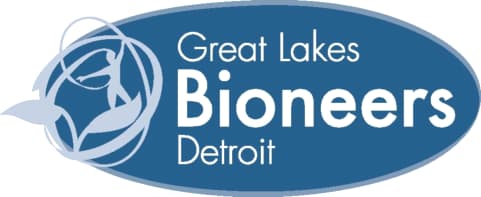 Be a positive force in our earth community
The Great Lakes Bioneers Detroit conference is a platform for community members to network and highlight innovative approaches to environmental and social challenges. The conference is for people of all ages who are interested in exploring topics, developing skills and motivating action for the betterment of our One Earth Community.
This is an opportunity for you to to share experiences and learn strategies to ensure that humans are a positive force in our earth community while addressing the critical issues of public health and wellness; racial and environmental justice; indigenous (Traditional Ecological Knowledge, TEK) resource protection and sustainability; fresh water resource and Great Lakes protection; and recycling, food waste reduction and management.
The GLBD Mission
Our mission is to promote a sustainable community that fosters life-giving relationships, nurtures connections and celebrates solutions for restoring and healing Earth's communities.
The GLBD Vision
Our vision is expressed in the preamble of the Earth Charter: "in the midst of a magnificent diversity of cultures and life forms, we are one human family and one Earth community with a common destiny. We must join together to bring forth a sustainable global society founded on respect for nature, universal human rights, economic justice and a culture of peace."
Past GLBD Conferences
 

2023 Conference

2023 GLBD Conference

October 12-13, 2023
 

The 18th Annual Great Lakes Bioneers Detroit Conference:
A Bioneers Pollinators Event

McNichols Campus
4001 W. McNichols Road, Detroit, MI 48221

Revolution from the Heart of Nature: Take Action in Detroit

The Great Lakes Bioneers Detroit conference is a platform for community members to network and highlight innovative approaches to environmental and social challenges. The conference is for people of all ages who are interested in exploring topics, developing skills and motivating action for the betterment of our One Earth Community.

Supporters and Sponsors of the 2023 Conference

We want to thank the following organizations for funding generous grants given to GLBD for this 2023 conference:

We want to acknowledge our sponsors for the 2023 conference:

University of Detroit Mercy, and the following Departments/Programs of the University:
Mike and Gail Whitty

---

Bioneers Pollinator gatherings/events are independently organized and do not necessarily reflect the views, opinions or positions of the Bioneers organization. For more information, visit: www.bioneers.org or https://www.glbd.org

 

2022 Conference

Fall 2022 Annual Conference

17th annual Great Lakes Bioneers Detroit conference

More than 400 registrants signed up for the 17th annual Great Lakes Bioneers Detroit conference. Over 350 attended in person, which included 230 middle school and high school students. Fifty attended the online program on Friday. The theme of the conference was "Earth is our Measure, Mentor and Model." Click below to see photos of our conference!

View Friday Youth Day photos in Youth Day on Friday and GLBD Conference, Oct. 14-15, 2022 (part two).

WXYZ Detroit Spotlight on the News with Chuck Stokes

Read the article from WXYZ Detroit Spotlight on the News here.
Watch the video clip below with Chuck Stokes from WXYZ Detroit Spotlight on the News interviewing Conference Co-chair Gail Presbey, planning Committee member Mike Whitty and conference sponsor Erma Leaphart, which begins at 10:44 into the segment.

Friday, Oct. 14 and Saturday, Oct. 15, 2022
8 a.m. to 5:30 p.m.
University of Detroit Mercy
4001 W. McNichols Road
Detroit, MI 48221

Our 17th annual regional conference Pollinators event was in partnership with the national Bioneers organization, that is, the Bioneers Collective Heritage Institute (see bioneers.org for more information on them, including great information and wonderful videos from the national conference!)

We were happy to acknowledge that the 2022 conference was supported by three generous grants, from the Sisters of Mercy of the Americas, the Congregation of St. Joseph and the Fund for Equal Justice. These grants will enable us to lower the registration costs in several categories. University of Detroit Mercy is proud to have recently hosted the Great Lakes Bioneers Detroit (GLBD) conference for the third time. This conference is a National Bioneers Pollinator event. GLBD is part of the National Bioneers Pollinators Network.

Associate Dean, Experiential Education and Associate Professor of Law Nicholas J. Schroeck speaking with students, faculty and staff

Bioneers Conference Event with Co-chair Gail Presbey, professor of philosophy, and student volunteers (from left) Brenda Bravo and Mona Alawie in the Student Union

---

 Sponsors of the 2022 Conference

University of Detroit Mercy, and the following Departments/Programs of the University:
Adrian Dominican Sisters, adriandominicans.org
Detroit Black Community Food Security Network, detroitblackfoodsecurity.org
Detroiters Working for Environmental Justice, dwej.org
Earthworks Urban Farm/Capuchin Soup Kitchen, cskdetroit.org/EWG
Eastern Market, easternmarket.com

Erma Leaphart

James and Grace Lee Boggs Center, boggscenter.org
Marian High School, marian-hs.org
Michigan Environmental Council, environmentalcouncil.org
Michigan Organic Food & Farm Alliance, moffa.net
MSU-Detroit Partnership for Food, Learning, and Innovation, canr.msu.edu/detroitpartnership
People's Water Board, peopleswaterboard.org
River Raisin Institute
Shiffman Foundation
Sisters IHM Justice, Peace and Sustainability Office, ihmsisters.org
Mike and Gail Whitty

Additionally, we want to thank the following organizations for funding generous grants given to GLBD for this conference:

 

2021 Conference

Great Lakes Bioneers Detroit Conference (2021) "One Earth Community"

Co-Chairs of the Oct. 15-16 conference were Gail Presbey, director of the Carney Latin American Solidarity Archive and professor of Philosophy (313-993-1124 or presbegm@udmercy.edu) and Nicholas Schroeck, director of the Detroit Mercy Law Environmental Law Clinic and professor of law (313-596-9817 or schroenj@udmercy.edu). We also thank IHM Sisters Gloria Rivera and Paula Cathcart for their many years of leadership of the GLBD.

Information

Goals of this conference:

Tap into the power and richness of Metro Detroit's diversity
Come together as a learning community
Commit to new ways of living, acting and thinking
Create a synergistic space in which to network with others
Nurture a deeper understanding of 'a sense of place'
Welcome each other and work together for the common good

Sponsors of the 2021 conference

University of Detroit Mercy, and the following Departments/Programs of the University:
Adrian Dominican Sisters, www.adriandominicans.org
Congregation of St. Joseph, www.csjoseph.org
Detroit Black Community Food Security Network, www.detroitblackfoodsecurity.org
Detroiters Working for Environmental Justice, www.dwej.org
Earthworks Urban Farm/Capuchin Soup Kitchen, www.cskdetroit.org/EWG
Eastern Market, www.easternmarket.com
James and Grace Lee Boggs Center, www.boggscenter.org
Marian High School, www.marian-hs.org
Michigan Environmental Council, www.environmentalcouncil.org
Michigan Organic Food & Farm Alliance. http://www.moffa.net
MSU Center for Regional Food Systems, www.foodsystems.msu.edu
People's Water Board, www.peopleswaterboard.org
River Raisin Institute, www.rriearth.org
Shiffman Foundation
Sierra Club of Michigan, www.sierraclub/michigan
Sisters IHM Justice, Peace and Sustainability Office, www.ihmsisters.org
Sisters of Mercy of the Americas Justice Team www.sistersofmercy.org
Voices 4 Earth Justice, www.voices4earth.org
Mike and Gail Whitty
Diane Van Buten and Ernest Zachary in honor of Gloria Rivera and Paula Cathcart

 

2020 Webinar Series

Great Lakes Bioneers Detroit Webinar Series (2020)

 

2018 News Coverage