University Bio - Patrick Kelly, S.J.
Patrick Kelly, S.J.
Associate Professor in Religious Studies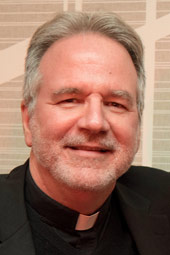 Contact Info: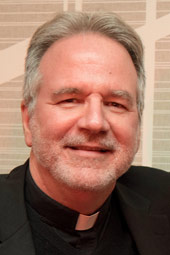 Areas of Interest:
Theological anthropology
Theology, spirituality and cultures
Sport, theology and spirituality
Ignatian spirituality
Discernment and decision making
Degrees
Ph.D., Claremont Graduate University, School of Religion
S.T.L., Weston Jesuit School of Theology
M.T.S., Harvard Divinity School
B.A., University of Detroit
Biography
Patrick Kelly, S.J. '82 is a Jesuit priest of the Midwest Province and at University of Detroit Mercy for Fall 2020. A proud and grateful alumnus of University of Detroit, Fr. Kelly received a Master of Theological Studies from Harvard Divinity School in 1989, a Licentiate in Sacred Theology from Weston Jesuit School of Theology in 1999 and completed his doctoral studies at the School of Religion at Claremont Graduate University in Theology, Ethics and Culture in 2005.
Prior to joining Detroit Mercy in 2021, Fr. Kelly was an associate professor of Theology and Religious Studies at Seattle University for 13 years, where he taught courses dealing with topics such as Ignatian spirituality, discernment, Jesuits in a global context, the quest for God today, religion and sport in a global context, and sport and spirituality. His first book was "Catholic Perspectives on Sports: From Medieval to Modern Times" (Paulist Press, 2012), about which the prominent social scientist Mihaly Csikszentmihalyi said, "It would be a great loss if this book were to be read only by historians of religion, because the clarity, vigor and profound knowledge contained in it will inform and fascinate anyone who is interested in the broader context of mind and society where religion evolves." In addition to numerous academic articles and book chapters about sport, theology and spirituality, he edited the book "Youth Sport and Spirituality: Catholic Perspectives" (University of Notre Dame Press, 2015) and a special issue of the journal Religion and Society titled "Catholics and Sport in a Global Context" (2019). Fr. Kelly's writings led him to be invited to work in collaboration with Vatican offices about the topic of sport, including helping to revise the first-ever document published by the Catholic Church about sports, "Giving the Best of Yourself," June 2018. You can read more of his work on theology and spirituality in relation to sports and other aspects of cultures at: https://sites.udmercy.edu/faith-sport-cultures/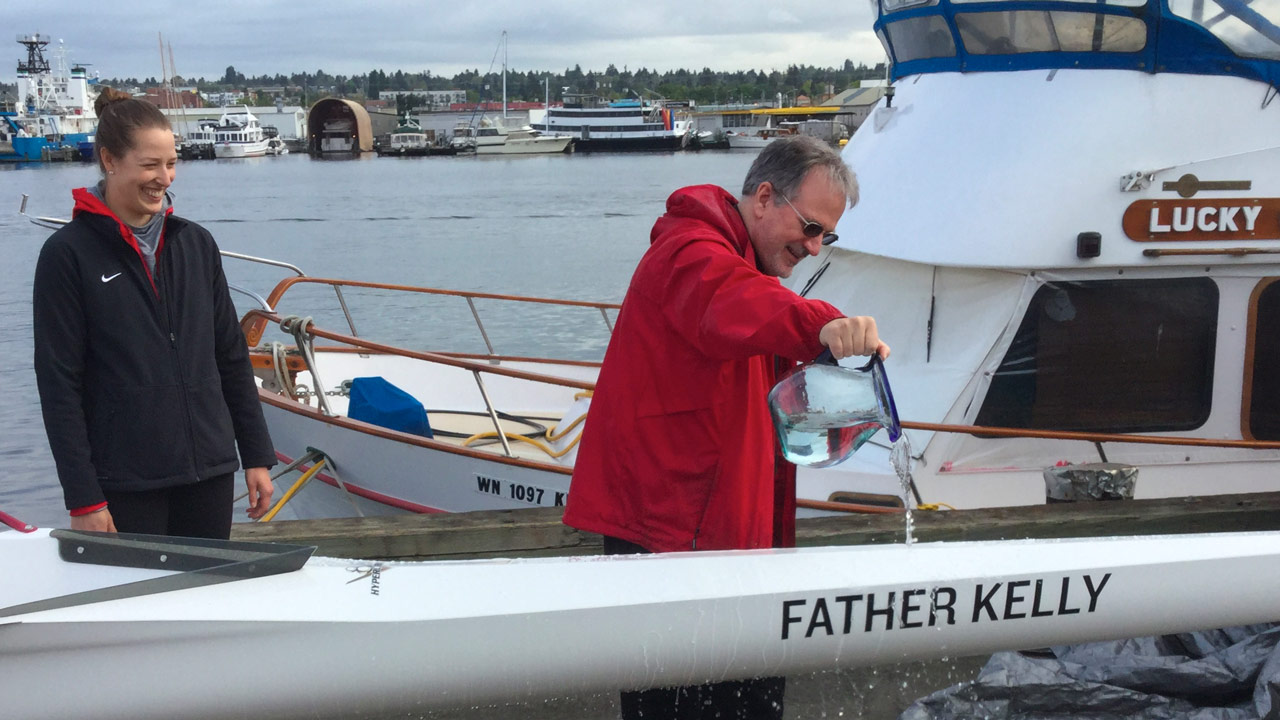 Collaboration with universities and Vatican offices

2016-present: Baylor University, Consultant for "Running the Race Well." Retreat program for youth involved in sports.
2017-18: Dicastery for Laity, Family and Life, Vatican. Helped as expert with revision of first Vatican document about sport.
2019: Pontifical Council for Culture, Vatican and Sport for Humanity. Member of Advisory Committee for Youth Education Programme.

 

Courses Taught

2021: Pontifical Gregorian University, Rome, Italy

Discernment: The Key to Finding the Will of God

2020-present: University of Detroit Mercy

Sport and Spiritual Traditions
Dynamics of Spiritual Growth: Ignatius of Loyola and Catherine McAuley

2020: Pontifical Gregorian University, Rome, Italy

Ignatian Spirituality, Theology and Sport

2016: Universidad Centroamericana, Managua Nicaragua

Jesuit Education and Pedagogy

2006-2019: Seattle University, Theology and Religious Studies Department

Undergraduate: God in Human Experience (Core Honors); Theology of the Human Person; Ignatian Spirituality; Jesuit Traditions in a Global Context; Religion and Sport in a Global Context; Sport and Spirituality.
School of Theology and Ministry (Graduate): Spiritual Discernment and Decision Making; Spirituality, Health and Leisure; Recreation, Sport and the Spiritual Life; Masters in Sports Administration and Leadership: Philosophy and Ethics of Sport (co-taught with two other professors).

1993-96: University of Detroit Mercy

Introduction to Religion
Quest for God Today
Religion and Sport
Psychology and Religion

1990-91: University of Michigan-Dearborn, Eastern Michigan University, Henry Ford Community College

 

Some Publications

Books (Academic)

"Youth Sport and Spirituality: Catholic Perspectives." (Editor) South Bend, IND: University of Notre Dame Press, 2015.
"Catholic Perspectives on Sports: From Medieval to Modern Times." Mahwah, NJ: Paulist Press, 2012.

Books (other)

Jim Yerkovich with Patrick Kelly, S.J. "WE: A Model for Coaching and Christian Living." Washington D.C.: National Catholic Education Association, 2003, 2004 (second printing)

Articles, Book Chapters and Editing (Academic)

Guest Editor of special issue of Religion and Society, "Catholics and Sport in a Global Context," Published by the Rabbi Myer and Dorothy Kripke Center for the Study of Religion and Society at Creighton University, June 2019.
"Introduction," Religion and Society, "Catholics and Sport in a Global Context," Published by the Rabbi Myer and Dorothy Kripke Center for the Study of Religion and Society at Creighton University, forthcoming 2018.
"Flow, Sport and Spiritual Traditions," Hoven, M., Parker, A., and Watson N.J eds. Christian Practices for Sport. London: T&T Clark, 2018.
"Catholics and Sports in the United States: An Alternative Tradition," US Catholic Historian, Catholic University of America Press, Vol. 36, No. 2, Spring 2018, 11-32.
"Sport in Schools: Beyond Winning and Losing," Conversations in Jesuit Higher Education, January 2018: 20-22.
"Catholics and Sports: An Historical and Theological Overview," Youth Sport and Spirituality: Catholic Perspectives. Kelly, S.J, Patrick ed., South Bend, IND: University of Notre Dame Press, 2015.
"Youth Sport and Spirituality," Youth Sport and Spirituality: Catholic Perspectives. Kelly, S.J, Patrick ed., South Bend, IND: University of Notre Dame Press, 2015.
"Signs of the Times in Intercollegiate Athletics," Conversations in Jesuit Higher Education, Aug., 2015.
"Sport and the Spirit of Jesuit Education," Conversations in Jesuit Higher Education, Sept., 2015.
"I cattolici e lo sport. Una visione storica e teologica," ("Catholics and Sport: An Historical and Theological Overview") Quaderno N°3948 del 20/12/2014 - Civilta Cattolica, IV, 557-570.
"Flow, Sport and the Spiritual Life," Chapter 7 in Theology, Ethics and Transcendence in Sport, Jim Parry, Mark Nesti and Nick Watson, eds., New York: Routledge Press, 2010.
"Loved Into Freedom and Service: Lay Experiences of the Exercises in Daily Life," Studies in the Spirituality of Jesuits, 39/2, Summer 2007, 1-35.

Collaboration with the Dicastery for Family, Life and Laity at the Vatican

Revised Ch. 4 "Challenges in the Light of the Gospel," in Giving the Best of Yourself: A Document about the Christian Perspective on Sport and the Human Person, with Dries Vanysacker. Published by Dicastery for Family, Life and Laity, June 1, 2018

Articles and Media Interviews Related to Vatican Document

"Why the Catholic Church Cares about Sports," in America Magazine, June 7, 2018.
"INTERVIEW: Sports are not only play, but a way to sainthood," in Zenit: The World Seen from Rome, July 23, 2018.

Articles (other)

"Catholic Sports Not Just About Wins, But the Common Good," Crux: Taking the Catholic Pulse, January 31, 2017.
"An Examen in the Spirit of Pope Francis," America Magazine, Nov. 2015.

 

Curriculum Vitae