Leadership minor is a major attraction
Share: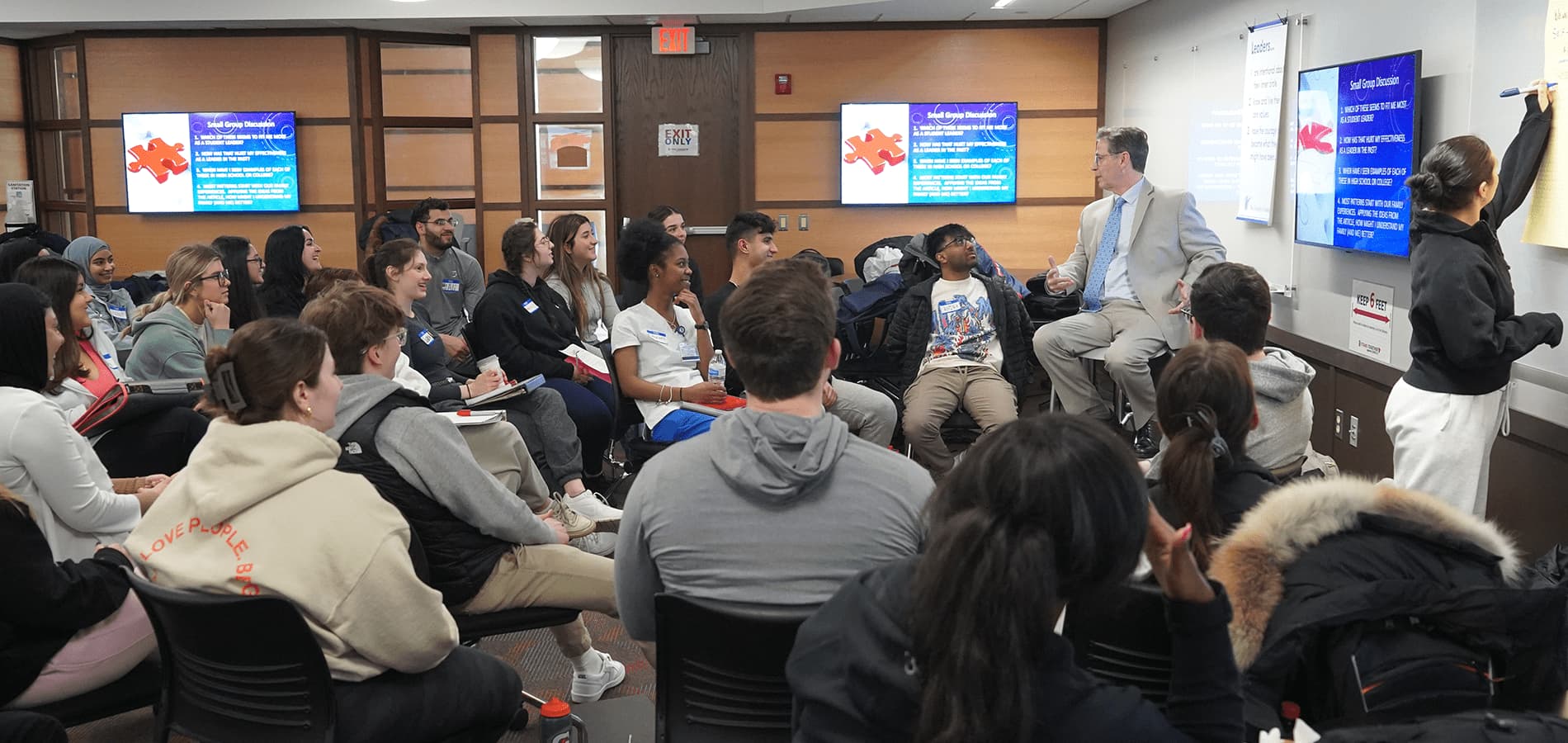 Detroit Mercy's largest minor is leading the way.
For more than a decade, the Leadership minor has been an important part of the college education for hundreds of University of Detroit Mercy graduates.
Currently, more than 500 students are enrolled in the minor each semester, from every background, discipline and college. It has become part of the fabric of the University, helping send future leaders in different majors and career tracks into the world.
"Our hope was to find a way to partner with every major in a way that really augments their learning," said Don DiPaolo, director of the Leadership minor since its inception in late 2011. "Can leadership be paired with every major at the University and every career in the real world? That's exactly what we did."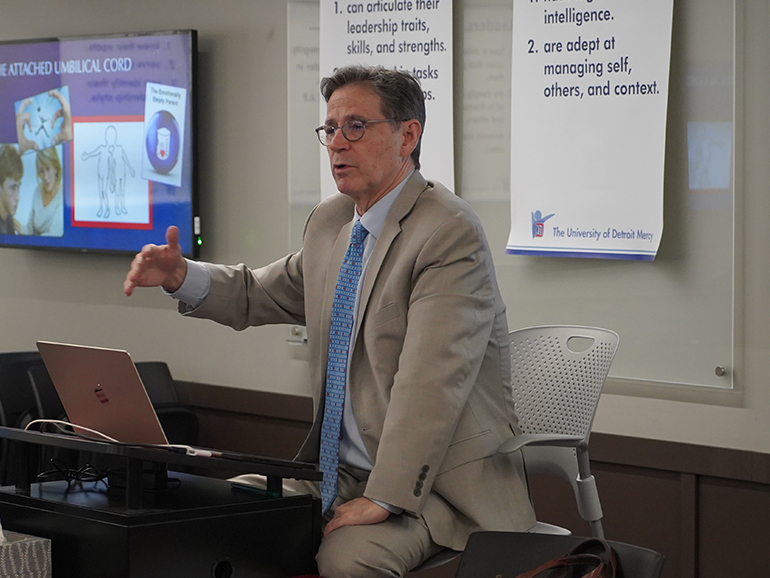 DiPaolo, who earned a doctorate in Leadership and Education Studies from the University of Michigan, has worked with student leadership nationally and internationally and saw a need for leadership training, specifically in the Midwest and Michigan. He received help from the provost, administration, deans, faculty and others at UDM to start the program from the ground up.
"Every other weekend I was in another place in the country helping students develop leadership skills," he said. "Why not at my own University? It was clear that the need was there. The business world and research were making it clear that it was needed and wanted."
It's also a perfect fit at a place like UDM, where "to lead and serve" is front and center in the vision statement of the University.
"We've tried to make the courses very student-centered and engaging," DiPaolo said. "You can't believe the feedback we get from people hiring our students in organizations or admitting them for postgraduate work.
"These students in the program help lead the campus and are on their way to leading our country — and doing so with integrity and purpose."
The minor is 18 credits and all undergraduate students are eligible to add it to their major. It consists of four content areas: Individual Leadership Skills, Group Skills, Organizational Management and Human Relations Skills and Community Engagement Skills. The minor opens with an introductory course and concludes with a capstone course, taught by Professor of Psychology Kathleen Zimmerman-Oster, that provides opportunities for students to teach leadership skills in the community, such as in local schools.
Each student also compiles an electronic leadership portfolio featuring the work they've done to earn the minor.
"Leadership minor students often successfully present these at internship, post-graduate and job interviews — setting them apart from their peers," said DiPaolo.
The success stories from the minor are endless.
As an undergraduate student at UDM, Suzie Dahma '20 kept hearing rave reviews about the Leadership minor. Her interest, however, extended beyond the program.
"I was interested in learning about myself and how to better my relationships with others personally and professionally," Dahma said. "Students spoke highly about how well Dr. Don taught the class and the amount of helpful information they learned."
One of Dahma's favorite aspects of DiPaolo's classes were discussing different scenarios. She said it allowed students to understand other's points of view. Now a travel nurse, Dahma uses these skills daily.
"This class taught students, including myself, that taking the time to hear other's reasonings may change the way you handle or react to something," she said.
"In the nursing field, we deal with many individuals — patients, visitors, co-workers. I've encountered many difficult conversations and personalities in my career. Taking Leadership has better equipped me to deal with those conversations and people."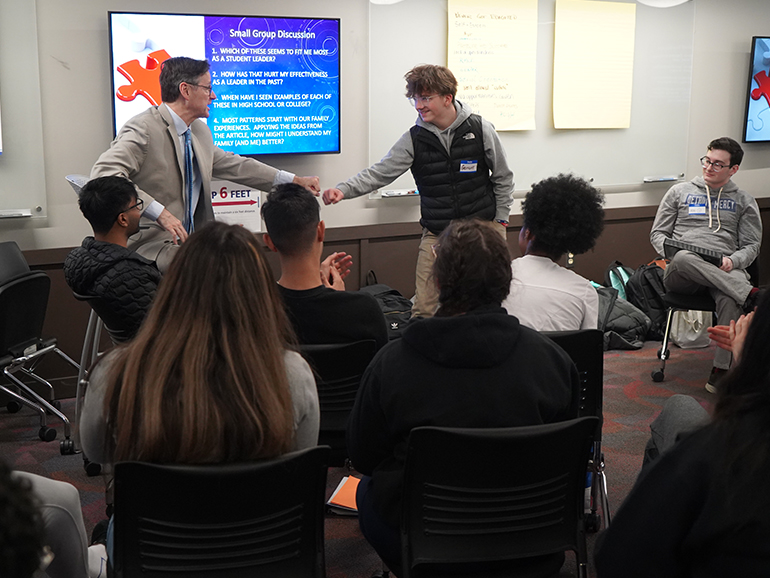 Delaney Alward '22 stumbled upon the minor almost by accident, taking a class out of curiosity. She is grateful she did. Alward eventually became a teaching assistant for the Introduction to Leadership classes and saw the positive transformation of students.
"My favorite aspect of the program was the genuine, personal growth that students go through in their time in the minor," Alward said. "I learned the most about myself, those around me and what I wanted to do career-wise because of this minor.
"It was so rewarding to watch students progress over the semester — interacting with other students, participating in class discussions, laughing, crying and actually being authentic in the classroom.
"The leadership minor creates an environment that is centered on student well-being and growth, which facilitates room for students to learn, change and excel over the course of their undergraduate experience at Detroit Mercy."
Current student Kirsten Richey is one of those who excelled in the program.
Richey wasn't necessarily looking forward to taking DiPaolo's Introduction to Leadership class when she enrolled two years into her UDM career. But those sentiments quickly subsided when she immersed herself into it.
"(DiPaolo) made the class so enjoyable and fun and he opened so many windows and different perspectives," said Richey, who is majoring in Business Administration with a concentration in marketing. "It's helped me meet so many different types of people and I'm participating so much more in on-campus activities. It's really made me enjoy my experience so much more.
"I came in here with kind of lower confidence and I didn't see myself as a leader at all. But after this class and now that I'm in the Leadership capstone class, as well, I've just learned so much about myself and I feel way more confident in my abilities and myself to lead others."
Not only has the program showcased student personal and professional growth, but it has helped to link classmates and create community at Detroit Mercy.
"It was a great way to connect with myself and meet many other students from different majors and grade levels," said Matt Turner '20, '21, who earned two degrees from the University, in addition to his Leadership minor. "Our campus is small, so it helped drive the 'family' aspect as well as enhance my leadership capabilities."
"Because leadership is such a relationship-based practice, the in-class environment is so collaborative and supportive and it's a great way to foster learning and greater understanding and honestly, it's just a lot of fun," added Cole Luken '23, a recent Political Science graduate who is preparing for law school.
"You build better connections with your classmates than you do in any other class."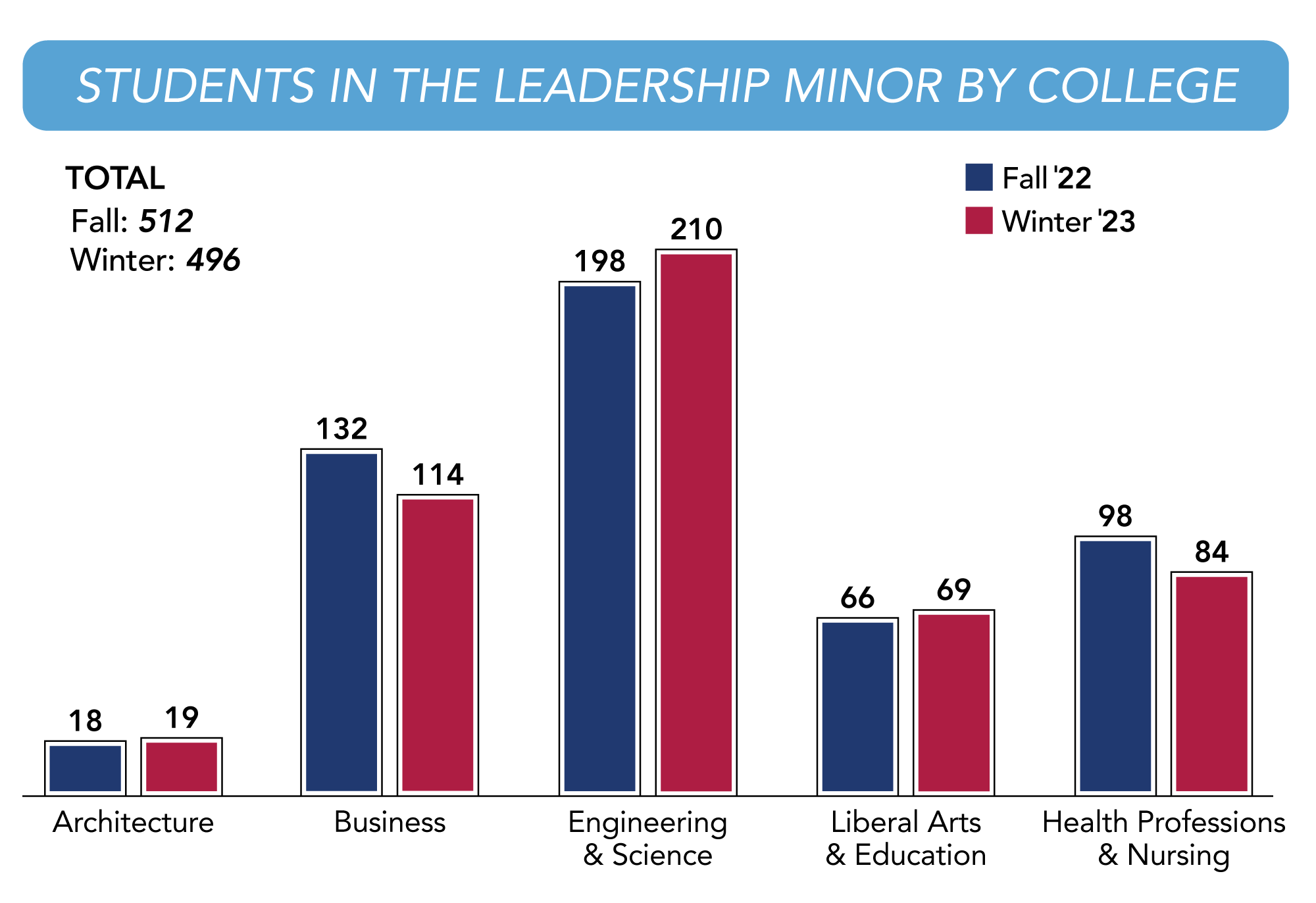 The Leadership minor draws students from all colleges on the McNichols Campus, with the College of Engineering & Science leading the way with 210 total students enrolled in the minor during the winter 2023 semester.
"One of my favorite things about the minor is that it gives student leaders the chance to cross pollinate," said DiPaolo. "They are all in the same class with kids from different majors who may have very different views of their own life trajectory.
"It makes people feel much more connected to the University, much more loyal to this place because they belong to each other, and they have a purpose."
Turner, who works on an HR team for a global manufacturing company and also coaches high school lacrosse in Detroit, knows just how major of an impact the Leadership minor had on his Detroit Mercy education.
"It is applied every single day," he said. "You leave the program with an enlightened ability to understand your own thoughts and actions. The truth is that leaders are out there every day, whether it's helping someone cross the street or leading an entire organization." 
Alward, who earned a Psychology degree from UDM and is currently pursuing a master's degree in Clinical Mental Health Counseling, may have been unaware of what the Leadership minor had to offer when she enrolled, but knows that it's anything but minor.
"In everything from job interviews, working and interacting with peers, co-workers and faculty, to my interpersonal relationships with family and friends — the benefits of obtaining a Leadership minor at Detroit Mercy permeate to all areas of my life," she said.
"It was the best choice I have ever made in terms of my academic and professional career."
— By Adam Bouton. Follow Detroit Mercy on Facebook, LinkedIn, Twitter and Instagram. Have a story idea? Let us know by submitting your idea.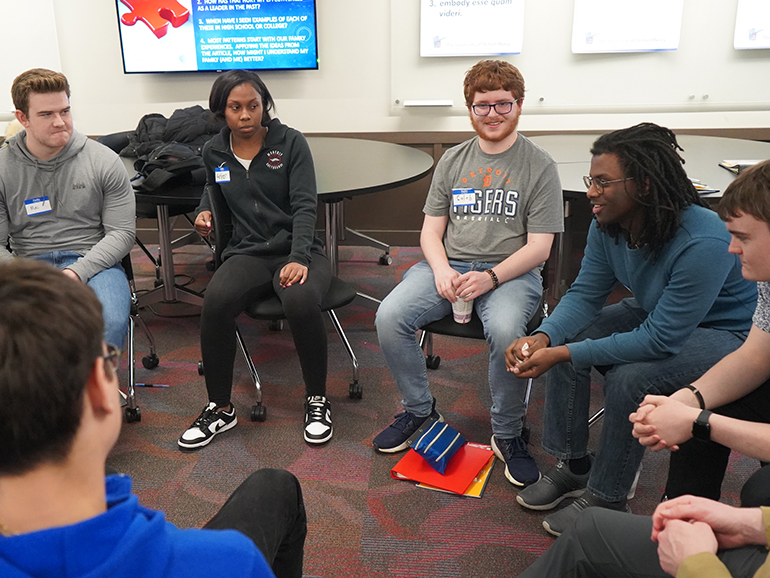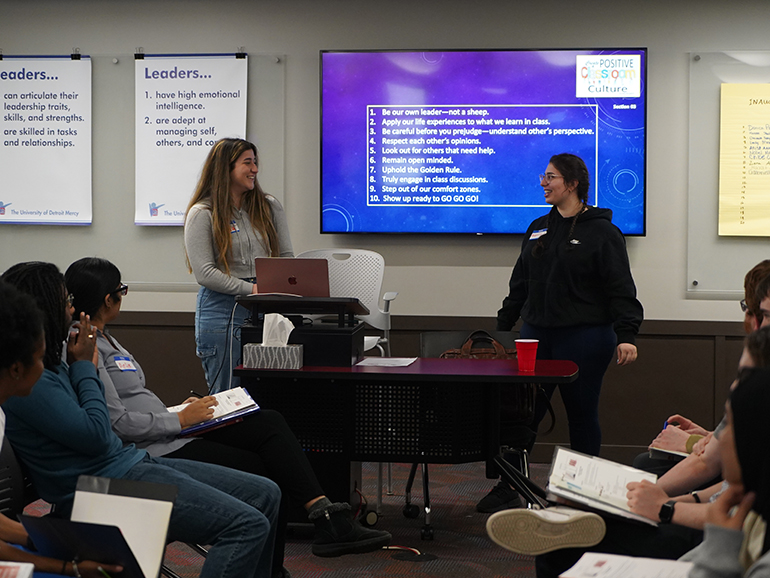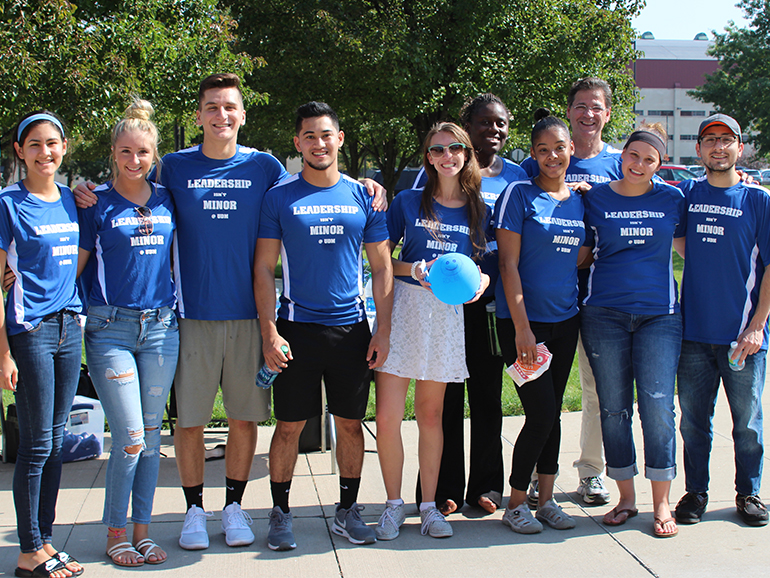 Share: