Detroit Mercy Day of Giving
Tuesday, Feb. 15, 2022
Each year, Detroit Mercy hosts Day of Giving, a day to celebrate and educate students about how alumni contributions of time, talent and treasure help current students and enrich the University.
Celebrate Day of Giving 2022 by participating in any or all of the many activities we have planned. The more you participate, the more prizes you win and the more raffle tickets you earn for a chance to win one of five gift cards!
Hosted by the Student Alumni Leadership Council, Alumni Relations and Annual Giving.
Passport Program
The Passport Program is one way for every Detroit Mercy student to be involved in the University's Day of Giving. Complete and submit proof of each Day of Giving activity you participate in to earn prizes and raffle tickets for a chance to win one of the five gift cards. The more you participate and proof you submit, the more prizes and raffle tickets you earn!
Everyone who participates and submits proof of at least one activity will receive a sheet of Detroit Mercy tech stickers. You must upload proof of participation for each activity using the form below (requires sign-in with @udmercy.edu email).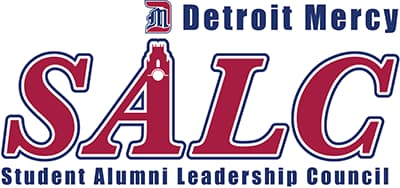 Prizes:
The more you participate in Day of Giving means the more you win.
One activity: Detroit Mercy tech stickers
Two-four activities: Water bottle
Five or more activities: T-shirt
You will also receive one raffle ticket for each activity you participate in for a chance to win one of five gift cards!
In-person activities
11 a.m. - 12:30 p.m. – Detroit Mercy trivia and hot cocoa: Outside the Titan Dining Room, you can grab a cup of hot cocoa and test your knowledge about philanthropy at Detroit Mercy.
12:30-2 p.m. – Lunch and thank-you notes: In the Fountain Lounge, students will write a thank-you note to a donor and receive a boxed lunch in return, which they can take to the donor discussion panel.
4:30-6 p.m. – Detroit Mercy trivia and hot cocoa: Outside the Titan Dining Room, you can grab a cup of hot cocoa and test your knowledge about philanthropy at Detroit Mercy.
Selfies with Signs: Donor recognition signs will be placed around the McNichols, Corktown and Riverfront Campuses one week before Day of Giving, providing students more time to collect selfies with the signs.
Virtual activities
1-2 p.m. – Alumni donor discussion panel (virtual only): Listen to our panel discussion featuring two alumni donors by registering in advance. Panelists:
Thomas Page '71, '76: retired officer-in-charge, Los Angeles Police Department.
Remedios Montalbo Young '67: retired research scientist, Parke-Davis/Warner-Lambert (Pfizer).
Click here to learn more about our panelists.
Receive bonus entries if you take part in all activities! Simply check the "yes" box on the form if you have completed all of the above activities.
 

What is Day of Giving: Time, Talent and Treasure?

Day of Giving is the day in which we educate students about the importance and need for alumni engagement and the role alumni play in meeting University priorities. Events and programming for this year's event will be focused on educating students, thanking donors and giving back through time, talent and treasure.

 

What are the University's Priorities?

Drive academic and institutional excellence

Increase enrollment, retention and graduation of students
Heighten the distinction of the University
Create a culture that fosters effective management and strong financial health
Amplify community engagement

 

Examples of Time, Talent and Treasure:

Time: help with an event, serve on a board, help with an activity such as a phonation, remain a dedicated fan

Talent: teach others, sharing career experiences with other alumni and students, setting up job shadows and internships

Treasure: donations, gift matching, fundraising

 

Biographies of alumni donor panelists

Remedios Montalbo Young '67

Remedios (Remy) Montalbo Young '67 was born and raised in the Philippines. After earning a degree in Chemistry, passing the board examination and teaching science and physics in her native country, Montalbo Young was offered a teaching and research fellowship by University of Detroit.

An alumna of the University and an immigrant, she enjoyed a 30-year career as a research scientist at the Ann Arbor Research Center of Parke-Davis/Warner-Lambert (Pfizer), as well as an adjunct at Washtenaw Community College and Eastern Michigan University.

Upon retirement, Montalbo Young, along with her husband Michael, pursued a philanthropic journey through the advancement of education, culture, music and the arts, particularly in the youth of Washtenaw and Livingston Counties.

Montalbo Young is a dedicated supporter of University of Detroit Mercy. Her spirit of volunteerism is shared by her two sons, Ricardo and Michael, and their respective families.

Thomas Page '71, '76

Thomas E. Page '71, '76 is the former officer-in-charge of the Los Angeles Police Department's Drug Recognition Expert (DRE) Unit. Before beginning his law enforcement career with the Detroit Police Department, Page served the Wayne County Health Department for five years as a public health worker.

Page has taught drug influence recognition and criminal justice topics to a wide range of audiences, including the National Judicial College, the American Bar Association, the Swedish National Police Federation, the Russian Procuracy Training Academy, the Victoria Police, the European Academy of Forensic Sciences and the International Traffic Medicine Association.

Page provides expert testimony in court on the effects of alcohol and drugs, driving under the influence enforcement, drugs in the workplace, standardized field sobriety tests and DRE reconstruction. He has been accepted as an expert in courts in 21 states and has published numerous articles on drug user detection techniques.

The International Association of Chiefs of Police named Page "drug recognition expert emeritus." He also provides training to law enforcement officers on bicycle-related laws and traffic enforcement on behalf of the Michigan Office of Highway Safety Planning.

Page received a Bachelor of Arts in Psychology and Master of Arts in Urban Studies from the University of Detroit. In 2018, he was named the College of Liberal Arts & Education's Alumni Spirit Award recipient. He received the Spirit of the Baroudeur Award in 2018, and the National Safety Council's Alcohol, Drugs and Impairment Division's Robert F. Borkenstein award in 2021. Page holds a State of California Lifetime Community College Instructor credential.