Student Fellowships and National Scholarships

The Office of Academic Affairs mentors Detroit Mercy students interested in applying for fellowships and national scholarships sponsored by agencies outside of the University.
Are you a student who wants to make a difference in the world? Are you a student who plans to go to graduate school? Are you interested in leadership development, global challenges, foreign policy, or independent study/research? If you answered yes to these questions, then a fellowship or national scholarship may be of interest to you.
How do I apply for a fellowship or national scholarship?
Review the list of fellowships and national scholarships listed below. Visit the websites to learn more about each program.
Complete and submit the preliminary interest form. Once the form is submitted, you will receive an email from the Office of Academic Affairs to set up an appointment to discuss this grand opportunity.
Students should be aware that external fellowships and national scholarships are not the same as financial aid. Students who have questions and/or concerns about paying their Detroit Mercy tuition and/or their financial aid package should contact the Office of Financial Aid.
Truman Scholarship

Rhodes Scholarship

Barry Goldwater

Fulbright U.S. Student Program

Goldwater Awardee
Sara Abdulelah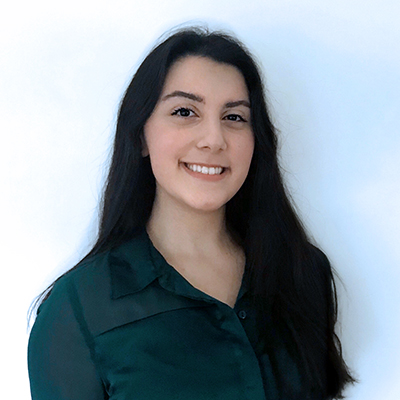 Abdulelah is one of 396 students in the United States to earn the prestigious national scholarship from the Barry M. Goldwater Scholarship and Excellence in Education Foundation.
Sara Abdulelah, a junior Biology student in Detroit Mercy's College of Engineering & Science, has been named a 2020 Goldwater Scholar. Abdulelah applied for the scholarship through a pre-application approved by Richard Hill, Assistant Dean for Research & External Initiatives at the College of Engineering & Science. Three faculty members — Professor of Biology Gregory Grabowski, Assistant Professor of Biology Nicole Najor and Associate Professor of Biology Rachelle Belanger — supported Abdulelah's application with reference letters. Sara is an amazing part of Belanger's research team; she designs and implements experiments and collects and analyzes data. Seeing Abdulelah honored as a Goldwater Scholar leaves Professor Belanger overjoyed.
For the past two years, Abdulelah and her classmates have studied the effects of atrazine on aquatic environments in Belanger's lab. They found that atrazine, a commonly used herbicide, can have detrimental effects, including damage to DNA, on aquatic organisms when running off into water sources. " In our lab, we use the crayfish as a model organism, and the studies that I focus on have shown diminished chemosensory abilities of the animal following atrazine exposure," Abdulelah said. Abdulelah furthered this study by examining the olfactory sensory neurons (OSN) of the crayfish's lateral antennules, which the crayfish use to find food. "I found that OSN damage increases as atrazine levels increase," she said.
Fellowship and National Scholarship Opportunities
 

Preliminary Interest Form

In order to better support Detroit Mercy Students who are interested in Fellowship or National Scholarship opportunities, the Office of Academic Affairs requires students to complete a preliminary interest form.

Click here to complete the Preliminary Interest Form

 

About Detroit Mercy Selection of Candidates And Internal Deadlines

Some fellowships and scholarships require the University of Detroit Mercy to select, nominate, or otherwise endorse you as a candidate before you may continue with the application process.

Detroit Mercy, through the Office for Academic Affairs, sets its own internal deadlines for applicants well in advance of the deadlines established by those agencies which are offering the fellowships or national scholarships. Detroit Mercy students must abide by these deadlines in order to receive proper assistance and endorsement by the University. 

 

About Letters Of Recommendation

University professors, administrators, coaches, priests, and ministers are happy to write a letter of recommendation for you. In order to assist them, please provide the following information with your request:

A description of the fellowship or national scholarship for which you are applying.

The deadline for your recommender to submit it to the foundation/agency or for the letter to be sent to or picked up by you.
Your proposal, your resumé/curriculum vitae, and any other information that might be useful and help your recommender write a strong letter with specific details.
If possible, a brief statement regarding your interest in and suitability for the fellowship. Your Preliminary Interest Form will help you with this.