Varinder Kaur
Assistant Professor
Director of Addiction Studies Program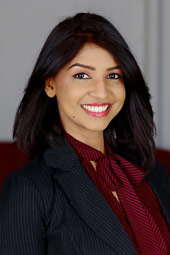 Contact Info: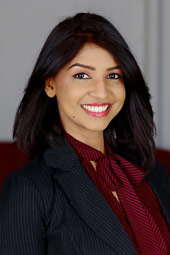 Degrees
Ph.D. in Counselor Education & Supervision, University of Toledo
MA in Counseling, Punjab University, Punjab, India
BA, Punjab University
Biography
Varinder Kaur earned her Ph.D. in counseling from the University of Toledo.  She earned a Master's degree in Counseling and a Bachelor's degree from Punjab University in Punjab, India.  Kaur is currently chairing the Multicultural Addiction Counseling Committee of the International Association of Addictions and Offenders Counselors, and she is a Licensed Professional Counselor.
Kaur has worked in a variety of clinical settings, treating children, adolescents, adults, couples, and older people with addiction, emotional and other mental health issues. She is experienced in both outpatient and inpatient substance use treatment, and in intensive individual and group therapy interventions. In addition, Kaur has worked in integrated health care treating individuals with comorbid primary and mental health care needs, as well as in outpatient practice with individuals with moderate to severe substance use and mental health disorders.
Kaur strongly believes that counseling educators and mental health professionals should spend enough time for self-care to prevent impairment and provide quality services to their students and clients. Her research interests include addiction-related issues, holistic wellness related approaches, mindfulness-based approaches, multicultural issues, and professional advocacy.  Kaur likes to stretch her mind in her free time by using different types of mindfulness and meditation practices. She enjoys practicing yoga, outdoor activities, spending time with her family, and reading topics on quantum physics and spirituality.
 Kaur joined the University as a full-time faculty member in January, 2022.
 

Research Interests/Current Projects

Substance use treatment
Holistic healthcare and integrated treatment
Wellness-focused interventions

 

 

Publications

Kaur, V., & Maleckas, O. (under review).  Holistic integrated healthcare model for substance use disorder treatment and its clinical implications.  Submitted July, 2022.

Kaur, V., Lindinger-Sternart, S., & Grey, B. (2022). Public policy issues on integrated health care: challenges, opportunities, and implications for mental health counselors. Journal of Mental Health Counseling, 44(1).

Lindinger-Sternart, S., Kaur, V., Widyaningsih, Y., & Patel, A. K. (2021). COVID-19 phobia across the world: Impact of resilience on COVID-19 phobia in different nations. Counselling and Psychotherapy Research. DOI: 10.1002/capr.12387

https://onlinelibrary.wiley.com/doi/10.1002/capr.12387

 

 

Conference Presentations

Kaur, V. & Lindinger-Sternart, S. (2021, June). Teaching anti-racist practices in counselor Education. Association for Multicultural Counseling and Development: Annual Conference. Virtual.

Kaur, V. & Lindinger-Sternart, S. (2021, May). Applications of Buddhist-derived mindfulness-based interventions to counseling practice and counselor self-care. Michigan Counseling Association. Rochester, MI.

Page, K., Woehler, E., Kaur, V. & Lindinger-Sternart, S. (2021, May). Closing the Addiction Treatment Gap in a Pandemic. The McLeod Institute on Addiction. Charlotte, NC.

 Lindinger-Sternart, S. & Kaur, V. (2021, February). Indigenous perspectives related to addiction, treatment, and recovery. Strengthening the Heartland. South Dakota State University, SD. https://www.sdstate.edu/addiction-conference/conference-speakers

 Kaur, V. (2020, October). Mindfulness and its practical implications for mental health counselors. Great Falls Counseling Association. Great Falls, MT.

Kaur, V. & Lindinger-Sternart, S. (2020, August). Prevention of burnout syndrome at individual                       and institutional level. Michigan Counseling Association. Rochester, MI.

Lindinger-Sternart, S. & Kaur, V. (2020, August). How to cope with COVID-19 with mindfulness. Big Sky Health Clinic, Rocky Boy Indian Reservation. Box Elder, MT.