Jacob Kagey
Professor of Biology and Chair
Contact Info:
Areas of Expertise:
Genetics
Degrees
Ph.D. Emory University
B.A. Ohio Wesleyan University
Biography
Associate Professor of Biology. Dr. Kagey earned a B.A. in genetics from Ohio Wesleyan University and a Ph.D. in Genetics and Molecular Biology from Emory University. As a postdoctoral fellow he was a NIH Fellowships In Research and Science Teaching (FIRST) postdoctoral fellow at Emory University. He joined the Biology department at UDM in the fall of 2011. Within the department Dr. Kagey teaches Genetics, Genetics lab, Human Genetics, Fundamentals of Bioinformatics, and other courses within the department.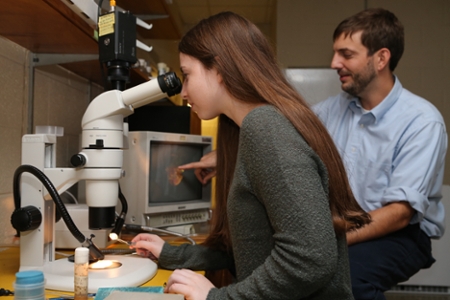 Research Overview:
Research projects led by Dr. Kagey can be categorized into two groups: independent laboratory research projects and Classroom-based Undergraduate Research Experiences (CUREs).
Independent Laboratory Projects:
We utilizes Drosophila melanogaster (fruit flies) to identify mutations that alter the regulation of cell growth and division in developing flies, which are processes that are often altered in human cancers. To study these mutations, we focus on the Drosophila eye and wing. Understanding what causes tissues to overgrow in fruit flies can be used to help understand the mechanisms involved in human carcinogenesis. Currently, we have a number of projects focusing on different biological pathways.
CUREs:
BIO1040 (Fundamentals of Bioinformatics): This course is the second semester of the SEA-PHAGES (https://seaphages.org/) research sequence at UDM. In this course students use several bioinformatics programs to annotate the genome of novel bacteriophage that were isolated in the fall semester.
BIO2710 (Genetics Laboratory): In this lab students contribute to two distinct research projects.
The mapping and characterization of novel growth mutants in Drosophila melanogaster. In past semesters students have mapped mutations to a number of growth related genes including: Patched, UBA1, Costal2, EGFR, and, CPA.
The annotation of the dot chromosome of related species of Drosophila. This work is done as part of the Genomics Education Partnership (http://gep.wustl.edu/). In this project students utilize bioinformatics tools to annotate the genomes of previously uncharacterized Drosophila species.
Recent Publications
Hanauer DI, Graham MJ, SEA-PHAGES*, Betancur L, Bobrownicki A, Cresawn SG, Garlena RA,Jacobs-Sera D, Kaufmann N, Pope WH, Russell DA, Jacobs WR, Sivanathan V, Asai DJ, Hatfull GF. 2017. An inclusive Research Education Community (iREC): Impact of the SEA-PHAGES program on research outcomes and student learning. Proc Natl Acad Sci.  
*Kagey J. listed in authorship under SEA-PHAGES  
Butela KA, Gurney SMR, Hendrickson HL, LeBlanc-Straceski JM, Zimmerman AM, Conant SB, Freed NE, Silander OK, Thomson JJ, Berkes CA, Bertolez C, Davies CG, Elinsky A, Hanlon AJ, Nersesyan J, Patel P, Sherwood J, Tieu Ngo T, Wisniewski KA, Yacoo K, Arendse PM, Bowlen NW, Cunmulaj J, Downs JL, Ferrenberg CA, Gassman AE, Gilligan CER, Gorkiewicz E, Harness C, Huffman A, Jones C, Julien A, Kupic AE, Latu SF, Manning TJ, Maxwell D, Merrimack College SEA-PHAGES Annotators 2016, Meyer CE, Reardon M, Slaughter M, Swasey R, Tennent RI, Torres V, Waller T, Worcester RM, Yost BL, Cresawn SG, Garlena RA, Jacobs-Sera D, Pope WH, Russell DA, Hatfull GF, Kagey JD. 2017. Complete genome sequences of cluster A mycobacteriophages BobSwaget, Fred313, KADY, Lokk, MyraDee, Stagni, and StepMih. Genome Announcement.
Laakso MM, Paliulis LV, Croonquist P, Derr B, Gracheva E, Howell C, Hauser C, Jones C, Kagey JD,  Kennel J, Mistry H, Robic S, Sanford J, Santisteban M, Silver-Key C, Small C, Spokony R, Stamm J, Van Stry M, Leung W, Elgin SC. 2017. A bioinformatics curriculum for beginning college students that teaches eukaryotic gene structure. Course Source. 
Elgin SC, Hauser C, Holzen TM, Jones C, Kleinschmit A, Leatherman J, Genomics Education Partnership*. 2017. The GEP: Crowd-Sourcing Big Data Analysis with Undergraduates. Trends in Genetics; Feb; 33(2):81-85.
*Kagey JD listed in authorship under Genomics Education Partnership  
Bell JS*, Kagey JD*, Barwick BG, Dwivedi B, McCabe MT, Kowalski J, Vertino PM. 2016. Factors  affecting the persistence of drug-induced reprogramming of the cancer methylome. Epigenetics; 11(4):273-87.
* authors contributed equally to this work 
Cosenza A, Kagey JD. 2016. The Mapping and Characterization of Cruella (Cru), a Novel Allele of Capping Protein α (Cpa), Identified from a Conditional Screen for Negative Regulators of Cell Growth and Cell Division. Advances in Bioscience and Biotechnology; 7, 373-380.
Barron DA, Kagey JD. 2014. The role of the Hippo pathway in human disease and tumorigenesis.  Clinical and Translations Medicine; Jul 18;3:25.
Kagey JD, Bown JA, Moberg KH. 2012. Regulation of Yorkie activity in Drosophila imaginal discs by the Hedgehog receptor Patched. Mechanisms of Development; 129(9-12): 339-49.