Class of '23: Grad finds joy in breeding puppies, Civil Engineering
Share: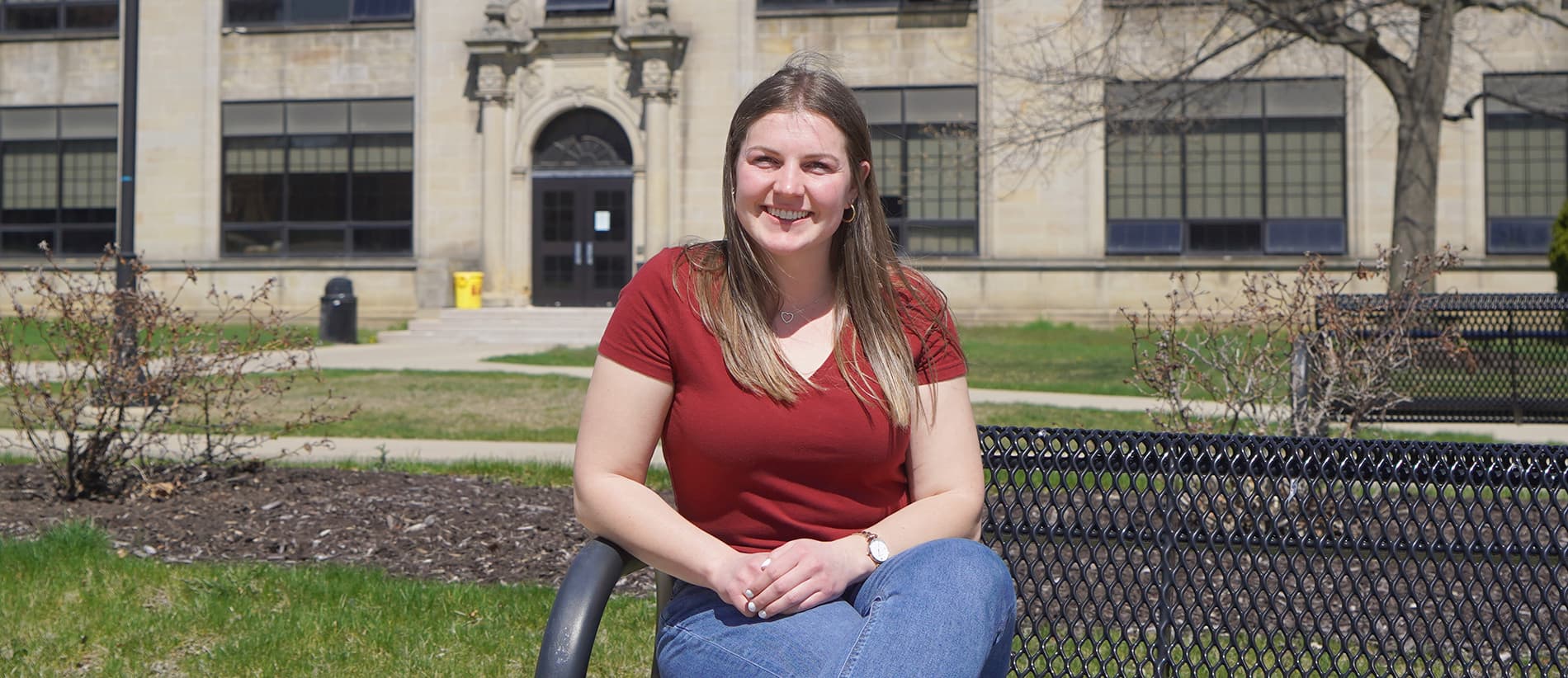 To mark the graduation of the Class of 2023, Marketing & Communications is profiling several students who were nominated by staff and faculty for their contributions to the University and their potential to make a difference after graduation. Click here for more information about 2023 commencement exercises.
Kirstin Finnila started breeding Aussiedoodle puppies as a high school student for family, friends and people in her Battle Creek community as a way to pay for college. 
Finnila never thought it would grow beyond a small operation. But over the past six years, Old Mills Aussiedoodles, has brought families from California to New York happiness through puppies. Many of those puppies — a cross between the Australian Shepherd and Poodle breeds — go on to become service, emotional support and therapy dogs. 
"The intent was to stay small, and I'd make some money for college. And then, I just fell in love with it," Finnila said. "I'm a huge animal person, and you just see the puppies every day. And then just seeing the reaction that the families get." 
Since 2020, Finnila has balanced puppies and studies as a Civil Engineering student at University of Detroit Mercy. She is known to do her homework while sitting with the puppies in their pen. 
"It's a lot of multitasking, a lot of being organized," she said. "They definitely keep me on my toes, and I would say they kind of motivate me to be productive. They're on a schedule, and without you, they wouldn't survive." 
The next few months will bring a lot of change Finnila's way, starting with UDM's commencement ceremonies in May. She graduates with her bachelor's degree, the final litters of puppies come this summer, and she begins her engineering career with Livonia-based C&S Companies in June. 
It hasn't yet hit Finnila that breeding puppies is coming to an end, but she knows it will be a sad moment. Finnila is grateful to be able to impact dozens of people through puppies.  
"It's crazy seeing how much a little puppy can impact someone's family," Finnila said. "A lot of them go to therapy and service dog homes all over the country. It's cool to see them get trained and have an astronomical effect on someone's life. It's cool to have been a part of that." 
When that chapter closes, Finnila will still have two dogs of her own in Luka and Rooney, named after soccer stars Luka Modric and Wayne Rooney. 
"They're probably the most spoiled dogs you'll ever meet," she said.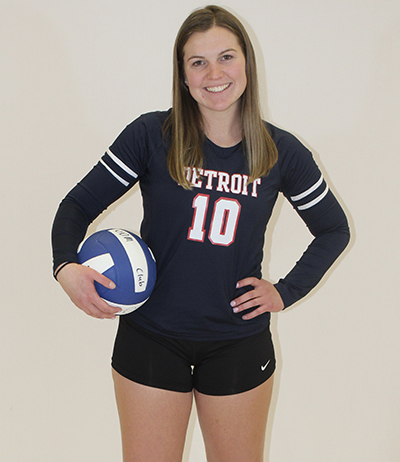 Before coming to UDM, Finnila was studying to become a physical therapist while playing volleyball at Kalamazoo Valley Community College. She needed only six more credits to get her degree when her mother suggested she try an engineering course.  
Finnila, whose parents are engineers, loved the experience and was ready to follow in their footsteps. The plan was to go to their alma mater, Michigan Tech University, and possibly continue her volleyball career. But she decided to blaze her own path after receiving UDM's Jesuit Founders Scholarship, which awards full tuition to eligible transfer students. 
Finnila appreciated the personal approach inside the College of Engineering & Science's classroom. Two of her best friends were in the Civil Engineering program with her and she said Professors Utpal Dutta and Alexa Rihana-Abdallah and Associate Professor Kirstie Plantenberg were influential. 
The College of Engineering & Science's cooperative education program introduced Finnila to different experiences. She did co-ops with The Mannik & Smith Group and Hubbell, Roth & Clark before interning with C&S Companies, who decided to hire her full-time as a staff engineer. 
"They specialize in airport construction and design for airports all over the country," Finnila said. "It'll be something fun, unique and new, that most people don't know." 
Volleyball is something that brings Finnila joy, and she continued her journey with the sport by helping lead UDM's club team. Playing outside hitter, she served as co-president and assisted in the team's growth during and after COVID. 
"I kind of started it with two of my best friends," Finnila said. "We were able to make an actual program where we travel and play tournaments, where it wasn't as successful before." 
Assistant Director of University Recreation Mike Wynn Jr. oversees the club volleyball team and Finnila credits him for their success. 
"We would not have been anywhere close to what we are without him," she said. "We got new uniforms, nets and balls."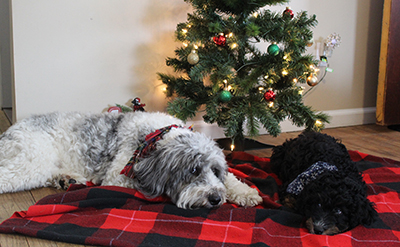 One of Finnila's favorite college memories happened off the McNichols Campus, but with close friends she made at UDM. They would go to Baskin-Robbins in nearby Oak Park for ice cream late every Tuesday. Despite no longer living together on campus, the group continues the tradition today. 
"We'd just sit in the parking lot across the street, eat our ice cream, talk, listen to music, until like 1 a.m., and we'd go home and wake up for class at 8 a.m.," Finnila said. "It was just some sort of fun activity and I looked forward to that day." 
Like with breeding dogs, civil engineering allows Finnila to impact people for the better, something she relishes. 
"With civil engineering, you can see the work you've done," she said. "There's nothing better than driving down a road you created. I'll be back home and I've built like three or four roads there, and I'll drive out of my way just to go and see them. You meet the people who live on the street, and they become kind of like friends and are really nice. 
"You build stuff and you're impacting the world, making it better for everyone else." 
— By Ricky Lindsay. Follow Detroit Mercy on Facebook, Twitter and Instagram. Have a story idea? Let us know by submitting your idea.
Share: