Detroit Mercy celebrates Martin Luther King, Black History Month with programming
University of Detroit Mercy is commemorating the life of Martin Luther King Jr. and celebrating Black History Month with a series of programs on the McNichols Campus in January and February. 
Below are details for the University's events. Stay up to date with this and other programming by visiting Detroit Mercy Live.
All event dates and times are subject to change.
BHM events
Wednesday, March 15 (rescheduled from Feb. 22)
Ossian Sweet documentary and panel discussion
7 p.m. – Student Union Ballroom, Second Floor
In 1925, Black physician Ossian Sweet was charged with murder after using armed self-defense against a white mob protesting his move into an all-white neighborhood of Detroit. The following year, Sweet and the other people inside his home were acquitted of murder in a landmark case that led to advances in equal criminal justice for African Americans. 
Daniel Baxter '01, founder of the Ossian Sweet Foundation and director of elections for the city of Detroit, will preview his new documentary on Sweet. Baxter will join Kevin Boyle '82, author of Arc of Justice: A Saga of Race, Civil Rights and Murder in the Jazz Age, which explores Sweet's story, and Arthur Beer, professor emeritus and director and producer of Malice Aforethought: The Sweet Trials, for a panel discussion.  
An alumni reception will precede the event. Register for the reception online.
This event is sponsored by the Office of Alumni Relations, African American Studies program and Black Abolitionist Archive.
Past events 
MLK events
National Day of Healing from racism, student dialogues
National Day of Healing from Racism was celebrated on the third Tuesday of January. The day was established in 2017 to create space for individuals to discuss ways in which racism has impacted their lives. On that day, the University community came together to recognize the perils of racism and how we can move forward as a group.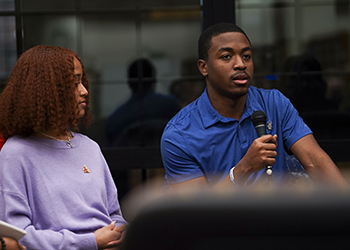 Panelist discussion: Breaking Down Barriers 
Lauren Hood '03, '12, founder of the Institute for AfroUrbanism at Detroit Mercy's School of Architecture & Community Development, facilitated a panelist discussion of campus and community leaders around the theme of "Breaking Down Barriers." 
Panelists included: Darnetta Banks, neighborhood engagement manager for Brilliant Detroit and president of the Prairie Street Block Club; Sr. Helen Marie Burns, RSM, member of Detroit Mercy's Board of Trustees; Michael Carter, managing partner of Pinnacle Construction Partners and member of Detroit Mercy's Board of Trustees; Dan Pitera, dean of SACD, Kyndal Wofford, president of Black Student Union; and Zach Cotton, vice president of Black Student Union. 
This talk was sponsored by the Institute for Leadership & Service, Student Life Office, Dean of Students Office and School of Architecture & Community Development.
MLK screening of Selma
The historical drama centers on King as a key figure, the Civil Rights Act of 1964, the fight for suffrage and the Voting Rights Act of 1965. But, most prominently, Selma chronicles the historic Selma to Montgomery marches that King led in 1965.
BHM events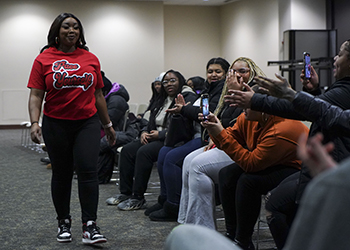 Fashion show 
Detroit Mercy's Black Student Union hosted a fashion show featuring clothing made by several Detroit designers. Chris Scott '05, founder and CEO of Positive Thoughts Solutions, served as master of ceremonies while Barraka Baber '18, faculty advisor for Phi Beta Sigma and network administrator for Detroit Mercy's ITS department, was the DJ. 
The fashion show was sponsored by the Black Student Union, Student Life Office and Office of Diversity, Equity & Inclusion.
Virtual webinar with author Tiya Miles 
Tiya Miles, author of six books on African American and Indigenous history, discussed her latest book, All That She Carried: The Journey of Ashley's Sack, A Black Family Keepsake. The book, which won the 2021 National Book Award for Nonfiction, tells the story of an enslaved mother and daughter, separated by sale, and the artifact that continued to connect them. 
This event was sponsored by the College of Liberal Arts & Education, Black Abolitionist Archive, Student Life Office and the African American Studies and Women's and Gender Studies programs.
Interfaith dinner 
The Interfaith Dinner brought Detroit Mercy community together to celebrate each other over a multicultural meal and listen to a panel of speakers from various faith traditions. This year's theme was Art and Spirituality, and speakers shared how these two elements combine and the meaning it brings to their community. 
This was a joint event between the Muslim Student Association, Office of Diversity, Equity and Inclusion, Student Life Office, University Ministry and other student faith organizations at Detroit Mercy.
Painting with vibes
The School of Dentistry's Office of Diversity and Inclusion hosted Paint, Vibe and Celebrate with Painting Vibe Art Studio, a Black-owned business in Detroit.
Black history bingo for students
Titans gathered to play a bingo game on Black history.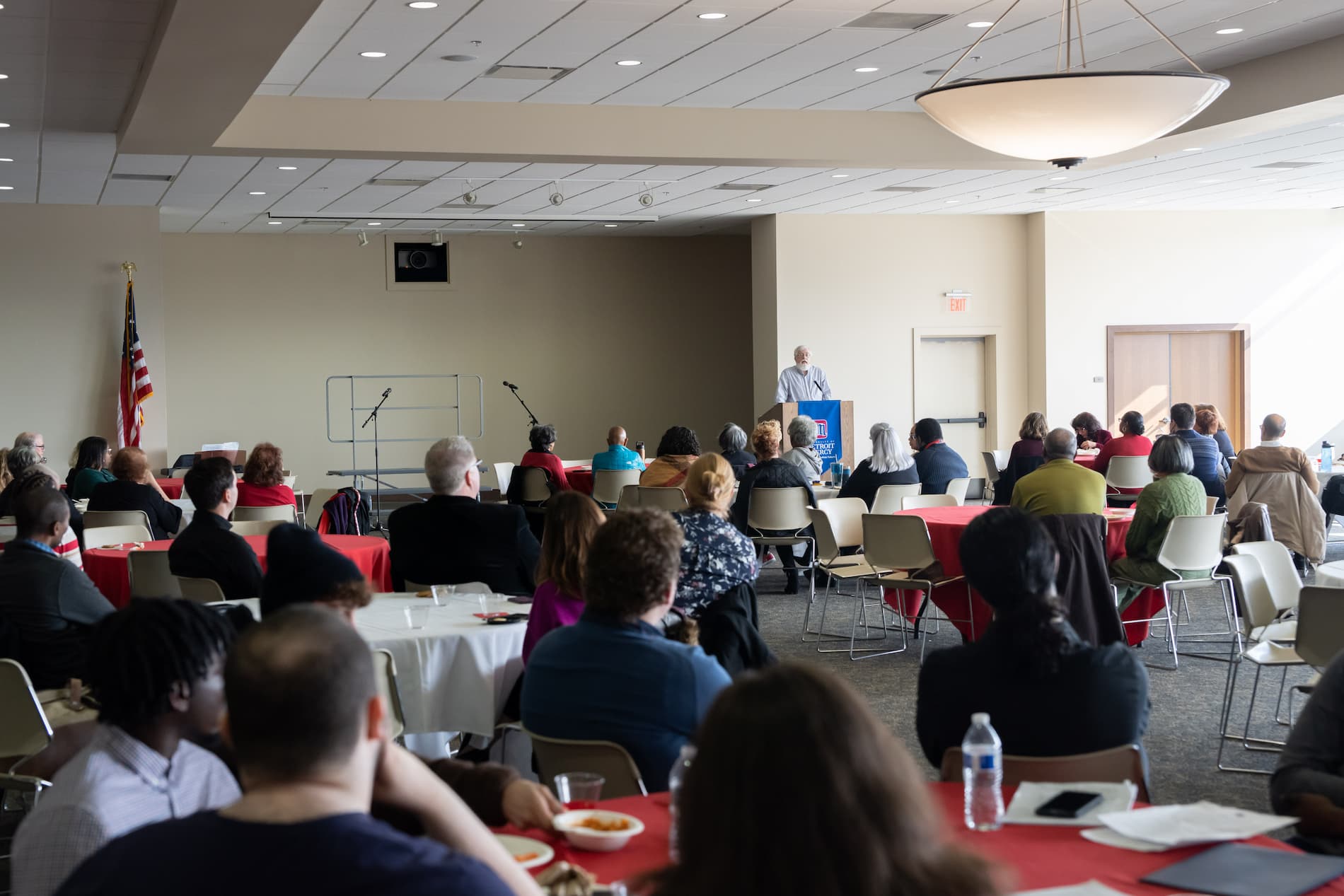 Love Stories from the Underground Railroad
Roy E. Finkenbine, professor of History and director of the Black Abolitionist Archive, shared the story of Thorton and Lucy Blackburn, a couple who escaped enslavement in Kentucky and settled in Detroit, only to be captured in 1833 by slave catchers and legal authorities. Through the intrepid action of Detroiters, the Blackburns were rescued and rushed to Canada, where they became individuals of historical significance. 
The event also featured music from the African American tradition performed by the University Chorale.
Love Stories was sponsored by the Black Abolitionist Archive, Student Life and the Office of Student Affairs.
BHM Jeopardy 
Participants tested their knowledge and learn about African American people, events and terms in a Jeopardy-style game hosted by the School of Dentistry's Office of Diversity and Inclusion. The goal was to deepen appreciation of African Americans' contributions in math, science, government, the arts and many other areas that have shaped our nation's history.
Create an African mask 
Detroit Mercy students and employees created their own African masks for an arts and crafts contest. Creators of the top three masks, voted on by the Black Student Union, will receive a $50 gift card from the Student Life Office. All African masks created and submitted for competition will be displayed in the McNichols Campus Library's first floor lobby starting Feb. 20. The Student Life Office's Instagram will also showcase masks in a virtual museum.
This event was co-sponsored by the Student Life Office and the McNichols Campus Library.
Mental health and self-care workshop 
Clinical Assistant Professor Candace Ziglor explored the words "self-care" and "self-compassion" in order to increase awareness around personal tools of self-care.
MLK/BHM door decorating contest at School of Dentistry 
School of Dentistry employees can show their MLK/BHM spirit by decorating their doors and offices. Doors will be judged on originality, creativity and enthusiasm.
Those participating must register online and adhere to the following competition guidelines. Check with supervisors before hanging any decorations; do not place decorations on or around lights; do not cover office numbers or names; no glitter should be used; and decorations cannot restrict movement through hallways, entrances or exits.
Supplies to decorate doors or office spaces will be provided by the School of Dentistry's Office of Diversity and Inclusion. 
Documenting Detroit exhibit 
The Detroit Historical Society's Documenting Detroit exhibit will be displayed in the McNichols Campus Library throughout February. The traveling exhibit includes 20 photos that show Detroit's past and present, with an emphasis on people. 
This exhibit is sponsored by the Student Life Office and the McNichols Campus Library.
Black Lives Matter exhibition at School of Dentistry
A collection of images, inspired by the Black Lives Matter movement.
Black faculty and staff celebration, introductory luncheon
Celebrate the end of Black History Month by getting to know one another over lunch. Come and learn about the plans for the Black Faculty and Staff Association, or just enjoy a delicious break in the day.