Performing Arts Talent Scholarship
Earn up to 50% off tuition!
Your creative future starts at Detroit Mercy by earning a B.A. degree with a major in theatre! Join us as we DISCOVER new worlds and places that look just like our own. Learn by COLLABORATING and exploring diverse perspectives with courage and compassion. Develop diverse SKILLS leading towards many different career paths. Experience how MENTORSHIP is at the cornerstone of our program and the launching pad for a network full of connections and opportunities.  Be amazed as you apply classroom theory to stage-time practice while creating transformative experiences that lead to FUTURE OPPORTUNITIES.
Before auditioning take a close look at our department brochure that highlights our core concepts that you will learn while a student at Detroit Mercy.   Click here to view our Department Brochure!
Are you ready for your creative future to begin?  
Step One: apply
Apply to the University of Detroit Mercy and declare Theatre as your major. Free online application.
Please remember to upload:
1. High School Transcript
2. ACT/SAT Scores (Optional)
3. Essay (250+ Words/No Prompt)
4. Two Letters of Recommendation
5. Resume
6. Headshot
Step Two: audition on campus, online, or at a theatre festival
Option One: audition at a theatre festival
The Department of Performing Arts will be attending the college auditions at the following festivals:
Michigan Educational Thespian Festival Dec. 8-9, 2023 in Lansing, Michigan
Indiana Educational Thespian Festival  January 19-20, 2024
If you are attending a festival and interested in Detroit Mercy, please stop by our information table at the festival and speak with a representative.
If you received a Talent Scholarship at a Festival 
Step One:  Apply for admission to University of Detroit Mercy. 
Apply for free using the Common App or at www.udmercy.edu/apply      
In your application, declare Theatre as your major.
Step Two:  Submit your scholarship certificate.
Email a copy of your scholarship certificate to admissions@udmercy.edu to accept the offer by March 1, 2024.  Admissions will work with Financial Aid to develop a full financial aid packet that will include this scholarship.  Other scholarships and opportunities may be available based on your GPA, transcript and other factors.
Step Three: Get to know the University by attending a Visit Day.
You're invited to attend a Visit Day, which provides an opportunity to tour campus, explore academic programs, and meet professors at Detroit Mercy. Consider attending the Visit Day on Monday, February 19, 2024!  Sign up today at apply.udmercy.edu/portal/visit.
Step Four: Experience Theatre at Detroit Mercy!
You are invited to attend a production at The Marlene Boll Theatre!  Tour the facilities and meet our team of student and professional and artists before seeing a performance. Free tickets are available for your family.   Come see where your creative future can take you!   Consider attending Photograph 51 running February 9-18, 2024, or The Complete Works of William Shakespeare (Abridged)[revised][again] on April 12-21, 2024!   For tickets, email Sarah Rusk at hawkinsk@udmercy.edu
Step Five: Audition April 13, 2024 for our Performing Arts Distinguished Artists Scholarship which awards 100% Full-Time Undergraduate Tuition! Requirements and details at www.udmercy.edu/auditions.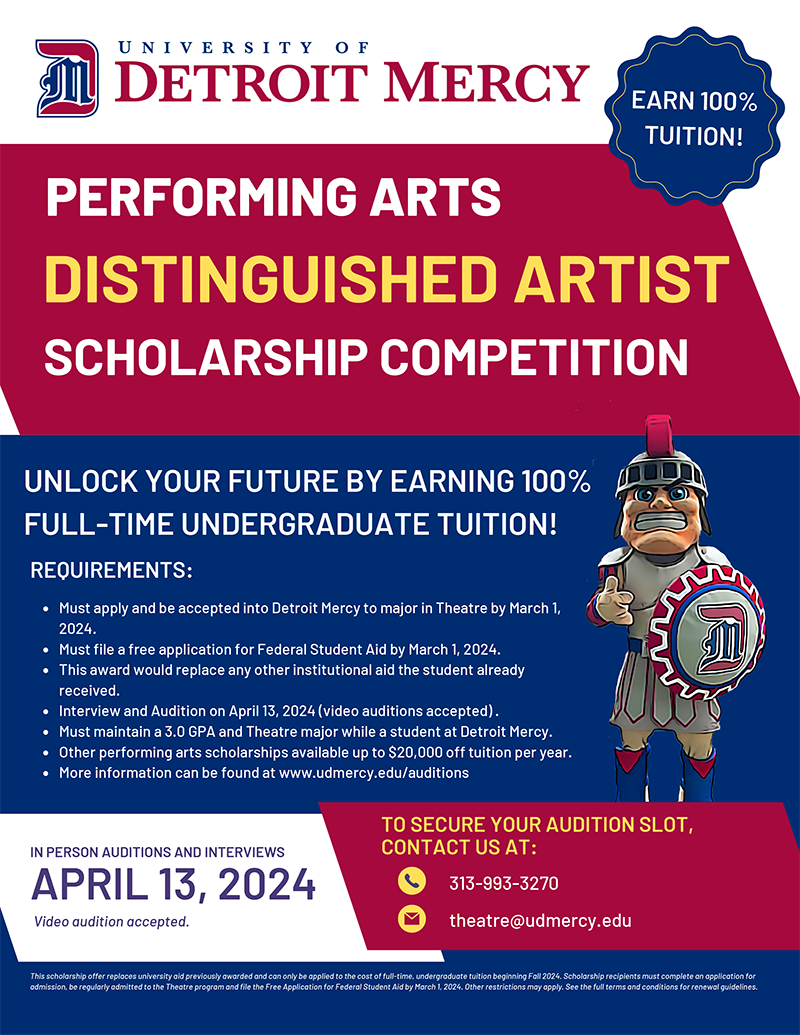 Option Two: audition and interview online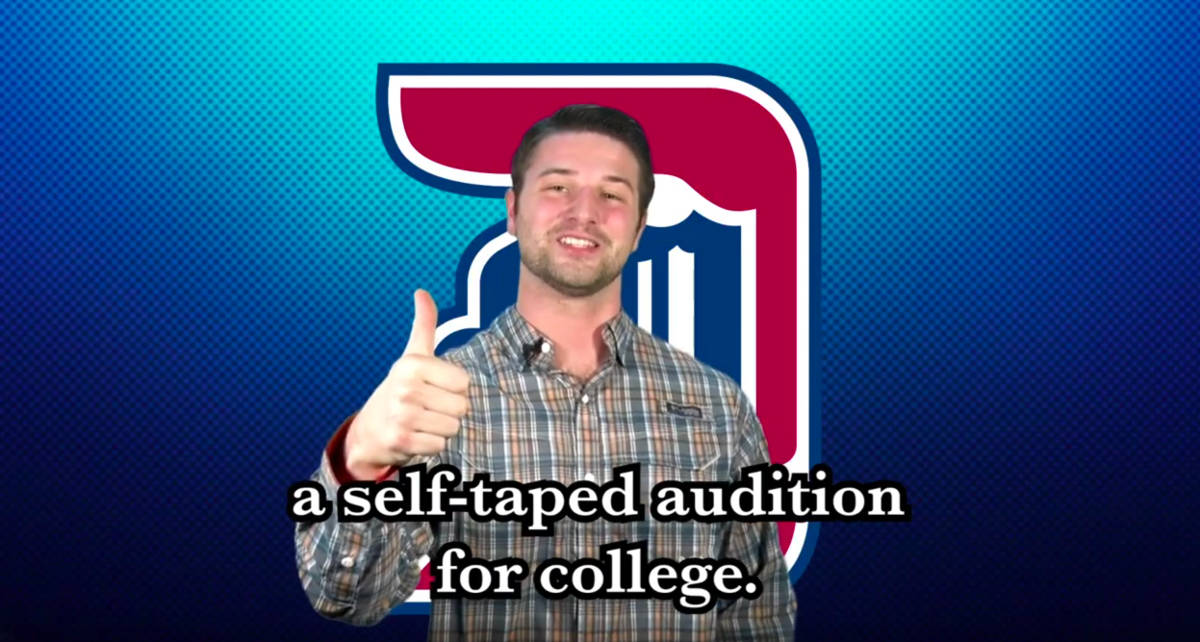 Email Video Submission (For Actors)
Your video should include an introduction, letting us know your name, your high school, and the play and playwright for your two audition pieces.  Please view the above video to assist you in creating your email video submission.  Audition pieces must meet the following requirements:
a) Perform two memorized contrasting monologues (comic/serious, contemporary/historical). Pieces must be from published plays or musicals. Film and television monologues will not be accepted.   Please contact the Performing Arts Department if you need assistance in finding monologues.
b) Afterwards, please discuss your theatre passion.  Why are you interested in majoring in theatre?  How could you change the world with a degree in theatre?   What are your dreams?
Email Video Submission (Non-Actors)
For all non-actors, your video should include an introduction, letting us know your name and your high school. Also, please prepare a testimonial about your passion for theatre.  Why are you interested in majoring in theatre?  How could you change the world with a degree in theatre?   What are your dreams?
While stage managers, technicians, designers, theatre managers, and undecided theatre students do not have to perform monologues, they do need to upload a letter of recommendation from a theatre teacher or qualified professional that speaks about the student's strengths.
How to submit your email video audition?
1. Submit your video audition by emailing us at theatre@udmercy.edu.   We accept video files and YouTube links to your video. 
2. We will confirm that we received your video and pair it with your online application to Detroit Mercy.
Option Three: on campus audition and interview
Schedule a Detroit Mercy campus visit that will include an audition and interview with the Department of Performing Arts faculty and staff.  To schedule a physical or virtual visit please email theatre@udmercy.edu. 
Need help finding a monologue?   Try these resources:
Suggested Plays:
The Revolutionists by Lauren Gunderson, Gruesome Playground Injuries by Rajiv Joseph, Passover by Antoinette Chinonye Nwandu, Detroit '67 by Dominique Morisseau,  The Thanksgiving Play by Larissa FastHorse, The (curious case of the) Watson Intelligence by Madeleine George, Born with Teeth by Liz Duffy Adams, Ohio State Murders by Adrienne Kennedy, Spike Heels by Theresa Rebeck, The Heidi Chronicles by Wendy Wasserstein, Lobby Hero by Kenneth Lonergan, Take Me Out by Richard Greenberg
Suggested Collections:
Humana Play Festival (Any Year), Exceptional Monologues for Men and Women (Volume 1 or Volume  2) by Samuel French Publishing, The Best Men's Stage Monologues (Any Year) by Smith and Kraus Publishing or The Best Women's Stage Monologues (Any Year) by Smith and Kraus Publishing