The Detroit Mercy Fitness Center is dedicated to the health and wellness of Detroit Mercy students and employees.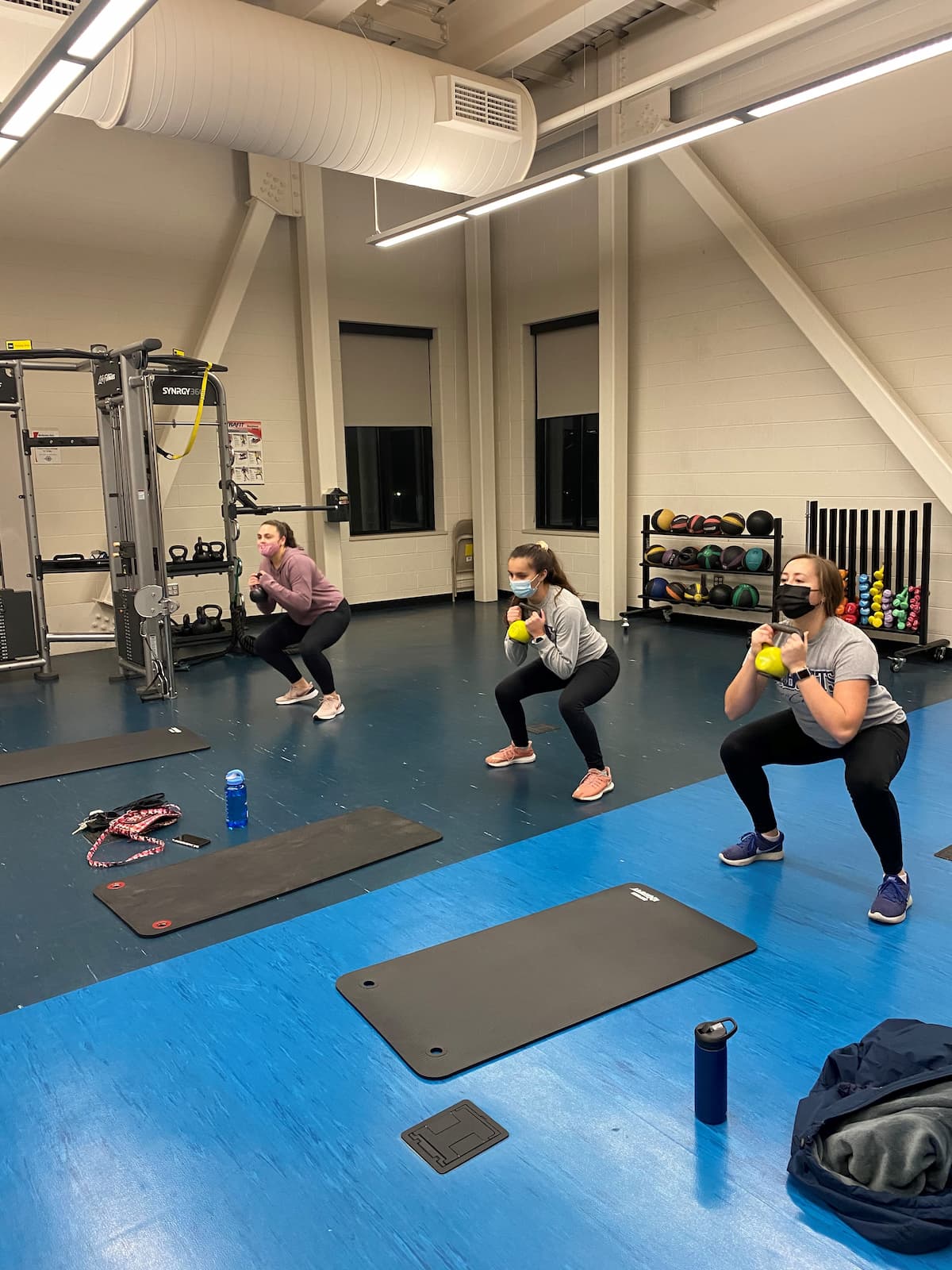 The modern facility opened in 2012 and features:
A 12,720 square foot gym floor, which can be used for basketball, volleyball, floor hockey or badminton courts.
Group fitness room
Open weight and cardio room
Open stretching areas
Track
Wi-Fi and a lounge
Gym floor divider that can separate the floor into two different spaces
Air conditioned
Can accommodate up to 1,000 people for events
The Fitness Center is free for all Detroit Mercy students, faculty and staff. Guests of students, faculty, and staff are required to pay a $5 guest fee.
Come check out the Fitness Center today and be sure to ask about our fitness classes, URec Adventure Series, club sports, and Intramural Sports.
 

Court reservation

Want to play volleyball, badminton or basketball at the Fitness Center? Reserve a court in advance. It's free for students, faculty or staff.

Available equipment includes:

Volleyball nets and balls
Badminton nets, racquets and shuttlecocks
Futsal balls and goals
Basketballs

For more details, call the Fitness Center at 313-993-1783.

Please see the Court Reservation Policy below:

Court Reservation Policy

If you wish to reserve a court, you must contact the front desk a minimum of four hours before your desired reservation.
Between the hours of 3-8 p.m. on weekdays, only one court will be available for reservation at a 2 hour maximum.
At the time of your reservation, you will be asked to provide a contact name, phone number, duration of reservation and desired activity.
Please note, you must be a current Detroit Mercy student, faculty, staff or administrator to reserve a court. All participants who do not present a valid Detroit Mercy ID will be subject to a guest fee of $5.
Special events may be an exception to this rule upon communication with professional staff.

Court reservation and availability can be viewed on the Fitness Center calendar.

 

Host an event

The Fitness Center is available to host a number of events, such as group activities, sporting events, large gatherings, and social activities.

These events include Dollars For Scholars, 3-on-3 basketball tournaments, team building, and more. See the versatility of our venue (here).

Our projector, beanbag chairs and popcorn machine make for the perfect movie night.

If you are interested in hosting your event at the Fitness Center, please contact Mike Wynn Jr.. Please note that this is an application only and your request is under consideration. You will be notified once the event and date have been approved.

 

Frequently Asked Questions

What Hours Are The Fitness Center Open?
Monday - Thursday: 7 a.m. - 10 p.m.
Friday: 7 a.m. - 8 p.m.
Saturday & Sunday: 1 - 8 p.m. 

What's Available This Year?
Second floor fitness equipment
Tommy's Smoothie and Snack Shop
Ping Pong Tables
Comfortable Study Areas
Fitness Classes
Intramural Sports
Club Sports
Adventure Series
Monthly programming
Open gym, open volleyball, open basketball

What Is Available At Tommy's?
Great Lakes Coffee
The Big Salad Sandwiches, Salads, and Meals
Smoothies
Bubble Tea
Reign, Monster, and Celsius Energy Drinks
Guernsey Chocolate Milk
Body Armor Sports Drink
Kars Nuts and Dearborn Jerky
and more!

Detroit Mercy ID
Your Detroit Mercy ID is required to enter the building. You can activate your ID at the Front Desk.

Does Tommy's Take Flex Dollars?
Unfortunately, Tommy's is not part of your meal plan. We accept cash, Apple Pay and all major credit cards.

How Do I Sign Up For Fitness Classes?
Download the app "CORQ" and sign in with your Detroit Mercy email. You can RSVP to a class ahead of time or we can scan your QR code when you arrive for a class.

How Do I Sign Up For Intramural Sports?
Go to IMLeagues.com or download the app and use your Detroit Mercy email.