All appointments in The Writing Center are ONLINE ONLY during summer 2021. Please contact us at writingcenter@udmercy.edu with questions.
Read our Fall 2020 Newsletter - See what's new and explore our student spotlights. Learn more about TWC workshops.
How The Writing Center's sessions work
Online appointments: Students are actively engaged for 30 minutes with the consultant in a synchronous session. The student is able to paste a draft into our online program and the consultant and student will instant message (and use video/audio chat) with one another about ways to improve the draft. How to prepare: Have a digital copy of your draft and necessary materials (assignment sheet/rubric, textbook, etc.) with you to refer to during the session. Please note: TWC consultants do not edit or proofread students' work for them; instead, they walk students through a process of learning to improve their own writing using a pedagogical approach that keeps the student at the center of decision making.
In-person appointments: Not currently available summer 2021.
To schedule an online appointment, visit: The Writing Center's Scheduling Website
For all appointments, The Writing Center does not provide "drop off" services—all sessions are active engagements between the student and the consultant.
The Writing Center's Learning Outcomes
Learning Outcome 1: Students will demonstrate the ability to understand their own writing needs.
Learning Outcome 2: Students will demonstrate the ability to make self-motivated, personalized interventions in their own writing by engaging thoughtfully with a writing consultant in order to improve their own learning process.
Learning Outcome 3: Students will demonstrate a better understanding of one or more writing (or relevant academic success skills) concepts as a result of an engagement with a writing consultant.
For questions regarding our services or learning outcomes, please email The Writing Center at writingcenter@udmercy.edu.
 

What can you do at the Detroit Mercy Writing Center

Engage in one-to-one sessions with trained peer and professional writing consultants.
Work on any stage of the writing process.
Review your assignments, drafts, instructor feedback and questions.
Get support if English is not your first language.
Work on reading comprehension, grammar/punctuation topics, and research.

 

Become a Consultant

Thank you for your interest in working at The Writing Center at Detroit Mercy. Please read below to learn about what we do and how you can apply.

What We Do

We work with students on writing at any stage and in any form. We can brainstorm ideas for an assignment, look through a final draft and work on most everything in between. From start to finish, anywhere on the spectrum of student writing, we are here to provide support.

As we consult, we:

Ask writers lots of questions about what they are trying to achieve.
Share the ways in which we interpret their writing and give suggestions that may help bridge any gaps in understanding.
Point out places where something doesn't sound quite right or where conventions are broken.
Anticipate what readers might expect and help students with the rules of academic writing.
Share resources students may not have known existed.
Break a sense of isolation that can be a problem for even the best of writers.

The result we hope for is increased confidence on the part of students and more complex ways of thinking about writing.

How to apply

If this sounds up your alley, please visit Detroit Mercy's Purple Briefcase site, which houses all student employment opportunities. Search for jobs with The Writing Center, and follow the instructions for each job posted.

 Applications are continuously reviewed but hiring typically takes place only in fall semester.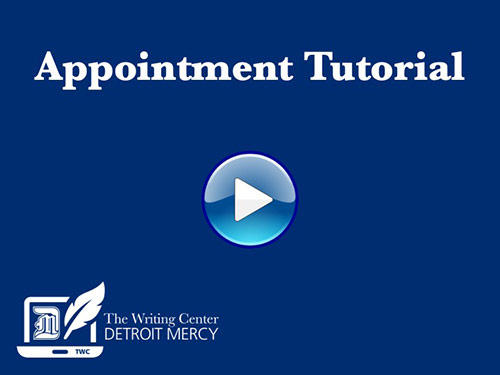 The Writing Center presents an Appointment Tutorial (run time: 7:07) for ONLINE writing consultations during Fall 2020. This video walks students through how to create an account, make an online appointment and successfully complete an online appointment with TWC. Faculty can link this video through Blackboard for students to watch in preparation for their online appointments with TWC. (To view this video, login using your Detroit Mercy Office 365/email credentials.)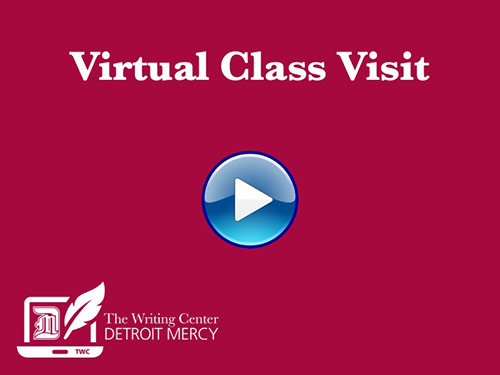 The Writing Center presents a Virtual Class Visit (run time: 5:02) for ONLINE writing consultations during Fall 2020. This video will explain what we do in The Writing Center and will give students a basic overview of our free services. Faculty can use this video in lieu of our traditional class visits by linking through Blackboard for students to watch.  (To view this video, login using your Detroit Mercy Office 365/email credentials.)
The Writing Center is an important component for success in all courses across the curriculum (i.e. in all majors). The Writing Center supports any and all departments that have classes with writing components, including, but not limited to, the following: English, Biology, History, Social Work, Engineering, Architecture, ESL/ALCP, Nursing/CHP, Business, Economics, Criminal Justice, Philosophy, Communications, CIS, Education, Psychology, etc. 
The Writing Center is also an important resource for students applying to graduate and professional schools as well as to internships. Our consultants can assist students with personal statements, internship essays and other essay- or letter-based application materials. We welcome students applying to dental, medical and physician assistant programs, as well as students applying to Ph.D., M.A. and M.S. programs.
If you aren't sure if The Writing Center can help you, reach out to us at writingcenter@udmercy.edu. The Writing Center is a program within the College of Liberal Arts & Education.