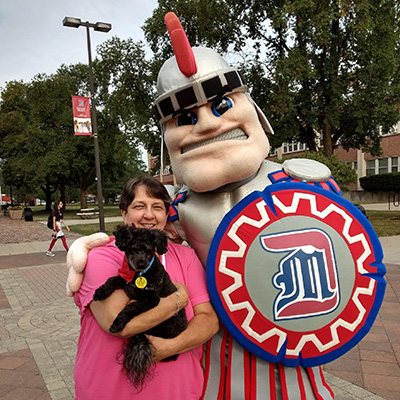 "Come visit us today!
"
Professional Mentor, Sr. Sarah Foster, RSM, Tommy Titan and the SSC Therapy Dog Bentley!
The Student Success Center (SSC) provides quality, student-centered academic support services to help students achieve success. The SSC offers:
Tutoring and learning communities,
Testing center,
Professional mentoring,
Placement testing,
Student Accessibility Services
We also offer other grant funded and special academic programs: 
King-Chavez Parks Program
FirstGen Network
Academic Interest & Major Exploration (AIME) program, and Health Exploration Program (HEX or Health Ex),
UAS Department/developmental coursework 
Location: McNichols Campus Library, 3rd floor, Room 319
Email: ssc@udmercy.edu
Phone: 313-993-1143
Beacon: Early Alert System
Our campus relies on you to ensure that all of our students receive the attention they require to maintain their success. Create an "Alert" to send a high priority notice to advisors and staff who work with the student or an "Update" to log a note about the student. Notifications will be sent out to your colleagues with the contents of your alert or update. For more information including How-To videos on using Beacon please visit the Titan Success Network page. 
 

Professional Staff Contact Information

 

Applications for Student Employees

Looking for a job on campus? The SSC is always taking applications whether you would like a job helping other students to succeed in the courses as a tutor, or you're interested in learning how to manage an office as a front desk coordinator! 

For anyone interested in becoming a tutor, please, fill out the online tutor application.

For anyone interested in becoming a front desk coordinator, please fill out the online front desk coordinator application.

If considered, we will reach out to you to set up an in-person interview.

 

Tutoring

The SSC offers free tutoring in most freshman and some upper-division courses, including math, chemistry, biology, languages, philosophy, history and English. One-on-one and small group appointments are available online and in-person in the Student Success Center on the third floor of the McNichols Campus Library.

How to set up an appointment for tutoring: 

Our new scheduler, TutorTrac, is available for students to make appointments with either a tutor or peer mentor.

I made an appointment, now what?

If you wish to meet in person, you will simply come to the Student Success Center at the time of your appointment and swipe in. If your meeting is online, you will meet with your tutor on Blackboard Collaborate (Zoom and Microsoft Teams are also available options).

Each tutor has their own "classroom" where you can have a video conference tutoring session. Listed below is our tutors with their contact information along with a few subjects they tutor. If there is a subject that you do not see listed below, please do not hesitate to contact the SSC at 313-993-1143 or ssc@udmercy.edu. We are more than happy to help!

Once your appointment is confirmed, log onto Blackboard at the time of your appointment
Go to your course list and put "SSC Tutoring" in the search bar
*If the course does not appear in the search, please contact the SSC front desk 313-993-1143 or contact your tutor to let them know
Once it is listed, click the start icon on the right side
Click the course and find "Tutoring Virtual Classroom" on the left sidebar
Find the name of the Tutor you are scheduled with and join the session at the time you agreed upon
Select the video/audio options on the screen
Click the purple arrow in the bottom right corner for more options (white board, sharing documents, etc.)

 

Schedule an Appointment using TutorTrac

Welcome to TutorTrac!

This tutoring, peer mentor, advising and ATI scheduler is packed with great features that you can use on your computer or on your phone. Such features you will see on your student dashboard are upcoming appointments during the week and students can view their visits in the SSC. Another great feature to note is seeing your appointments populated in your Outlook calendar.  If you experience any technical issues, please email ssc@udmercy.edu. 

How to schedule an appointment for in TutorTrac for Tutoring, Peer Mentor or Advising: 

Log into your MyPortal account.

From the homepage of your My Portal account, locate the heading 'Academic and Career Resources'.  In that category, you will find 'TutorTrac'.  Click on the link.

On the TutorTrac dashboard, locate 'Schedule an appointment in the SSC'.  Then click on the drop box and you will see a list of your current courses.  Select the course you need tutoring in then click search. NOTE: Peer mentoring and Academic Advising is listed as "courses" in TutorTrac.

In the next window, choose the date that you want to meet with the tutor/peer mentor/advisor and then click search.

The next window will display all the available appointments for that day.  The appointment time is in the upper-left corner of the green box; the tutor/peer mentor is located in the upper-right hand corner of the box.  Choose a time and then click the box. (If the times do not work for a particular day, you can expand the available on that same screen.)

In the new window, you must confirm the appointment.  Make sure to read the page before confirming the appointment. Once you click confirm, you will receive a confirmation email and the appointment will populate in your Outlook calendar. 

Your appointment will also populate on your TutorTrac dashboard.  If you need to cancel an appointment, from your dashboard, find the appointment and then click the 'X' that is located in the upper right hand corner.  You will receive an email confirming your cancellation. 

How to schedule an appointment for ATI Testing:

Log into your MyPortal account.

From the homepage of your My Portal account, locate the heading 'Academic and Career Resources'.  In that category, you will find 'TutorTrac'.  Click on the link.

On the TutorTrac dashboard, locate 'Schedule an appointment in the SSC'.

Under subject, put "ATI Testing".
Under reason, put "Tutoring"

In the next window, choose the date that you want to meet with the tutor (who is also an ATI proctor) and then click search.

The next window will display all the available appointments for that day.  The appointment time is in the upper-left corner of the green box; the tutor/peer mentor is located in the upper-right hand corner of the box.  Choose a time and then click the box. (If the times do not work for a particular day, you can expand the available on that same screen.)

In the new window, you must confirm the appointment.  Make sure to read the page before confirming the appointment. Once you click confirm, you will receive a confirmation email and the appointment will populate in your Outlook calendar. 

Your appointment will also populate on your TutorTrac dashboard.  If you need to cancel an appointment, from your dashboard, find the appointment and then click the 'X' that is located in the upper right hand corner.  You will receive an email confirming your cancellation. 

 

Learning Communities

Detroit Mercy also offers learning communities conducted by tutors who sit in on specific sections of targeted courses throughout the term and run study sessions weekly. These guided learning communities support first-year math, science and English classes.

For more information, including learning communities schedule, see the Learning Communities page.

 

 

Placement Testing

Testing in English, Math, Chemistry, and foreign languages offered at Detroit Mercy is available online on Blackboard under the "Placement Testing" course for all new and applicable transfer students. The results of the placement tests are given to the student's advisor to assist in proper course selection.

*If a student needs to use a university computer to take their placement tests, please call the SSC's Testing Center at 313-993-1143 or email us at ssc@udmercy.edu.

For more information on Placement Testing, please contact Erica Graze at grazeem@udmercy.edu.

 

Testing Center

The SSC offers a space for students in need of testing accommodations. Students need to make arrangements with their professors in order to use the testing center. During the fall/winter semesters, student may come and take a test during regular hours of operation Monday-Friday.

During the summer term and final exam week (any semester) the testing center is available by appointment only by calling the SSC at 313-993-1143.

Students using the testing center will be asked to sign a testing center policy and surrender their cell phone, smart watches, or any other items prohibited in the testing center. Students will be asked to present their student ID upon arrival (or any other federally issued photo ID) to verify their identity.

For questions regarding CLEP/DSST (formerly DANTES) testing, please visit the Registrar website.

 

Professional Mentoring

The SSC provides professional mentoring for all undergraduate students. Mentors meet with students on a weekly basis to provide academic success coaching and to connect them with resources on campus.

 

Student Accessibility Services

Student Accessibility Services are available to all currently enrolled students who have documented disabilities that substantially limit them in one or more major life activities.

 

Kings-Parks-Chavez (KCP) Program

SSC is home to the State of Michigan grant-funded program King-Chavez-Parks Initiative. Program highlights include professional mentoring, academic success coaching and various programs and events.

Click here for more on the KCP program

.

 

FirstGen Network

If your parents did not graduate with a bachelor's degree, you are a first-generation college student and we want you to join the network.

FirstGen Network

is a space to meet for food, conversation and community. Learn more on the

FirstGen Network page

.

 

Academic Interest & Major Exploration and Health Exploration Programs

The University College Program offers extensive support services, developmental advising and peer mentoring to students who are exploring majors and admitted into our Academic Interests & Major Exploration (AIME) and Health Exploration (HEX) Programs. Click here for more on the AIME/HEX Program.

Students may also be readmitted to the university and into the AIME or HEX program. Students are admitted to the program through a selection and interview process. Anyone interested in readmission into AIME or HEX should contact Felicia Hartinger, Director of the SSC at mitrovfl@udmercy.edu.

 

Developmental Coursework

Developmental coursework delivered by SSC: 

Basic Mathematics (UAS0800)
Elementary Algebra (UAS0950)
Success Skills (UAS 1000)
Success Skills II (UAS 1050)