Student Success Center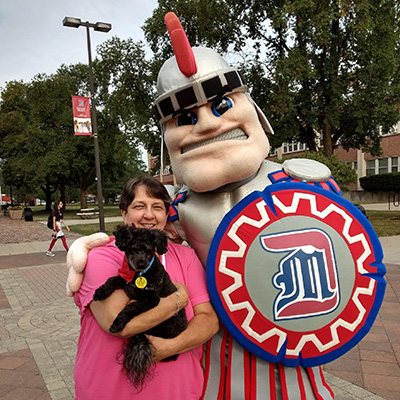 "Come visit us today!
"
Professional Mentor, Sr. Sarah Foster, RSM, Tommy Titan and the SSC Therapy Dog Bentley!
The Student Success Center (SSC) provides quality, student-centered academic support services to help students achieve success. The SSC offers:
Tutoring and learning communities,
Testing center 
Professional mentoring,
Placement testing,
Disability & Accessiblity Support Services
We also offer other grant funded and special academic programs: 
King-Chavez Parks Program
FirstGen Network
Academic Interest & Major Exploration (AIME) program, and Health Exploration Program (HEX or Health Ex),
UAS Department/developmental coursework 
Location: McNichols Campus Library, third floor
Phone: 313-993-1143
 

Professional Staff Contact Information

Main Office: 313-993-1143

 

How are we dealing with COVID-19 ?

The SSC is here and ready to help you despite the restrictions due to COVID-19. Be sure to schedule an appointment with any of the SSC professonal staff, mentors, tutors, or peer mentors who can help support you academically during these unprecendented times. We will be open this Fall 2020 for both in-person and online support services to best serve all our students. 

The university also has provided some very common FAQ's that can help answer questions in regards to returning to campus. Learn more about returning to campus here. 

The Health and Well-Being Guide link below also provides important information for students on topics including how to access the The Wellness Center (including personal counseling), telemental health services, pastoral care, on-campus etiquette, facility modifications and campus health and safety protocols. Check out the Titans Together website at: https://udmercy.edu/coronavirus/health.php 

 

Tutoring and Learning Communities

The SSC offers free tutoring in most freshman and some upper-division courses, including math, chemistry, biology, languages, philosophy, history and English. One-on-one and small group appointments are available in the Student Success Center on the third floor of the McNichols Campus Library.

Interested in becoming a tutor? Please, fill out an online application today! If considered, we will reach out to you to set up an in-person interview. 

*DUE TO COVID-19 SAFETY MEASURES, ALL TUTORING APPOINTMENTS WILL BE DELIVERED ONLINE UNTIL FURTHER NOTICE*

Make your appointment today at udmercy.accudemia.net. Limited walk-ins are available.

Detroit Mercy also offers learning communities conducted by tutors who sit in on specific sections of targeted courses throughout the term and run study sessions weekly. These guided learning communities support freshman math, science and statistics classes. *LEARNING COMMUNITIES HAVE BEEN CANCELED UNTIL FALL 2020 DUE TO COVID-19 UNIVERSITY GUIDELINES.

To provide the most support for your academic needs, the Student Success Center has also created an online platform for you to access free tutoring through Blackboard. Each tutor has their own "classroom" where you can have a video conference tutoring session. Listed below is our tutors with their contact information along with a few subjects they tutor. If there is a subject that you do not see listed below, please do not hesitate to contact the SSC at 313-993-1143. We are more than happy to help!

In order to set up an online tutoring appointment..

Schedule a time with the tutor to "meet" on Blackboard for a tutoring session on Accudemia. 
Once your appointment is confirmed, log onto Blackboard a the time of your appointment and select "SSC Tutoring" as the class you would like to enter. 
Once you access the page, there will be a drop down selection. 
Click on "Tutoring Virtual Classroom"
Select the tutor you have scheduled a session with at the time you both have agreed upon
Once you have entered the tutor's "classroom" click "Join Session" 
Select the video/audio options on the screen
Click the purple arrow in the bottom right corner for more options (white board, sharing documents, etc.).


 

 

Testing Center

*DUE TO COVID-19 SAFETY MEASURES, THE SSC WILL NOT BE PROCTORING IN-PERSON TESTS UNTIL FURTHER NOTICE.*

Hours of Operation: Monday-Friday: 9 a.m.-5 p.m.

During finals week, hours are extended and testing is by appointment only. Call 313-993-1143 for more information.

For more information on the CLEP/DSST (formerly DANTES), please visit the Registrar website.

 

Professional Mentoring

The SSC provides professional mentoring for all undergraduate students. Mentors meet with students on a weekly basis to provide academic success coaching and connect them with resources here on campus.

 

Placement Testing

Testing in English, math, chemistry, computers, foreign languages and reading is available in the Learning Center by appointment for all new and applicable transfer students. The results of the placement tests are given to the student's advisor to assist in proper course selection.

Click here for more about Detroit Mercy's math placement recommendation. 

Click here for more on placement testing.

 

Disability & Accessibility Support Services

 

Kings-Parks-Chavez (KCP) Program

SSC is home to the State of Michigan grant-funded program King-Chavez-Parks Initiative. Program highlights include professional mentoring, academic success coaching and various programs and events.

Click here for more on the KCP program

.

 

FirstGen Network

If your parents did not graduate with a bachelor's degree, you are a first-generation college student and we want you to join the network.

FirstGen Network

meets twice a month for food, conversation and community. Learn more on the

FirstGen Network page

.

 

AIME/HEX Program

The University College Program offers extensive support services, developmental advising and peer mentoring to conditionally admitted students. Students are admitted to the program through a selection and interview process. A condition of admission is the signing of a program participation contract. Click here for more on the AIME/HEX Program.

 

Developmental Coursework

Developmental coursework delivered by SSC includes:

Basis Math Review (UAS0750),
Basic Mathematics (UAS0800),
Introduction to College Algebra (UAS0950),
Reading (UAS1040),
Academic Empowerment (UAS1045),
Athletes in Transition (UAS1070).