Student Success Center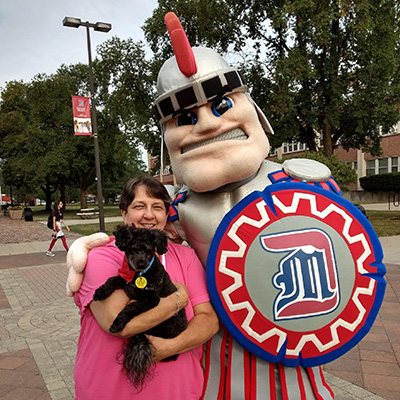 "Come visit us today!
"
Professional Mentor, Sr. Sarah Foster, RSM, Tommy Titan and the SSC Therapy Dog Bentley!
The Student Success Center (SSC) provides quality, student-centered academic support services to help students achieve success. The SSC offers:
testing center,
tutoring and study groups,
professional mentoring,
athlete study table,
placement testing,
University College Program,
developmental coursework and
disability support services.
Location: McNichols Campus Library, third floor
Phone: 313-993-1143
 

Student Success Center Professional Staff

Main Office: 313-993-1143

Susan Trudeau, Director, Office: 313-993-3383 Email: trudeasm@udmercy.edu

Felicia Hartinger, Assistant Director, Office: 313-993-1265 Email: mitrovfl@udmercy.edu

Laura Bagdady, Assistant Director of Disability & Accessibility Services, Office: 313-993-1158 Email: bagdadlm@udmercy.edu

Erica Graze, Academic & Career Advisor, Office: 313-993-1811 Email: grazeem@udmercy.edu

Rafael Cruz, Professional Mentor, KCP program, Office: 313-993-1527 Email: cruzserr@udmercy.edu

Sr. Sarah Foster, RSM, Professional Mentor, Office: 313-993-1401 Email: fostersa@udmercy.edu

Sr. Karen Dunville, RSM, Administrative Support, Office: 313-993-1143, Email: dunvilmk@udmercy.edu

 

Testing Center

Hours of Operation: Monday-Friday: 9 a.m.-5 p.m.

During finals week, hours are extended and testing is by appointment only. Call 313-993-1143 for more information.

For more information on the CLEP/DSST (formerly DANTES), please visit the Registrar website.

 

Tutoring and Study Groups

SSC offers free tutoring in most freshman and some upper-division courses, including math, chemistry, biology, languages, philosophy, history and English. One-on-one and small group appointments are available in the Student Success Center on the third floor of the McNichols Campus Library.

Make your appointment with a tutor today at udmercy.accudemia.net. Limited walk-ins are available.

Detroit Mercy also offers study groups, conducted by tutors who sit in on specific sections of targeted courses throughout the term and run study sessions weekly. These guided study groups support freshman math, science and statistics classes.

 

Professional Mentoring

The SSC provides professional mentoring for all undergraduate students. Mentors meet with students on a weekly basis to provide academic success coaching and connect them with resources here on campus.

 

Placement Testing

Testing in English, math, chemistry, computers, foreign languages and reading is available in the Learning Center by appointment for all new and applicable transfer students. The results of the placement tests are given to the student's advisor to assist in proper course selection.

Click here for more about Detroit Mercy's math placement recommendation. 

Click here for more on placement testing.

 

Developmental Coursework

Developmental coursework delivered by SSC includes:

Basis Math Review (UAS0750),
Basic Mathematics (UAS0800),
Introduction to College Algebra (UAS0950),
Reading (UAS1040),
Academic Empowerment (UAS1045),
Athletes in Transition (UAS1070).

 

AIME Program

The University College Program offers extensive support services, developmental advising and peer mentoring to conditionally admitted students. Students are admitted to the program through a selection and interview process. A condition of admission is the signing of a program participation contract. Click here for more on the AIME Program.

 

Kings-Parks-Chavez (KCP) Program

SSC is home to the State of Michigan grant-funded program King-Chavez-Parks Initiative. Program highlights include professional mentoring, academic success coaching and various programs and events.

Click here for more on the KCP program

.

 

Disability Support Services

 

FirstGen Network

If your parents did not graduate with a bachelor's degree, you are a first-generation college student and we want you to join the network.

FirstGen Network

meets twice a month for food, conversation and community. Learn more on the

FirstGen Network page

.