Graduation Day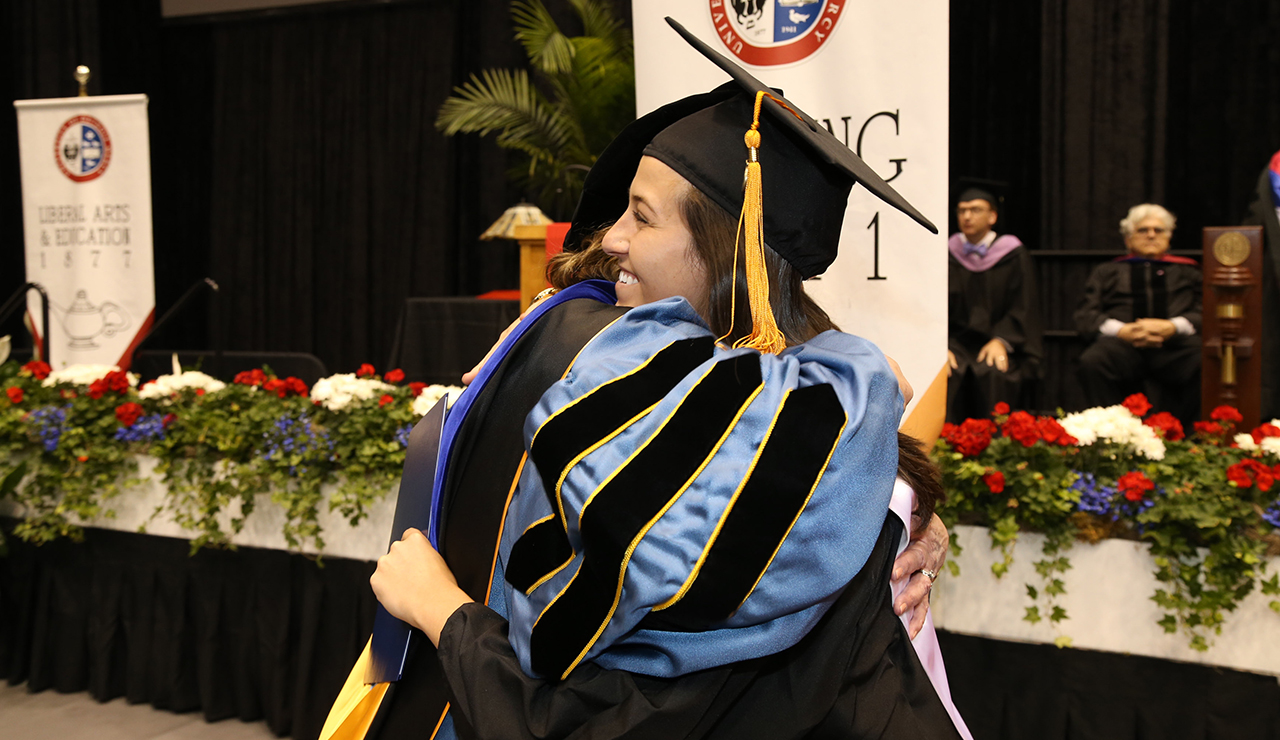 Graduation day is a memorable day for you and your family. It's also a busy day for everyone involved.
To make the experience as enjoyable as possible be sure to make note of all the information available on the Graduation Day page, which includes room assignments, day-of timetable, assembly, procession and seating, commencement ceremony, Baccalaureate Mass, photographs and complimentary continental breakfast.
 

Room Assignments

Room Assignments

PLEASE STUDY THESE INSTRUCTIONS CAREFULLY AND KEEP THEM.
Details are given to avoid practice sessions.

NOTE: THESE INSTRUCTIONS HOLD EVEN IN THE EVENT OF RAIN
Candidates must be present in room and building assigned before Noon. Those reporting after noon may not be allowed to join the procession.

Buildings will be locked during the ceremony.
DO NOT LEAVE ANYTHING IN BUILDING.
BUILDINGS WILL NOT BE UNLOCKED UNTIL AFTER THE CONCLUSION OF THE CEREMONY.

| | |
| --- | --- |
| CANDIDATES FOR DOCTOR'S DEGREES: | Room |
| Doctor of Philosophy | Life Science 118 |
| Doctor of Engineering | Life Science 118 |
| Doctor of Nursing Practice | Life Science 118 |
|   |   |
| COLLEGE OF LIBERAL ARTS & EDUCATION: |   |
| Master/Specialist degrees | Briggs 317 |
| Bachelor degrees | Briggs 13 |
|   |   |
| COLLEGE OF BUSINESS ADMINISTRATION: |   |
| Master degrees | Commerce and Finance 138 |
| Bachelor degrees | Commerce and Finance 209 |
|   |   |
| COLLEGE OF ENGINEERING AND SCIENCE: |   |
| Master degrees | Engineering 120 |
| Bachelor degrees | Engineering 237 and 239 |
|   |   |
| COLLEGE OF HEALTH PROFESSIONS: |   |
| Master degrees | Health Professions 1st floor |
| Bachelor degrees | Health Professions 1st floor |
|   |   |
| MCAULEY SCHOOL OF NURSING: |   |
| Master degrees | Chemistry 120 |
| Bachelor degrees | Chemistry 114 |
|   |   |
| SCHOOL OF ARCHITECTURE: |   |
| Master degrees | Architecture Exhibition Space |
| Bachelor degrees | Architecture Exhibition Space |

 

Day-of Timetable

Timetable

9:30 a.m. — Candidates line up in front of Gesu Church (17180 Oak Drive, Detroit, MI)

10:00 a.m. — Baccalaureate Mass, Gesu Church

11-11:45 a.m. — Complimentary Continental Breakfast — Candidates and their guests in the Student Fitness Center

11 a.m. — Calihan Hall opens

Noon — Candidates line up in designated areas

12:40 p.m. — Colleges/Schools process to Sacred Heart Square from designated assembly areas

12:45 p.m. — Main Procession to Calihan Hall begins from Sacred Heart Square

12:50 p.m. — Procession Arrives at Calihan Hall, northwest doors

1:30 p.m. —Commencement Begins

Approx. 3:45 p.m. Commencement Ends — Recessional from Calihan to Sacred Heart Square. Those receiving their diplomas proceed to their college/school for diploma pickup.

 

Photographs

Grad Images will photograph you three times: Once as you are walking forward to receive your diploma folder, once as you are shaking hands with the president and finally a still shot will be taken as you process down the far aisle to return to your seat. Graduates will receive full-color proofs and optional ordering information in the mail about a week after the ceremony. Graduation Images can be contacted at 800-424-3686, or you can visit their web site at www.gradimages.com.

In an effort to inform parents and others about photos at the upcoming ceremony, there is a pre-registration system which allows you or your parents to provide email and mailing address information to Grad Images prior to the ceremony. You can add up to six family members' contact information to share the good news and the photos.

You can pre-register friends and family email addresses and Grad Images will contact them just as soon as your photos are available for online viewing and ordering. To register, visit gradimages.com/register.cfm approximately 10 days before the ceremony when we have notified them of who is participating this year based on the RSVPs received by the deadline.

Within the week after the ceremony:

Go to the gradimages.com home page
Under "Graduate login," click the "Don't have your number?" link
Then, enter "Detroit Mercy" in the Event Name box, and you will see the Detroit Mercy graduation events
Follow the instructions to find your pictures

 

Assembly

Candidates must be present in their assigned assembly rooms by noon. (See Room Assignments)

Only those students who have sent in their RSVP card will be allowed to participate in the ceremony.  Careful planning and seating is arranged for only those who have indicated in advance that they plan to be at the ceremony. Last-minute participants cannot be accommodated.

Caps & Gowns

Inside your cap there is a "front" designation. Wear your tassel on the right side of your cap. You will be instructed during the ceremony when to change it to the left. Check to see if your tassel matches the rest of your classmates receiving the same degree. If you are wearing a hood, please follow the package directions. Consult your faculty marshals with any questions.

Seat Assignment and Announcer Card

Individualized 3x5" color-coded index cards will be distributed to each candidate in your assembly room prior to the processional lineup. Typed on each card is the candidate's name, any honors and college or school section seat number. The number corresponds with your seat. The sequence follows the commencement program. Keep this card with you at all times and present to the Announcer. If the card is not presented to the announcer, your name will not be read. The announcers have been instructed to read only the college or school typed information. If your name is difficult to pronounce, write it phonetically on the card.

Processional Lineup

Follow the specific instruction of your faculty marshals. Candidates will form double columns. Facing the direction of the procession, graduates with the odd numbered ID Cards will be in the left column, graduates with the even numbers the right column. If your partner is a no show, march alone.

 

Procession and Seating

Over 30 minutes is needed to line up the nearly 750 participating candidates. Once the college and school processions are formed, the various components will move to Sacred Heart Square and march to Calihan Hall. It is tradition that a bagpiper leads the procession. The procession will arrive at Calihan Hall's northwest doors. Rain or shine, the procession will go on. If rain is predicted, bring an umbrella to use in the procession. It is also highly recommended that you wear comfortable shoes for walking.

Order of March

The order of march and presentation of degrees are dictated by college or school founding date:

Liberal Arts and Education - 1877
Engineering & Science - 1911
Business Administration - 1916
Health Professions - 1941
Nursing - 1941
Architecture - 1964

Each college or school will be led by its banner bearer who is followed by the faculty, graduate and undergraduate candidates respectively.

Candidate Seating

In Calihan Hall, follow your marshal's instructions and proceed to your numbered seat and remain standing. Leave seats empty for absent candidates. College and school seating is arranged alphabetically by degree for candidates to walk forward to have their names announced. It also serves to help your guests, if they are following the program, to know when you will be awarded your degree as well as keeping order for the professional photographers.

Once the platform party is in place, the ceremony will begin regardless of the time. Throughout the ceremony, listen to the grand marshal's instructions. The candidate seating plan will not be determined until graduation week. If your guests are interested in the general area where you will be sitting on the arena floor, have them review the seating diagram here or near the northeast entrance of Calihan Hall when they arrive for seating.

 

Commencement Ceremony

Commencement is a formal event that provides public recognition of your academic achievement. The ceremony will last approximately two hours. Participants are to remain in the hall for the duration of the program.

Decorum

The Commencement Committee asks that you and your guests please show proper respect for the ceremony and the other candidates by adhering to the following:

Remain quiet and dignified during the ceremony. Shouting between balcony guests and floor candidates is disrespectful and disruptive.
Cellular/mobile phones should be turned off during the entire ceremony.
Bottles, cups or cans will not be allowed in the processional or into the arena.
Those with alcoholic beverages are subject to removal from the procession and ceremony.
Candidates are expected to remain in their seats and stay for the entire ceremony.
Due to risk of injury, caps should not be thrown in the air.

Photographs and videotapes will only be allowed from the upper seats. No floor photographs.

Although celebration by graduates and guests is appropriate, air horns, balloons, screaming, banners, etc. are not. At the presentation of degrees, so that each graduate's name may be heard, please ask your guests to refrain from prolonged expressions of joy when your name is read.

The ceremony in Calihan is expected to last about two hours. To add dignity to the event, all candidates and graduates are to remain in their position throughout the event. Restroom facilities are located in the hall to the left of the door you used to enter the arena. It is to be noted however, if you leave the arena prior to the end of the ceremony, a marshal will retain your diploma folder until you return to your position. 

Program

For program details, review the Commencement Program which will be on your seat in Calihan Hall.

Conferring of Degrees

This is the most important and solemn part of the ceremony. After the doctoral degrees have been conferred, the grand marshal will ask, in turn, the college and school candidates to rise. Stand in place. The dean will then recommend to the president that the degrees be conferred. The president will comply. After all of the degrees have been conferred, the grand marshal will then direct all of the graduates at once to change their tassels from the right to the left side of their caps.

Awarding of Degree

Follow marshals' directions. Each college or school graduate will move to the stage in single file in seat card number order to receive his or her degree folder. A photograph is taken as you walk forward in line towards the front of the arena. When you arrive at the front, present your ID card to the faculty gatekeeper who will present it to the announcer. When your name is read, proceed to the president. Receive your envelope with your left hand and shake hands with the president with your right hand. You will be photographed a second time at this point. Move down the line and shake hands with your dean. Proceed down the last aisle (third photograph is taken) to the rear of the arena and then back to your seat via the same aisle used in the processional.

Recession

The recessional will be orderly and dignified. Follow the marshal's directions. The grand marshal will excuse the colleges and schools one by one. Graduates will recess out of Calihan Hall. Those receiving their diplomas will process to their respective college or schools to pick up their diplomas. Please make sure you have photo ID with you to pick up your diploma. 

Traffic

To expedite campus egress after the commencement, all vehicles exiting the McNichols Gate will be required to make a right turn. Please advise your guests.

 

Baccalaureate Mass

The Baccalaureate Mass is celebrated in conjunction with Detroit Mercy graduation and is considered an integral part of the commencement activities. Candidates and guests of all faiths are invited to attend this Mass. It is a time to thank God for blessings received, and to pray for our future. Immediate family are invited and encouraged to attend. No tickets or reservations are required.

Location & Parking

The Mass takes place in Gesu Church (17180 Oak Drive, Detroit), located one block north of McNichols Campus on Santa Maria between Quincy and Oak Drive. Limited parking is available near the church, but all are encouraged instead to park in the university lots and walk the short distance to the church. (Then you will not need to move your car between the Baccalaureate Mass and the commencement itself.)

Graduates

The graduates are asked to assemble outside Gesu Church, in cap and gown. If you are interested in volunteering to take an active role in the ceremony – such as reading, being a eucharistic minister, or singing in the choir – please download an application form and return it to the University Ministry office.

Family & Guests

Go directly into the church, where you will be seated by the ushers. The procession begins at 10 a.m., so be sure to arrive sometime before that. No photography is permitted during the Mass.

Faculty

You are encouraged to participate. Academic regalia is worn for this occasion. Faculty assemble outside the church.

Employees

Employees are needed to serve as ushers, eucharistic ministers and singers. Please volunteer by contacting University Ministry. Any concerns or questions? Please call 313-993-1560, or stop by the ministry office, located in the Student Center across from the Bookstore.

History

The Baccalaureate Mass is a tradition that dates back to 1432. The word Baccalaureate is from the Latin bacca, berries, and lauri, laurel. The word Baccalaureatus was then used to describe the laurel wreath given at commencements. According to tradition, students graduating from Oxford University were required, as their final test, to give a sermon in Latin to graduate. This practice was adopted into Catholic tradition and now the Baccalaureate Mass is a large component of most Catholic graduation ceremonies. Source: www.livingourfaith.net

 

Complimentary Continental Breakfast

A complimentary continental breakfast will be available at the Student Fitness Center from 11-11:45 a.m.

No tickets are required.